EMERALD L KING asks why audiences are still obsessed with Sailor Moon
Sailor Moon has been with us for over 30 years, but the cartoon series is popular enough that brands are still producing themed merchandise – everything from high end, crystal-encrusted Jimmy Choos to Black Milk leggings and speciality stationery.
As we approach the release of the final instalment of the Sailor Moon Crystal reboot, I can't help but wonder: why are we still obsessed with fighting evil by moonlight and winning love by daylight?
Sailor Moon was not the first 'magical girl' series in anime. 'Magical girl' is a genre of anime, usually a TV or comic book series with a female lead with special powers and a cute wardrobe, aimed at girls. Yet there was something about Sailor Moon that caught the public's imagination, and changed anime in Japan – and later the rest of the world – for good.
Written by Naoko Takeuchi as a continuation of her series Code Name: V, Pretty Guardian Sailor Moon ran from 1991-97. An animated series followed in 1992 and an English-language dub was released in 1995 by DIC.
The series follows Usagi Tsukino (Serena, in the 1995 dub) and her school friends as they battle against the forces of evil, fall in love and try to get their homework in on time. Sailor Moon revolutionised magical girl series by mixing girls' story lines with elements from the Super Sentai series, which audiences might remember as being adapted into Mighty Morphin' Power Rangers.
Sailor Moon takes stories about friendship and love and mixes them with a monster of the day format and colour-coded superheroes.
Sailor Moon was published as a shōjo manga or "girls comic" – but it's important to remember this is a marketing term to indicate an intended readership. These days we can think of these terms as an indicator of genre or style.
Both shōjo (girls) and shōnen (boys) manga can include fast-paced, action-packed narratives, love stories, science fiction, high fantasy and suspense. Manga for girls and young women are more likely to be linked to fashion and will often include full body images of characters to illustrate the latest styles. Takeuchi famously referenced collections by Dior, Mugler and Christian Lacroix and has recently illustrated the 2023 Chanel Collection.
For western and Anglophone viewers in the late 1990s, Sailor Moon provided a role model alongside Buffy the Vampire Slayer and Xena: Warrior Princess for girls and young women, showing that being a princess didn't preclude kicking arse.
For the 20th anniversary of the series, Sailor Moon and her friends were redrawn into something a little softer for the Sailor Moon Crystal re-release, which began in 2014. Three anime series and two films later, it is this version of Sailor Moon that perhaps resonates best with a younger generation of anime viewers.
Girls magazines have a long tradition of including "fancy goods" as gifts with their magazines. These might be as simple as pre-cut cardboard toys that can be torn out and folded, or designer collaborations on bags, pencil cases and other accessories.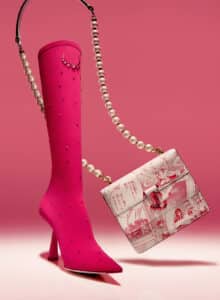 Over Sailor Moon's 30-year run, there have been a number of such collaborations, such as a forthcoming UniQLO UT t-shirt release and a Sanrio team-up with Hello Kitty. There are, of course, more obvious fashion links, such as the Jimmy Choo collaboration launched in February, which centres around a made-to-order, pink crystal-encrusted boot.
Causing more of a stir was a collaboration with lingerie company Peach John, which saw sailor collar padded bras and matching panties released as part of Sailor Moon's 20th anniversary. At that time, 20 was the legal age of adulthood in Japan (this has recently been lowered to 18).
It seemed an odd statement to make about coming of age – especially as this occasion also marked the re-release of the Sailor Moon anime as Sailor Moon Crystal, meaning that, rather than an adult women, Usagi and her friends were once again 14-year-olds.
There is something delightful about the Jimmy Choo collaboration being paired with Sailor Moon's 30th anniversary. The characters are now at the age of shoe appreciation – as is her global audience of fans, similar to Sex and the City protagonists.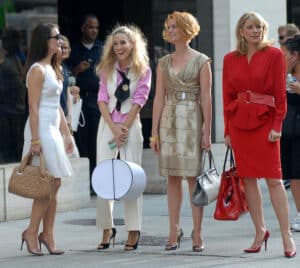 Sex and the City was very popular in Japan and it may have launched something of a sexual revolution, allowing late 1990s viewers to start having frank conversations about sex and desire.
For many though, the most surprising collaboration was a line of condoms released to help raise awareness of Japan's syphilis and STI epidemic. While some questioned Sailor Moon's suitability as a mascot for STI awareness, in many ways this is just another monster of the day to be vanquished.
Sailor Moon Cosmos, the final two-part film, was released on June 9 followed by June 30. These two films cover the final season of the 1990s anime, Sailor Moon Sailor Stars, and the equivalent manga.
Will she remain a bastion of 1990s Girl Power? Or will she and the Sailor Stars once again act as champions of truth and justice, righting wrongs and triumphing over evil in the name of the moon?
Emerald L King is Lecturer in Humanities, University of Tasmania