Sometimes, just sometimes, living in the only city away from the sea in Cyprus, Nicosia of course, can be quite tedious.
Yes, I know, first world problems. After all, the closest beach from the capital is only a 30-minute drive away.
But, believe me, especially in the summer, I do wish I could get off work and head to the beach. I long to take my dog for a walk with a view. And, above, all, I miss eating next to the sea.
That is exactly why I leapt at the opportunity to visit Theta as soon as the occasion arose.
Located in the village of Pervolia, close to Larnaca, it opened around a year ago, and reminded me that Cyprus is first and foremost an island, a sea place, regardless of mount Troodos and the charming villages in its foothills.
The sea is Cyprus' best asset and fish should take centre stage as often as possible in my opinion.
And Theta does a wonderful job in that regard. Fish is the undisputed protagonist and the tapas concept meant me and my five dining companions could order more dishes to share.
The first entries to arrive were the salad and dips. While the first one, green salad with green apple slices, quinoa, coriander and balsamic vinegar, was nothing to write home about, the dips were simply sensational.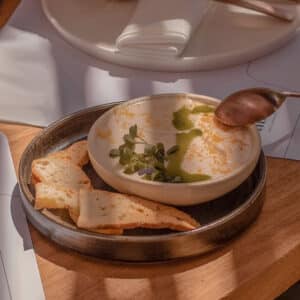 Smoked taramosalata with Messolongi bottarga (cured fish roe, a real gem!) and crispy bruschetta, hummus with tahini and crispy tortilla, spicy harissa with fresh avocado and melitzanosalata with raisins. They all stood out.
The taramosalata in particular was a revelation, thanks to the bottarga's contribution, which added a certain smokiness to an otherwise often 'clean' dish.
We ordered a plethora of main courses, fooled by the idea that tapas can and should be eaten by the dozen.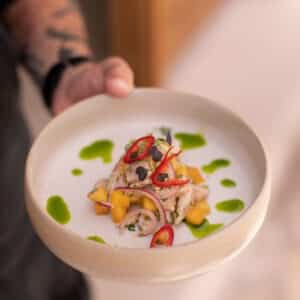 Cold entries seabass ceviche with lime and coriander, and tuna tataki with avocado, ginger and wasabi swept me away. Both complex and rich, the former was complemented by distinct notes of sour citrus, while the latter was sharpened by the ginger and the wasabi, strong flavours that enriched the tuna.
Slowly but steadily, other dishes made their way onto what became a truly epicurean table.
Lionfish, served as crispy bites with passion fruit mayonnaise, can easily be avoided, but don't pass the opportunity to try the barley orzotto with shrimps, strong and tomato rich; the grilled octopus with parsley and cherry tomatoes confit, and, the best for yours truly, the lobster linguine with shrimps tartare.
I know, lobster is both decadent and rather démodé, not to mention expensive. However, it is undeniably one of my favourite dishes ever and the one tasted at Theta is definitely worth it.
Full disclosure, a couple of friends at the table knew the owner, meaning some of the entries, including, astonishingly, the lobster pasta were offered on the house.
Admittedly, the place is pricey but I firmly believe that quality should never be cheap.
And Theta, with its relaxed ambience, tasteful decor, stunning sea view and, most importantly, excellent food, is nothing but a quality choice.
VITAL STATISTICS
SPECIALTY Fish
WHERE Theta Mediterranean, E336 1, Perivolia
WHEN Tuesday to Thursday 6pm-2am, Friday to Sunday 12pm-2am,
HOW MUCH €14-€18 for salads, €6-8 for dips, €17-35 for main courses
CONTACT 99 774433