'We want to try to tell the Cypriots who we are and where we are coming from'
"Music is a worldwide language," says Maria Demosthenous. "Its biggest strength is its non-verbal communication."
Founder of Amalgamate Music Education (AMusED), a music school housed in Strovolos, Demosthenous warmly welcomes me. Wearing a pink-flowered sundress, she sits at a large wooden desk in the school's waiting room. Fittingly, the surfaces around her are scattered with sheet music – pencil marked and dog-eared.
"When I opened this school, I had a vision, which was far away from what was happening in Cyprus at the time. The vision began with this idea – that music is a universal language," she says. "But recently, music education has become very academic and very grade-focused."
Demosthenous believes in a type of music education that does not teach students to fear their audience. In this teacher's eyes, music – listening to and playing it – should be for the enjoyment of the pupil creating it.
Demosthenous gives me a hypothetical: "If you and I were to go to a concert and enjoy the music, then we would both dance. Even as strangers, at the concert, we feel the same joy, the same happiness, the same excitement."
Music, then, is not about performance but, rather, complex emotion – the freedom that comes from it.
Right before Covid, Demosthenous met with a group of three musicians with whom she created Skyband. All African asylum seekers, these original band members quickly proved to Demosthenous that they shared a similar music philosophy – one which revolved around the importance of music's feeling.
"My daughters used to play the African drums, so when I first met with the group, I brought my girls along to welcome the new musicians and to show that we are not the experts…. they're born with it."
Issac Yossi, guitar player, singer, and one of the band's original musicians, began searching for more members after a bond with Demosthenous was established.
Because they could use AMusED as a place to meet, the band slowly began to expand, practising on a weekly basis. Since then, members have come and gone – not because they don't want to continue playing but because the need for a job has often outweighed their need to listen to and play music.
"We have to remember that, on some level, many types of people and families come from migrant backgrounds," Demosthenous urges. She should know. She herself was raised by parents who became refugees in their own country after the Turkish invasion of 1974.
Soon, she leads me down the hall to a closed practice room. Inside, you can hear the surge of someone singing, the beat of a bass.
The practice room is a tight fit – even though two of Skyband's pianists, Chrisco Matumba Kabangu and Exause Malonga weren't able to make it. We manoeuvre an extra chair into the music circle for me to video tape some songs from. I am nervous to speak to so many people at once. You can tell that the band is hesitant too, so we let the music speak for us. Chadrack Katalay Tenga, the band drummer also known as Tempo, guitarist, Rigo, and bassist, Hennock Mavinga, start to play. The room swells. Then, Patricia Mbiakop and Yves Thieri's vocals set in.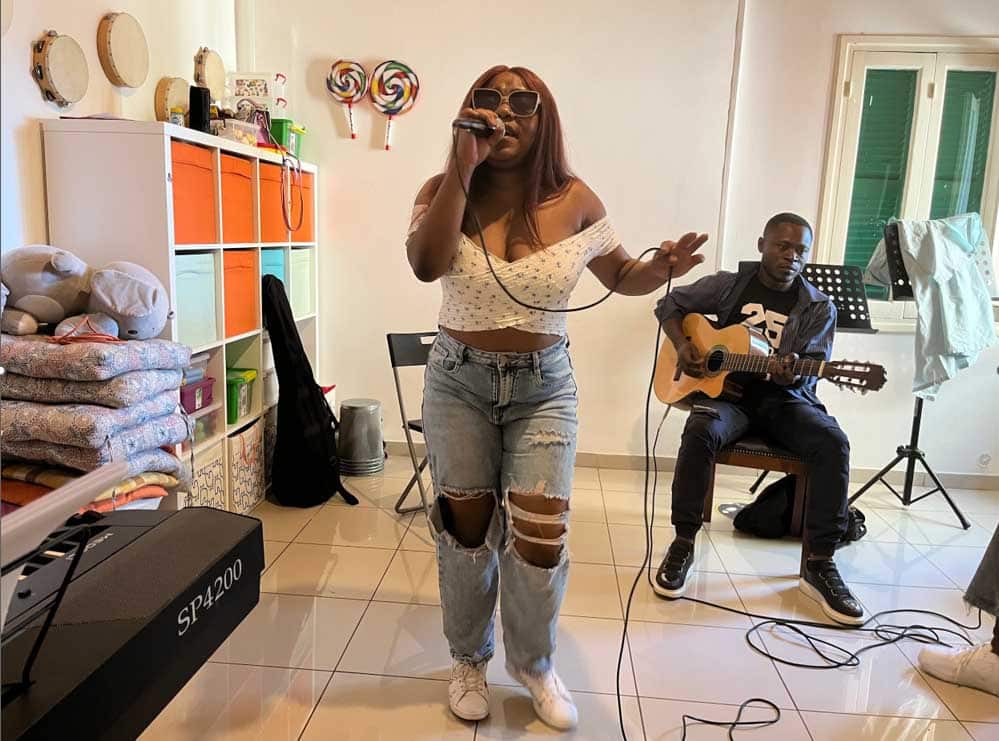 Patricia Mbiakop sings to the camera
"Being in Cyprus is not easy when you are a stranger, when you are an asylum seeker," Thieri tells me, when we pause for questions.
Most of the band speaks French, and he and Mbiakop translate for me.
"Just the name asylum seeker makes Cypriots think that you are a person without talent, that you are only negative things. The music, for us, is our expression. We want to speak to the people in Cyprus. We want to try to tell them who we are and where we are coming from. We want to show them our identity."
With red hair and big, white sunglasses, Mbiakop continued the sentiment: "When we are down, music can help us to fight, to be strong, but it is something – a tool – that I also think I had before coming to Cyprus. Now, I'm facing new challenges, but music is still helping me. It is like a power that I have. It's not something that has changed in me. It's a power I've always had inside of me – one that I can use when I need it."
I ask her to explain to me what it feels like inside her body when she sings.
"It doesn't always feel the same every time. Generally, it's about the story and the emotions that music creates in you," she says.
Outside of music, Mbiakop works as an Amazon reviewer, but she is happiest – not when she is singing – but when she is listening to music.
Most of the band finds similar moments of happiness.
"Music," they reiterate, "is the best thing that can make you forget about the situation here in Cyprus."
He is referring to the outsider status that many place on asylum seekers. Most of the band works second jobs – in factories and in recycling – on top of the musical work they do. Issac Masamuna, djembe player, sometimes commutes from Paphos for weekly practices. And yet, music, as Demosthenous stated earlier, hums within the blood of these musicians. Even as we interview, Rigo can't help but quietly finger scale after scale on his guitar.
"What is one thing you wish strangers could know about you," I ask them.
"I wish they knew that we went to school and are also educated. That's the first thing – the main thing – for me. I'm good with computers," Mbiakop offers.
Thieri elaborates, "We are people that have talent, that have things to share. We are not just asylum seekers. We are more than that."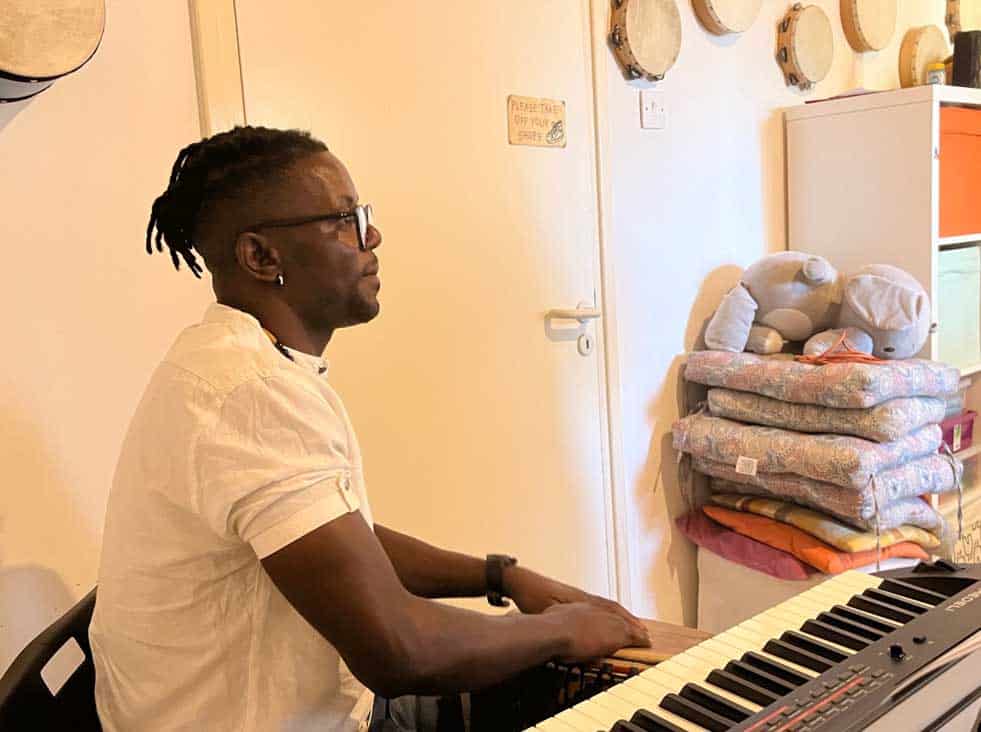 Thieri asks if I have time to stay and listen to a few more "special songs from home".
Something has shifted in the room – something private and beautiful. In the back corner, a window is open, and golden hour has just set in. Mavinga puts down his bass and sings and dances his way through the space. Thieri laughs, as Mbiakop sways on her feet. Even Tempo, who has been largely quiet since my arrival, opens his mouth to sing.
I'm witnessing a musical conversation among friends – an embracing of people – in a way that I, as a stranger, feel lucky to witness.
When I'd asked him what part of his day makes him happiest, Thieri told me it was boxing. "Sometimes, when I'm in the gym, I listen to music competitions like America's Got Talent," he laughs, "and sometimes, I cry." He pauses. "What can I say? When something is beautiful, it's beautiful."
AMusED music school offers music lessons for all ages in English and Greek. Website www.amusedcy.com/ or email [email protected]