The walled city of Nicosia has played host to many of the most significant events of Cyprus' history for centuries. Now, thanks to its new research and innovation centre, known as Cyens, it is hoped that it will also play a big part in its education and research future.
Styling itself as a "centre of excellence", Cyens first opened in 2018 after winning European Union funding. It works in collaboration with the island's three public universities – the University of Cyprus, the Cyprus University of Technology (Tepak), and the Open University of Cyprus – and aims to work on "user-centred" scientific projects.
It has been featured in over 200 scientific publications, has undertaken over 40 projects, and won over €4 million in funding in 2022.
However, it is the future that concerned its research director Yiorgos Chrysanthou when he spoke to the Cyprus Mail.
His office in Cyens' current building overlooks the old Nicosia municipal market, which is set to be transformed into a new home not just for Cyens itself, but also for researchers, innovators and academics across Cyprus and beyond.
The plan is for the new building to have a large coworking space, multiple conference rooms, and an exhibition space, all aimed at encouraging people to use Cyens' physical infrastructure as a base for their own projects.
This has already begun in their current premises, with the "ThinkerMakerSpace" technology workshop and fully-operational 3D printer already available for those who wish to use it, as well as the occasional educational seminar.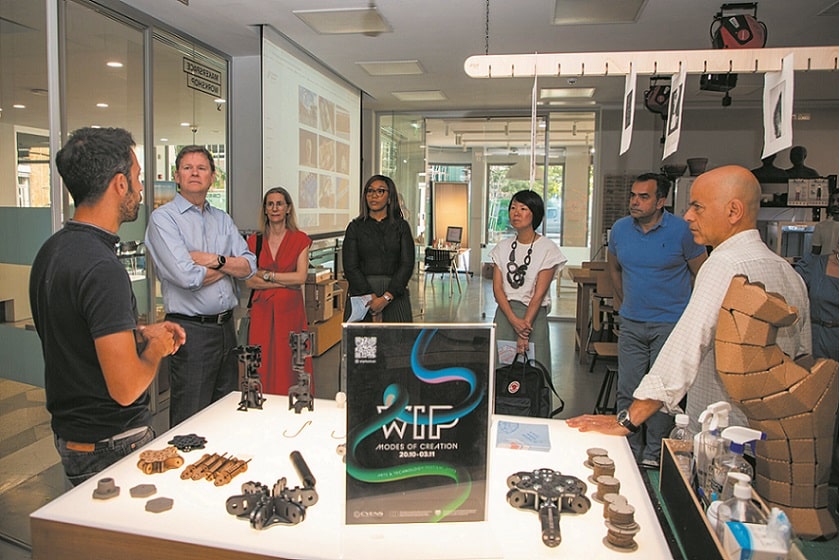 They have also taken ownership of the Theatro Polis and are using it for virtual productions and digital effects.
Physical infrastructure aside, a large part of Cyens' work interlinks with higher education. All nine teams operating under Cyens' umbrella are led by university professors, while Chrysanthou himself teaches computer science at the University of Cyprus.
Chrysanthou said it is Cyens' aim to "take advantage of expertise and development, which often doesn't go beyond the lab in Cyprus", while also creating a commercialisation pipeline for those ideas to come to fruition and to become profitable.
Cyens already collaborates with existing master's programmes, with students working with the centre for the purposes of thesis projects and internships. A total of 40 interns, from, what Chrysanthou called "good quality universities" in Cyprus, as well as other countries such as Italy, Spain and the UK, are currently on the books at Cyens, with the hope that some will be hired afterwards.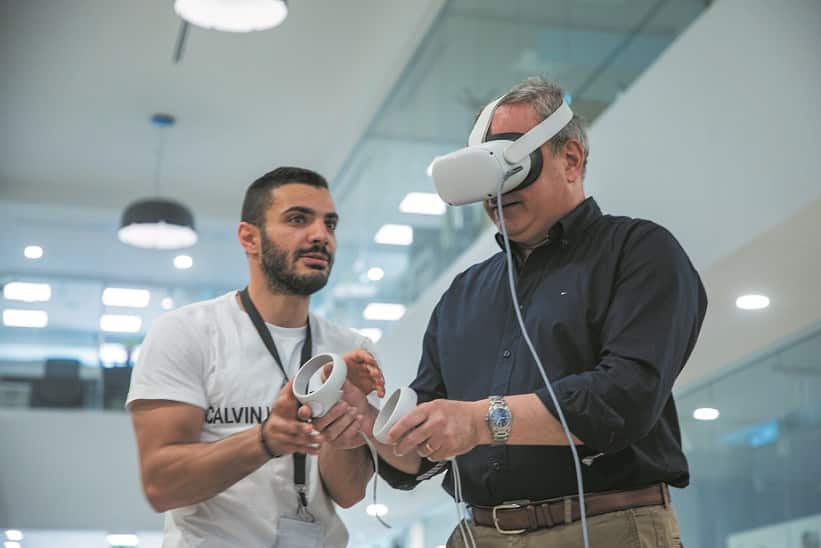 In addition to this, plans are in the pipeline for Cyens to become an accredited educational institution, and to offer Master's programmes of its own. The exact subjects of these courses are still yet to be decided, but it is expected that they will boost the image of Cyprus as an academic destination.
Master's programmes are as far as Cyens aims to push in terms of offering its own courses. Chrysanthou said that he has no intention of Cyens offering PhD courses of its own, as the existing collaboration with universities over PhD programmes allows the centre to gain expertise from existing university professors.
Cyens offers scholarships to PhD students studying at existing universities and PhD students regularly use the centre's facilities.
Moving onto the centre's output. Chrysanthou pulled up a 3D digitised model of Nicosia, called iNicosia. The model goes into great detail, with every building, street and tree immortalised in the digital realm.
He said that this would hopefully in time prove useful for the provision of things such as traffic updates, road closures and the availability of parking spaces. It was also hoped that this model would be extended to the north, with mayor Mehmet Harmanci reportedly interested in the project, but unfortunately unable to get the relevant clearance.
In this manner, there is something of an incidental bicommunal side to Cyens' operations. Chrysanthou was keen to stress that "this is not a bicommunal thing by definition, but we do try hard to bring people together".
Five of Cyens' permanently employed staff are Turkish Cypriots, as are ten of its interns, and Chrysanthou says he hopes to bring more on board.
Bicommunal projects operated by Cyens include a 3D model game of the Othello Tower in Famagusta, as shared projects which apply to both sides including an initiative to map trees across the island, digitisation of both Turkish Cypriot and Greek Cypriot cultural dances, and a planned reconstruction of the Green Line in virtual reality.
Outreach, therefore, seems to be a key characteristic running through all of the operations of Cyens. Chrysanthou said that the aim of the centre is to be more "user-centred" than other, similar scientific operations.
It is planned that the aforementioned exhibition centres in Cyens' new building will play host to twice-monthly seminars from researchers hailing from across the globe, and that the soon-to-be-departed old offices will be used to house an "ecosystem" of scientific and scientific-adjacent Cypriot businesses which will make use of the research and innovation carried out.
Chrysanthou said the move to Cyens' new building would be completed "within a few months". From that new location in the heart of Nicosia's walled city, Cyens looks ready to become the beating heart of Cypriot academia.