The upgrading of long-standing institutions, the opening of brand new ones, plus a host of new and innovative study programmes, means the tertiary education landscape in Cyprus has changed enormously over the last couple of years. Suddenly, there seems to be a university everywhere you turn. The latest to join the fray are the American University of Beirut and the University of Limassol, adding to the University of Cyprus, the Cyprus University of Technology (Tepak), plus 12 private universities.
"This growth not only reflects the increasing demand for quality education, but also the opportunities it presents for Cyprus to become a prominent education hub in the region," Rector of the University of Nicosia (UNIC) Professor Philippos Pouyioutas said.
That's a policy reflected in the state's approach, too. "As a government and especially our ministry, our goal is to make Cyprus a leading regional centre of higher education and research and, to a large extent, we can see this being materialised," Education Minister Athena Michaelidou said recently.
This focus on expansion has also been welcomed by one of the newest players on the island. "We welcome the changing landscape of tertiary education in Cyprus," University of Limassol Rector Theodore Panayotou said. The UoL will open its doors to around 700 students for the first time in September. "The University of Limassol comes to add both to the upgrading and the diversity of higher education in Cyprus," he added.
UoL is the natural evolution of the Cyprus International Institute of Management (CIIM), the pioneer business school operating in Cyprus since 1990, where hundreds of prominent academics of top universities from around the world have taught courses, and more than 3,000 Cypriot and foreign students have received postgraduate degrees.
Building on this, UoL, which will move into a purpose-built facility in 2026, aims at excellence in both education and research, while creating the conditions for a bright future for its graduates, Panayotou said.
UoL will offer undergraduate and postgraduate programmes in three faculties: CIIM Business School, School of Technology & Innovation and School of Economics & Finance. Included in its initial programme is an MSc in Green and Digital Management, a unique European, if not global innovation.
Also beginning operations in September, the American University of Beirut chose Paphos as part of its strategic vision to expand the education and reach of the university outside of Lebanon. AUB rector Wassim El Hajj revealed that after a market analysis of the region, including Arab countries, Cyprus was chosen to host the campus for many reasons.
"One of them is the healthy higher education system in Cyprus, an increase in international students, the diversity of universities opening locally, the willingness of students to come to Cyprus, academic freedom, stability and weather, to name a few."
AUB Mediterraneo will be the island's first not-for-profit university (outside state institutions), and will begin operations with a small selection of programmes – seven majors, five undergraduate and two graduate programmes – that El Hajj described as forward looking and not already available locally.
"Some of the majors do exist and are common majors and some do not. Those that exist are, for example, computer science, psychology, business administration… Others are not so common in Cyprus, such as PPE (Philosophy, Politics and Economics), and industrial engineering, also new to Cyprus or Europe in general but booming in the States and Canada. At the master's level, AUB will offer engineering management, also unusual in Cyprus, and business analytics," he added.
In addition to introducing new programmes and contributing to the noticeable shift in Cyprus' tertiary education, El Hajj is quick to also note that the type of education offered by AUB is something different.
"We follow the liberal arts model of higher education, which is not very common in Europe… students not only take the courses that are in their major, every student also takes a bunch of courses that might reach 25 to 30 per cent of their overall course work, which includes language, history, sciences, sociology and anthropology, philosophy, and so on. This a perfect model that not only shapes the student in a certain way, but makes students a better fit for the market later on," says El Hajj. "Very few universities have a liberal arts model."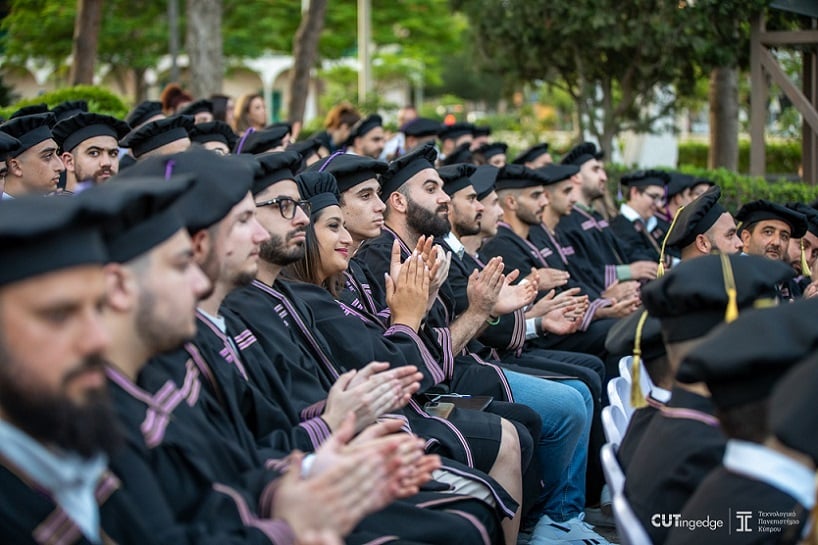 Not to be left behind, Tepak is also increasing its footprint as of the 2024-5 academic year with the establishment of a new faculty in Paphos with two major developments.
"The first is that we now have the Academy of Hospitality and Tourism, which was the former Higher Institute that was established in Nicosia. Because of the incorporation of this into our university, we're now actually offering higher diplomas in culinary arts and hotel and tourism management… the fact that as a university we now have this academy of let's call them professional degrees, is something new in the higher educational scene of Cyprus. It's the first professional degree offered by a university in Cyprus," senior university officer Antonis Vrasida said.
Tepak has also established new academic departments, namely management, entrepreneurship and digital business, with new degrees expected by 2024-25. It is part of a consortium of eight universities which under the title of European University of Technology (EUT+) will offer joint courses.
"There's a lot of activity that goes into creating these new European degrees: the idea is that students will have the opportunity to study a degree in engineering for example, but have one year in Cyprus, then a semester in France and then a year in Germany and a year in Romania and then come back to stay on their home campus to finish off their degree, but the degree won't be offered by Tepak or any of the other allied universities, but by the European University of Technology, which will be established as an entity," Vrasida explained.
One area of study that has exploded in the last few years in Cyprus is medicine, with UNIC among the leaders of this charge, and opening the first Medical School in Cyprus in 2011. "This initiative paved the way for a robust and encompassing healthcare division under UNIC Health, which incorporates the UNIC Medical School, a state-of-the-art primary care medical centre (which operates under the national health scheme Gesy serving the primary health care needs of the university community, and the population at large), the School of Veterinary Medicine, the only one of its kind in Cyprus, and the School of Life and Health Science," Pouyioutas said.
"These individual components join forces to form a comprehensive ecosystem that is not only dedicated to nurturing excellence in each of its fields, but also to fostering interdisciplinary research and collaboration," he added, an area of tertiary education he is quick to underline the importance of.
"We believe that continued government investment in university education is critical to sustain the momentum. One effective method of support could be to increase the budget available for both basic and applied research and innovation," Pouyioutas said.
Another point supported by Minister Michaelidou.
"We promote and support all higher education institutions in various ways," she said. "We aim at the internationalisation of higher education, and the interconnection of the research activities of universities with the diverse challenges faced by our country."