A shrinking expat population and a theatre-going decline in general has impacted membership of the long-established Anglo-Cypriot Theatre company
Graham Thomas is a worried man – and it's not about work.
During the day, Thomas works has a responsible position as group head of Rime International Due Diligence, a trusted provider of business intelligence, in an office located in Nicosia's old city. By night, he is president of the Anglo Cypriot Theatre, a long-established amateur dramatic company. And Thomas is worried about dwindling numbers.
Director and actor Thomas might be better known to readers as the larger than life, gaudily dressed dame in ACT's annual Christmas pantomime.
Founded by a group of mostly British expats in 1982 eager to bring a community of actors together, ACT has become a hub both for acting and for connecting expats around the island. In addition to the annual pantomime, ACT has put on a wide variety of plays from tragedies to romantic comedies.
But like many theatre companies across the globe, ACT is struggling to find new membership and to stay afloat post-pandemic.
"I think acting is going out of fashion," Thomas worries. "With a family and the burden of work, I think to turn out three times a week for rehearsals for the two to three months before a show is just too much for young people."
Calling for action, Thomas and the ACT committee posted a letter to the ACT Facebook in June. "I was almost in tears," he said, pulling out a printed copy of the letter and placing it on the table. The letter details ACT's current predicament.
"Put simply, ACT is getting old," Thomas sighed, recalling how, for their last performance, the group had to pay students to help with the heavy-lifting that is typically required of a backstage crew.
Right now, ACT doesn't have the bodies or the means to sustain such additional requirements, and yet, as stated in ACT's letter, the group will "not be able to plan future productions unless [it] can be sure…that a production team is in place to avoid all the work being done by the same very small – and ageing – group of people."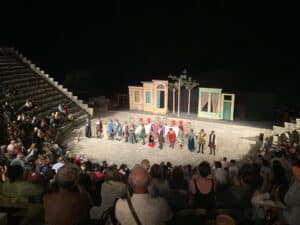 While the group has, in the past, been a space for English-speaking expats, Thomas noted that finding new members has been hard, as the British expat population – the mainstay of ACT – in Nicosia has dwindled in recent years.
"When the committee put this letter out, we sent it not only to our members but also to ex-members…, but nothing's come. I mean, the response to the letter has been pretty insignificant. Quite frankly, it worries me," he said.
English-speaking Cypriots have always played a big role in ACT, but Thomas and the committee believe it is time to start really campaigning for more of them to bring in the young blood that the group is looking for. Reinvigorating membership would also help attract audiences, who, in turn, could help churn revenue.
New members (Cypriot or expat) would just need to be able to speak English, as all of ACT's productions include English-speaking audiences.
But the crisis is more than just finding English-speaking members. Frustratingly, ACT is not the only theatre group that is struggling right now. In the US, WBUR, NPR, and The Atlantic all report a similar theatrical decline.
"Data collected by Theatre Communications Group, the publisher of American Theatre, shows a sharp increase in the number of theatres projecting deficits into their budgets." The statistic continues, "While for fiscal year 2021, just 10 per cent of theatres projected deficits, for fiscal year 2023 that number is 60 per cent."
Economist Impact agrees in an article titled 'Theatre's Digital Age': "Even before the pandemic, theatre sets were rewiring with digital technology in ways that augmented and reimagined live performance…When the pandemic hit, theatres in Europe were forced to make a more fundamental shift to virtual performances to survive."
Thomas points to a similar root-cause when asked to diagnose ACT's decline – a cultural shift, which came about as humans stopped prioritising the act of storytelling.
"When I hear that laughter coming from the audience, the feeling is incredible. You just flow from it," Thomas says, as he works to explain what he, fellow ACT members, and future generations will lose should ACT (and other theatre groups) cease to exist.
"I think it's the knowledge that there's someone out there who's paid 20 euros to come and watch that keeps me acting. You feel drained at the end of a performance, but you feel absolutely fantastic. It's the audience that creates that thrill for me."
He laughs as he recalls the feeling of stepping onto the stage at the start of each performance. "It's terrifying and completely thrilling," he smiles. "Even now. Yeah. Every time."