A catch-up with old friends always sets you up for an enjoyable evening. My friend suggested a restaurant in Dhekelia that I had not heard of before so it was a perfect opportunity to try somewhere new!
The once buzzing tourist area of Dhekelia seems to have been forgotten. Driving along the stretch, it is eerily quiet compared to days of old. We pulled up to the restaurant and it was nice and peaceful. The tables were all set outside and I worried that it would be a little hot but there was a breeze coming from the sea so we were quite comfortable.
Cambanella's has been around since 2002 so despite being in what looked like a quiet area they must be doing something right! The restaurant is unassuming and doesn't have all the razzmatazz of newly opened or refurbished restaurants. The tablecloths and layout was reminiscent of a wedding hall. However, there was one very redeeming feature. I was very impressed when I clapped my eyes on Cambanella's Cellar! A huge selection of wines were perfectly organised and decorated with carefully placed, used wine corks and wine crates.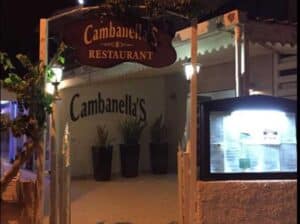 One thing I have to mention is the hospitality and friendliness of the owner Mr Costas. It was as if we were being welcomed as a guest to his home. When he came to top up our water and noticed we had finished the bottle he said 'You've run out of water! Just because it is on the house doesn't mean you should be embarrassed to ask for more!' and rushed off to fetch us a new bottle.
Perusing through the menu, Cambanella's has a huge variety of choices. Top cuts of quality steak, seafood, pastas and salads to name just a few.
I was undecided about what to order but when one of my friends ordered the mussels in a creamy garlic sauce, I knew I'd get food envy when I smelt the sauce so opted for the tender pork loins in the same sauce. I opted for the jacket potato as a side as I thought it would go well with the sauce and Mr Costas jokingly said 'you have the option of plain butter or garlic butter, you may as well go for the garlic butter!' Much to my partner's disdain, that is exactly what I was thinking myself! The other dishes ordered were carbonara and a salmon fillet. There have been times when we have ordered carbonara at other restaurants and it arrives laced with onion so, before finalising the order we just double checked that it wouldn't be the case this time and we were pleased to see Mr Costa exclaim that onion doesn't go in a carbonara!
The second my food was brought out, I smelled the scent of the creamy garlic sauce and knew I would enjoy it. The pork loins were tender and the tasty sauce was plentiful. Needless to say, I was very happy with my choice! Looking over at the mussels, I didn't personally think that the portion looked generous but my friend assured me it was enough to leave her full! It was evident that we both liked the sauce because there wasn't a trace of it on either plate once we were done! I was assured that the carbonara was tasty but its only drawback was that the pasta had a slight texture that could mean that perhaps the water it was boiled in was not hot enough. It's difficult to make a fillet of salmon, rice and vegetables look inspiring so, while the salmon dish didn't wow visually, it was done really well and much to my friend's liking.
The outstanding hospitality, good quality food and reasonable prices mean I would like to go back to Cambanella's, quite possibly to try one of those steaks!
VITAL STATISTICS
SPECIALITY International
WHERE Cambanella's, Amochostou 2 Dhekelia Road, Larnaca
WHEN Monday-Saturday 6.30 to midnight, Sunday midday to 4pm
CONTACT 24 647877
HOW MUCH On average €20 a head for house dishes – steaks starting from €28