If I had to sum up the food at Tiflis Restaurant with one word, it would have to be hearty. The dishes have so much depth of flavour, they are so rich, with so many layers of taste, it feels like the type of dishes you eat when visiting grandma for lunch on Sunday.
Tiflis offers Georgian food, a cuisine neither of us had sampled before. It's a shame it's not more centre stage as it really can hold its own among the Italian, Mexican and Asian outlets dominating international options.
The restaurant itself is in the centre of Limassol's tourist area in Germasogia. I have been driving past on an almost daily basis so decided it was time to try it. Despite its prime location, it is surprisingly affordable with very generous portions.
Tiflis is quite unassuming – a wooden setup with vines on the exterior, adding to the relaxed vibe – no glitz and glamour, simple tables, simple interior and a straight-forward menu. We liked it already.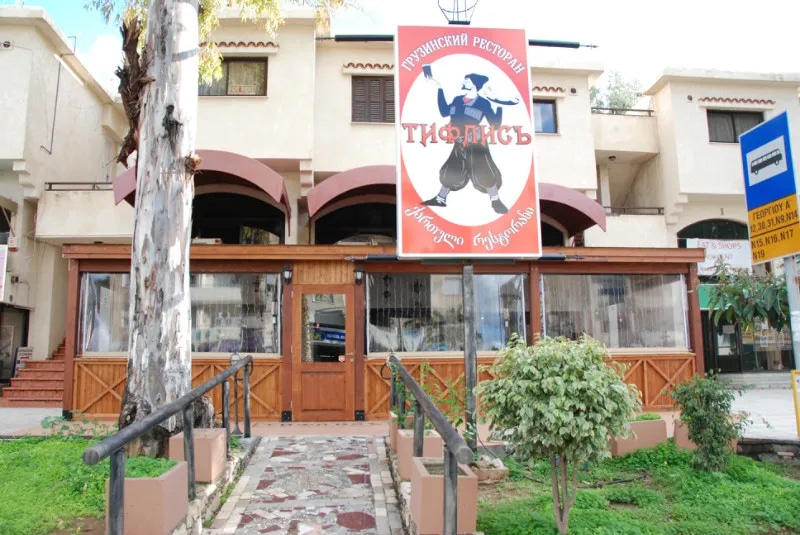 Despite the heat, I was craving soup and went for Kharcho – a beef soup with rice, tomatoes and spices. Thankfully, the waitress was sweet enough to suggest a half portion. As soon as the soup arrived we were hit with the fragrances of all the herbs. Along with the fluffy bread that comes as a standard on every table, the dish transported us to a winter day when it's raining. It was still hot on this August evening, but the soup was just as comforting. The beef was soft and tender but was not the centre-stage; that was the layers of flavours and variety of spices that married perfectly.
We also ordered Khachapuri Imeruli – a dough (the size of a pizza) stuffed with warm, melted Imeretinsky cheese. It's hard to explain why this dish was so perfect – it's seemingly simple and obviously comforting but there's few ingredients to make it more than just bread and cheese. The dough is soft and firm and the cheese was not overwhelmingly strong with a little salty tinge to it that melted beautifully into the warm dough.
For main most dishes seem to be grilled options or meals cooked in traditional clay frying pans. We went for Odzhakhuri and Shkmeruli.
Odzhakhuri is described on the menu as home style pork with potatoes and onion fried in a traditional clay frying pan. Once again, the smell and flavour of the rich herbs and spices hit the table first. The caramelised onions added a sweetness to the dish, while the thick-cut potatoes were soft and rich. The meat carried layers of taste – though was unfortunately more chewy than ideal.
Shkmeruli is advertised as chicken fried in the same type of pan in special garlic sauce with seasonings. The chicken, served in the sauce, was soft and incredibly tender, though be prepared: the restaurant doesn't joke around with portions and the garlic sauce was very strong. Was it a good dish though? It was absolutely amazing. You may need to sleep on the couch but the sauce was incredible, made with milk, butter and you guessed it, garlic. Served with a portion of wedges, the only way to completely wrap up the entire dish is to enter starved. The Georgians don't mess around with flavours or quantities.
We were also glad to see that the wine list offered a variety of Georgian wines. Again, the portions were generous – which perfectly fit the theme of the restaurant. The experience really made us want to actually visit Georgia and question why its cuisine is not better known.
At Tiflis, there were plenty of other dishes we wanted to try – the dumplings appeared to be a popular favourite – and there will absolutely have to be a next time. Until we book our tickets to Georgia, we'll probably be back a fair few times.
VITAL STATISTICS
SPECIALITY Georgian
WHERE Georgiou A 14, Andrea Court, Shop 3-4-5, Germasogia, Limassol
WHEN Daily 12-10pm
CONTACT 25 100605
HOW MUCH Main dishes range from €10 – €18.50