Shameful images from the riots
The anti-immigrant protest held in Limassol on Friday night revealed a rampant extremism that had no qualms about destroying everything in sight, and a shocking failure from police to keep the situation under control.
Molos area quickly turned into a war zone with cars and motorbikes set on fire as protestors threw Molotov cocktails mercilessly, in a part of town where members of the public had gone to unwind by the seaside.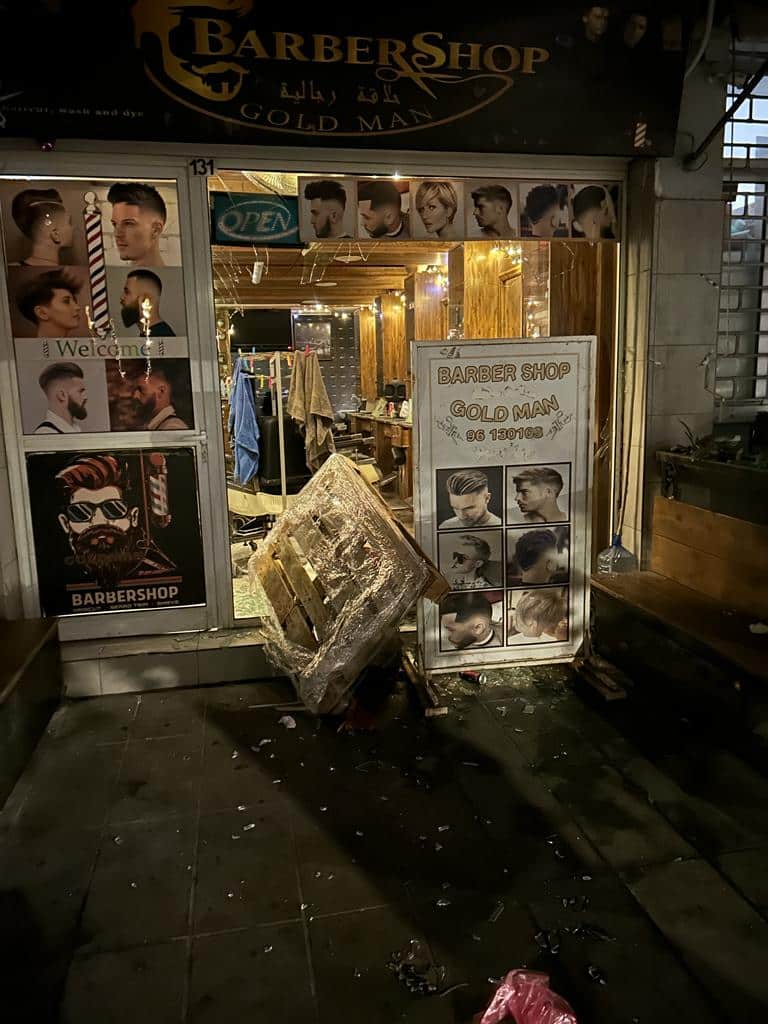 People began to flee for safety, seeking refuge in a hotel nearby as protestors moved to smash the windows there too. Children were in sight as firecrackers were thrown randomly and that no one died during the violence was nothing short of a miracle.
Thugs targeted anyone with the "wrong" skin colour. An Asian woman who saw her business smashed to pieces sat on the pavement unable to speak through her sobs, managing only to choke out "I have four children". The protestors who chanted they wanted migrants out of the country broke the till of her store and stole all her money that she wanted to send to family back home.
The protest began at 8pm with some 200 black-clad rioters screaming "Cyprus is Greek" and began the chant with "we'll start with the blacks first and then police."
Officers failed to contain the protest as Molos became a firing ground as protesters moved on to Anexartisias street, Glastonos and the old town, leaving a slew of fires in their wake littered around the main arteries in the city.
Less than five minutes into the march, cries were heard that a Syrian man was spotted, who had been sitting idly by Molos beach before a group of thugs came at him screaming that he had no place in Cyprus and began mercilessly hitting him.
Police were nowhere to be seen.
The rioters continued to yell "throw him in the sea, throw him in the sea" and a splash was heard though it was unclear if another foreign national dived in to save himself or he was thrown in by the extremists. It was a scene of pandemonium with hundreds of voices and explosives ricocheting in the background.
After they gave up on him, he limped away and confusedly wondered out loud "what did I do to them?"
The rioters only moved on because their friends urged them not to fall behind the rest of the march.
In total, at least five foreign nationals were injured. One eye witness told the Cyprus Mail that one migrant was seen with blood pouring down his face.
Roads were blocked by garbage cans set alight and destruction in the streets, as a police officer was heard mumbling in shock "Limassol has been burnt tonight." Glass from a smashed bus stop covered the pavement as people wondered whether public transport would appear – though police eventually began to control traffic in the area.
Targeted attacks towards migrants went unchecked by police, and businesses owned by foreign nationals such as a Syrian barbershop and food place were smashed to pieces.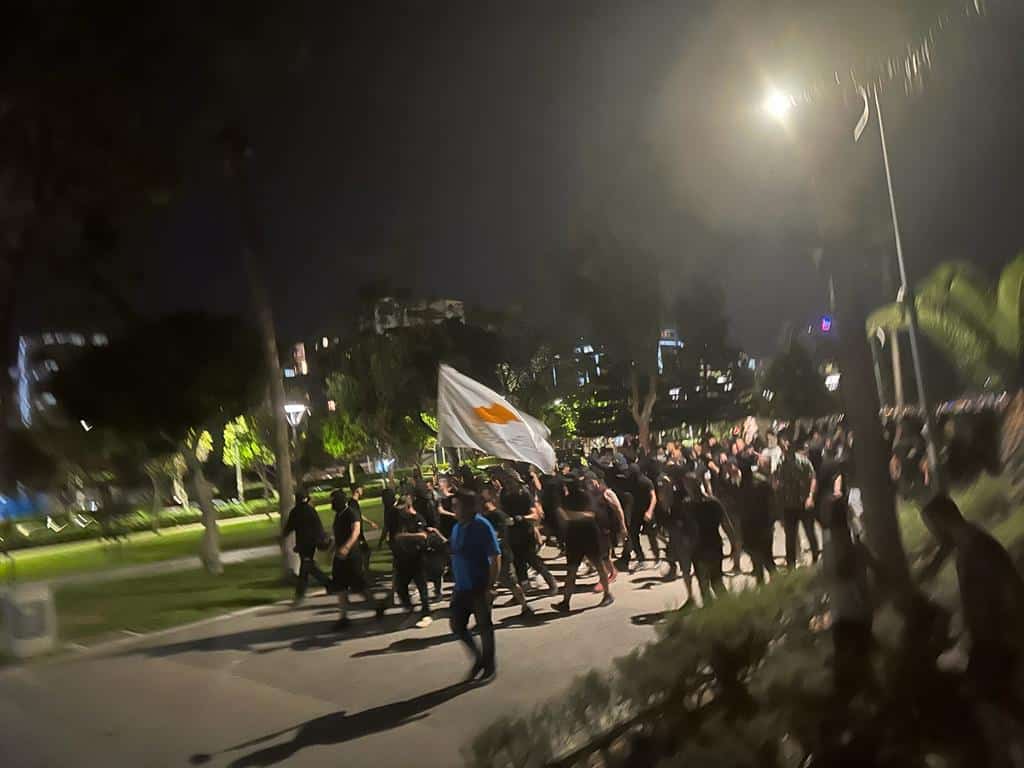 Despite it being a well-known fact that the seafront has a host of multicultural businesses, there were no police officers to man the area and ward off violent protesters.
A group of Syrian men that saw their shop smashed to pieces stared at the scene in shock and said "there were five police cars here and they didn't do anything. They saw everything." A bewildered gaze on their face betrayed the horror they experienced as they saw the thugs storm in while they sheltered for safety.
The infamous police water canon Aiantas stood there idly, and ultimately served as a decorative accessory. Some backstreets smelled of teargas, indicating scuffles in the area. But ultimately on Friday night, it was the thugs that controlled the area, not the police.
Ironically, there was scores of officers and anti-riot members at the scene but in all the wrong places. Despite assurances early in the day that an action plan was in place, police failed to follow the march and stop protesters from branching out to attacking migrants. They failed to ensure the broader public was safe when no checks were carried out to see what those men with balaclavas over their faces had on them.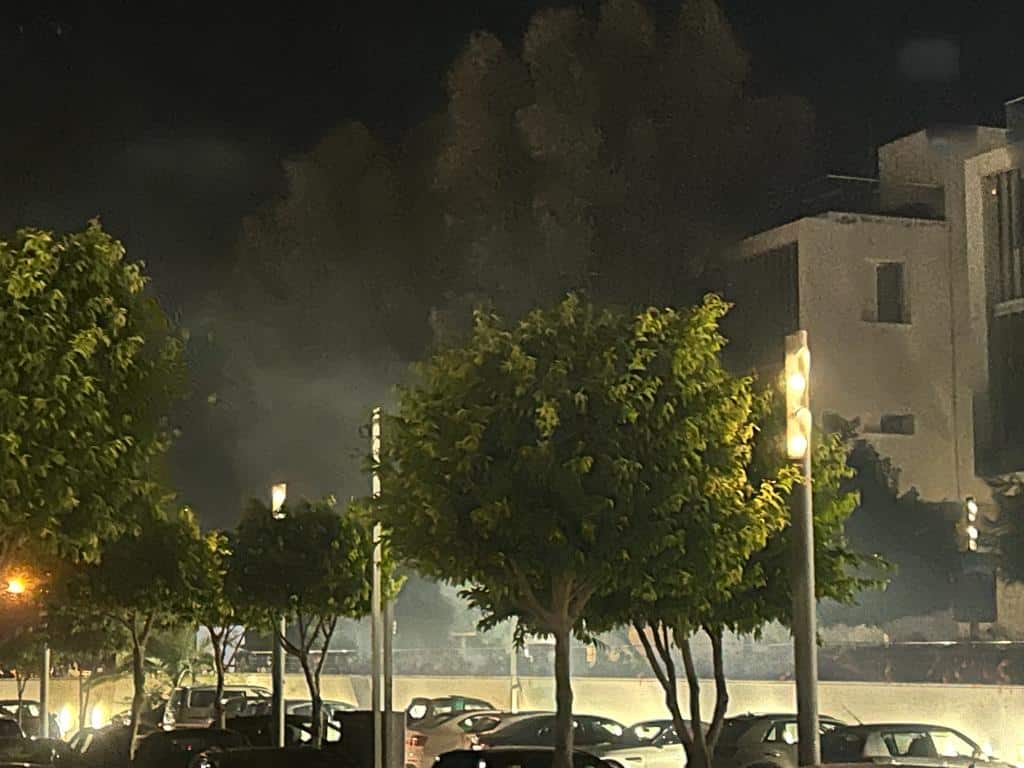 Police failed to protect the migrants that are known to operate their businesses in the area, as riot police were not even placed there and the water canon was simply parked next to the pavement.
A senior member of Limassol's force was heard screaming on the radio "the protestors are moving to the old port and towards the marina, you realise what this means." He sounded shocked the march actually went outside the Molos boundaries.
Diners abandoned their meals half way through and scurried to the backs of restaurants for cover as the smell of acrid smoke suffocated the area and firecrackers hailed down among pedestrians. Many business owners closed shop early, terrified for themselves, staff and property.
Police also failed to protect journalists who were attacked by the mob and a cameraman that was hit and saw his equipment smash to the floor.
PHOTO GALLERY
Locals who had gone for their evening walk and were horrified at the events, urged foreign nationals in sight to escape the scene for their safety. They then began to flee for cover as hooligans began to scream at police officers and the scene descended into chaos.
Two cars were set on fire and two motorbikes, as Molotov cocktails flew en masse in an area where people were innocently seeking to enjoy a stroll and going out for dinner. Children were playing at the playground one minute, and parents who began to process the imminent risks grabbed them making a run for it seconds later.
Almost absurdly, delivery drivers were still working. A high-risk group due to them being foreign nationals, they tried to guess and hope for a safe route where they could do their job without attack.
Though police knew since at least the day before about the planned protest, and after a week of violent incidents in Chlorakas village, officers stationed across Limassol were shockingly poor at handling the situation.
Some two hours after the explosion of violence, officers stopped a young man wearing black shorts and a black t-shirt, asking him to turn his pockets out. It was the only sight of a check observed all night.
By around 11pm, police had began inspecting cars driving through Anexertasias street, a questionable move as locals would know better than to drive through the city's main shopping road. Seven people were ultimately arrested but it was too little too late.