By Andria Kades and Nikolaos Prakas
Over two hundred far-right protesters gathered at the Molos area in Limassol for an anti-immigrant rally, which became an almost war-like scene, as things quickly became violent and police made arrests on Friday.
Around ten minutes into the protest, as around 200 demonstrators were marching and shouting slogans of "Cyprus is Greek," some broke off from the pack and attacked an innocent bystander.
According to what the Cyprus Mail correspondent saw at the scene, protesters attempted to throw the man that had been peacefully sitting on the rocks at Molos into the sea, but after failing they beat him instead and he was seen limping.
The man was saved, as some other Cypriot bystanders rushed to help him, but was heard saying "What did I ever do to them?"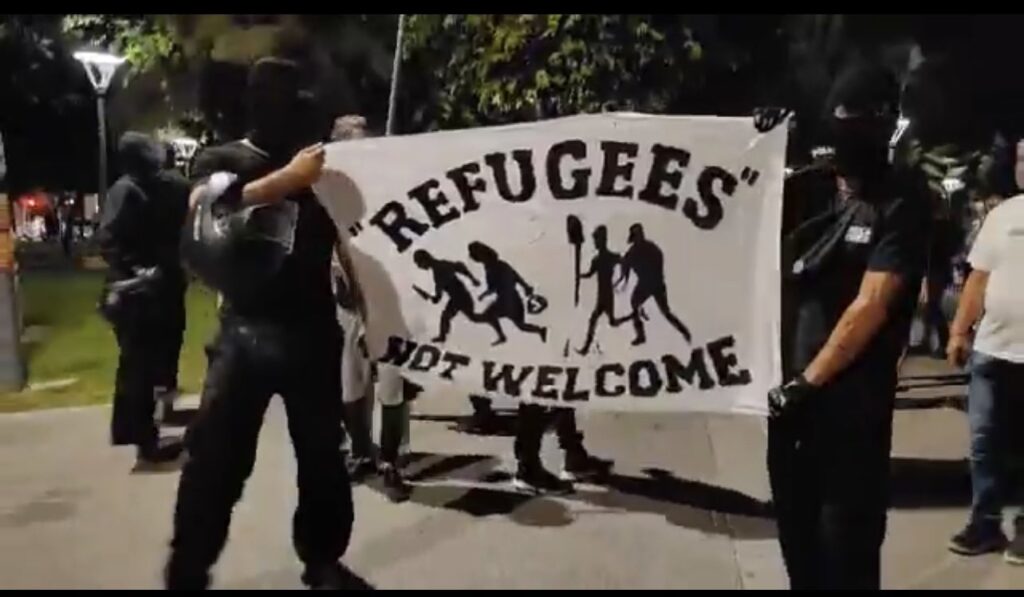 Another man that had been sitting with him at Molos was also spotted in the sea, and it was unclear whether the man had been thrown in or jumped in to protect himself from the violent gang that hit his friend.
Police later managed to arrest seven people in relation to the violence, but later said that the situation was still not under control as the groups had splintered off and were moving to other areas of the city.
Protesters hurled threats and booming firecrackers could be heard everywhere, as some shops in the marina closed early, for fear that the protesters could harm their businesses.
Many protesters were described to be wearing balaclavas and face coverings to remain concealed, as they carried out attacks.
Some balaclava wearing protesters were photgraphed carrying a sign that read "Refugees not welcome".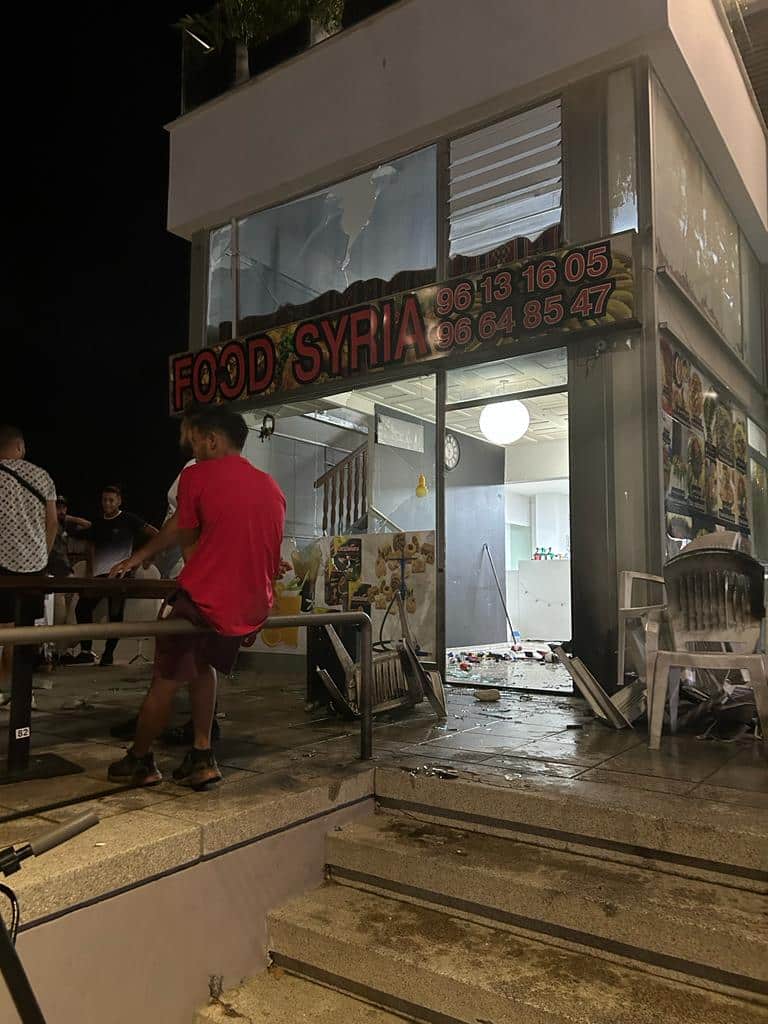 Protesters were later reported to have attacked a cameraman and a journalist at the scene as well, even knocking the cameraman down.
Later, protesters began to move towards the marina of Limassol, a popular meeting and gathering point for families, and the Cyprus Mail correspondent Kades said many people with children were leaving scared from the area, while police were also spotted telling people standing idly at the port to leave the scene.
People at the cafes and bars at the old port looked absolutely terrified by events, while some were sheltering in the restaurants, abandoning the tables they were sitting at outside.
Protesters also broke glass, damaged five migrant run business, and broke the windows of the Nyx Hotel, while people were trying to flee for cover.
Another four people were injured, according to reports at the scene. A police officer muttered: "Limassol has been burnt," as the main city centre was littered with burning garbage bins and smoke.
Police said that the protesters were also starting to get out of the space that had been organised for them to demonstrate in, and the Cyprus Mail saw some protesters attempting to attack police, while also inciting other demonstrators to attack foreigners.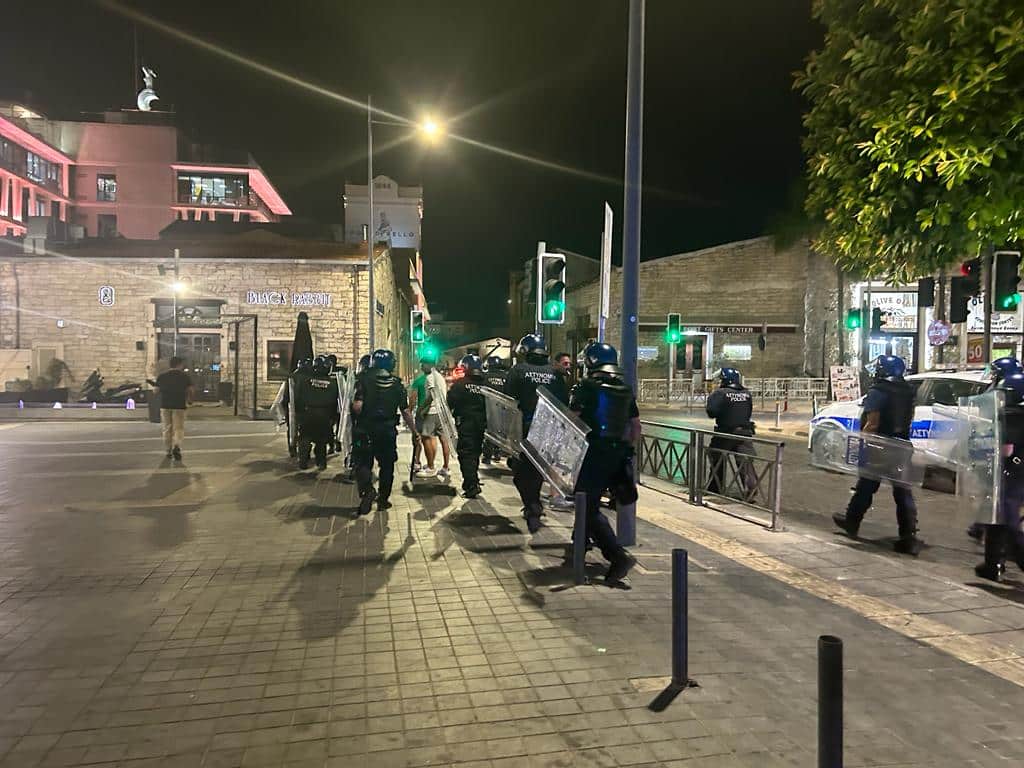 Protesters set a car on fire and police used some teargas cannisters.
Protesters were heard shouting obscenities about minorities, and then began retreating back to their starting point. In their wake, they left bins and carts on fire.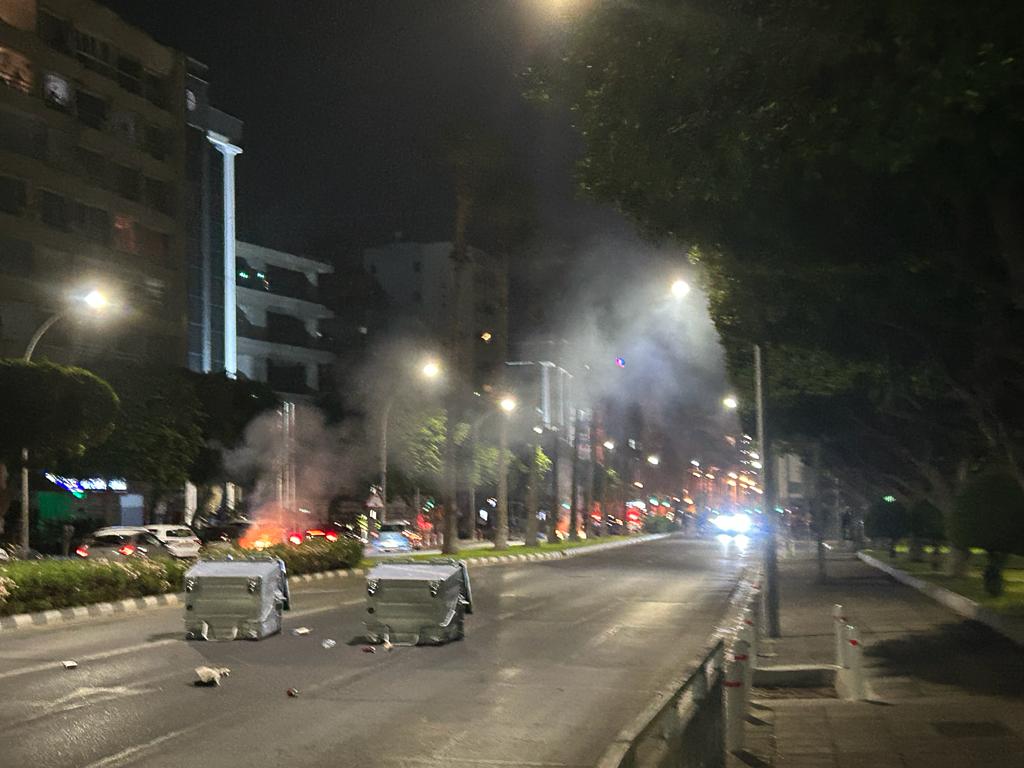 The developments come amid calls from three MPs to have Justice Minister Anna Procopiou resign, after she held a meeting on Sunday in Chlorakas with the police chief and an unofficial representative of the Syrian community, who later transpired to have pending arrest warrants.
The Syrian national had earlier in the day made inflammatory statements to the press after the first day of violence which he later apologised for attributing it to stress.
Disy MP Kyriacos Hadjiyiannis, Edek MP Kostis Efstathiou and independent MP Andreas Themistocleous called for Procopiou's resignation, saying the fact that she met with a person that had an arrest warrant pending was an embarrassment.
She told Philenews that she was there to hear the problems of the people, and the Syrian national was not brought in specifically as a negotiator of sorts.
The police spokesman said patrols in Chlorakas are ongoing to keep the peace. In total 145 drivers were stopped and 65 searched. There were 35 traffic reports of which five were found to be driving under the influence of drugs.
Four people were arrested for various criminal and traffic offences and eight vehicles were towed overnight.
Earlier this week, 21 people were arrested and 16 remanded over the riots.