Despite what we may think, Cyprus isn't divided into rich and poor – or so the Gini coefficient would suggest. On this measure of income inequality, a lower score indicates more equality, and the most recent report put the island's Gini at 29.5 per cent, one point better than the EU average, two points better than Greece, and over 10 points below Bulgaria – the EU country with the highest income inequality.
Look worldwide, and Cyprus' situation is even rosier – especially compared to Africa. Other than Brazil, all of the worst-performing nations are on this vast continent. But by far the biggest income inequality exists in a country that is often considered part of the more developed world. South Africa.
Leading the planet in income inequality, this beautiful but beleaguered nation scores a whopping 63% on the Gini coefficient.
But for the roughly 60 million residents, including around 25,000 Cypriots the country does boast incredible food. Because, from bobotie (spiced, curried minced meat topped with savoury custard, baked and served on top of yellow rice) to biltong (brined, cured strips of meat; a favourite snack at sporting events!), the cuisine of the rainbow nation is as diverse as its people…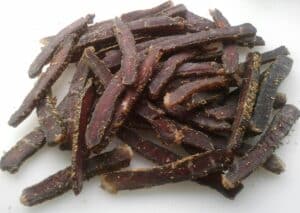 While mealie pap (a maize porridge), vetkoek (fried dough balls stuffed with curried mince or chicken mayo; also known as amagwinya in Xhosa and Zulu), and geelrys (yellow rice seasoned with turmeric, raisins, and cinnamon) are everyday staples, much of the nation's cuisine is meat-based.
From the Dutch, we get boerewors (a sausage that, unlike its British counterpart, is almost pure meat, and extremely popular at the barbeque, or braai), along with dishes such as potjiekos (a rich meat and veggie stew). From the Malay, there's sosaties – lamb, chicken, beef, or pork kebabs marinated in spices. And from the nation's considerable Indian population comes biryani: spices, rice, and meat to which lentils and vegetables are often added for a uniquely South African touch.
On the sweeter front, there's melktert, a sweet pastry crust with a light, cheesecake-like filling topped with powdered cinnamon. Koeksisters are plaited, fried dough drizzled with syrup, honey or lemon, and are often lauded as a symbol of reconciliation thanks to their consumption at a meeting between Nelson Mandela and the widow of the former Prime Minister Hendrik Verwoerd! And finally, we have hertzoggies, pastry tartlets filled with apricot jam and coconut. Another storied dessert, these were believed to have been invented by the Cape-Malay community in support of early 20th-century prime minister JBM Hertzog, who promised to give equal rights to all upon his election. He didn't.