Paphos' well-known and well-loved Tala Cat Park may not survive the winter. Alix Norman finds out how the dream has faded
If there's a cat matriarch of Cyprus, it's Dawn Foote. A household name among animal lovers on the island, she's rescued, healed and rehomed thousands of strays since 2010. Her story is common knowledge both here and abroad; the British retiree who poured her life savings into a cat shelter has been featured on international media in the UK, France and Germany.
But in the last year, disaster has struck. Dawn, that bastion of warmth and care, has suffered a debilitating stroke. And her husband Mark – always a staunch ally in her charitable feline endeavours – has now become both a full-time carer for his childhood sweetheart and for the roughly 800 cats of the Tala Cat Park.
"It's too much for one person to handle," says Chlorokas resident Emma Siobhan Williams, one of the shelter's volunteers. "Mark has been utterly amazing in every respect. But it was Dawn who was always the powerhouse behind Tala Cats. Hers was the drive, hers was the dream."
It's a dream, adds Emma, that has been dying over the last year. Because not only has the shelter lost its leading light, the sanctuary itself has fallen into disrepair.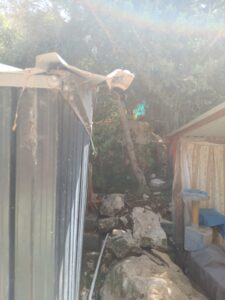 "To be honest," says Ryan Hart, Emma's partner and the owner of Cyprus Woodcraft, "the sheds and huts that house the most vulnerable cats are holding on by the skin of their teeth! Most were jerry built years ago, and are now on their very last legs – doors are coming off, cages can no longer be fully cleaned, the roofs are falling in.
"It's a huge problem," he adds. "These huts were originally designed to house cats that need to be separated from the general population for health or safety reasons, and to receive regular care and attention. And what's worse," he reveals, "is that winter is coming…"
Over the years, the Cat Park has cared for thousands of cats, and rehomed hundreds more. The majority go to forever homes in the UK and the Netherlands, others to loving local families. But post-pandemic, both volunteers and money have been thin on the ground. And as a non-profit venture, the sanctuary relies almost entirely on donations and goodwill.
"Like the other volunteers, Ryan and I give all we can to the park," says Emma. "Ryan, especially, is up there almost every week fixing cages, walls, roofs – trying to stave off the inevitable collapse of these vital structures. But since Dawn's stroke, it feels like he's not just repairing wood and steel, he's trying to mend the spirit and soul of the sanctuary itself."
With the seasonal rains already beginning, flooding is worsening the situation, Emma explains. But with repairs no longer enough, and no money for anything beyond basic food and medication, the two have come up with an answer.
"We're the kind of people who both find and effect solutions," says Emma, "So we spoke to Mark and the other volunteers, and decided to launch a gofundme page to help raise money for an entirely new structure: one that's safe and secure, up-to-date, and easy to clean. "
Currently, 17 dilapidated huts – each containing between two and six cages made of rotting wood and holed mesh – are housing the shelter's old, ill, disabled and vulnerable cats, as well as the tiniest kittens and new arrivals – all of which must be isolated from the general population until they're treated by a vet, spayed or neutered.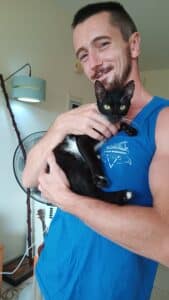 But, with the funds raised from the gofundme campaign, the shelter will be able to establish a dedicated facility to care for the cats that are most in need. Using Ryan's skills, the plan is to build a 12 by five-metre cabin that will contain 204 block-mounted, wheeled steel cages. Raised off the ground and structurally braced, this cabin will ensure cats remain warm and safe throughout the coming winter, and that cages can be rolled out and cleaned with a jet wash in a matter of minutes.
"It's not just about a cleaner space," says Emma. "It's about creating a place where the cats can heal, where infections won't persist, and where their chances of finding a loving home are optimised. What we're trying to create isn't merely a building, it's a sanctuary where every cat's story can have a happier ending. Just as Dawn envisaged when she first started the shelter."
The campaign has a goal of €25,000, of which the majority will be spent on materials. "If you think I'm doing this to line my own pocket, you couldn't be more wrong!" says Ryan, who will be publishing every cost and invoice to ensure absolute transparency. "Wood, iron, and steel are expensive; so are roofing felt and wheels. We need to build something here that will stand the test of time. And we're trying to do it before the cold sets in."
Just a few days after its launch, the campaign has already raised €6,000, and all the volunteers are thrilled by the support.
"We simply can't believe how quickly this has taken off!" Emma enthuses. "Though there's still a long way to go, and every little helps. If you can donate, we'd be so grateful. And if you can't, please consider fostering, rehoming, or volunteering – even simply brushing matted fur or giving medicine is a huge help!"
"And if you'd like to donate materials or help with the construction, that too would be very much appreciated," adds Ryan. "All hands are welcome; there'll be plenty of painting and hammering once we get going. And loads of warm and purry cats to cuddle while you're there!"
Emma and Ryan hope the project will break ground within the month, and be fully completed six weeks later – ahead of winter. It's an endeavour built upon the same dedication that inspired Dawn's original dream.
"Dawn may no longer be able to take the reins," Emma concludes. "But her unwavering spirit drives us on: she paved the way, turning compassion into action. A decade on, despite the recent disasters, we're determined to keep her dream alive."
For more information on Tala Cat Park visit https://www.talacats.com/ To donate, visit the gofund me Tala Cat page