An expert in AI, one Paphos resident has developed ground-breaking technology used to identify fires before they wreak havoc. ALIX NORMAN finds out more
Andrew Wilkinson may hold the key to the recent wildfires. No – of course he didn't start them: this Paphos-based software developer is an environmental advocate, passionate about the beauty of his adopted homeland! But he may be the one man on the island (or even the planet!) who can help ensure future blazes are caught before they rage out of control. Because this retiree – who was at the forefront of AI in the 1980s – has utilised recent technology to enable us to do something we've never before been able to accomplish: identify illegal rubbish dumps without ever leaving our homes.
Let's clarify. Many wildfires begin when soaring temperatures cause spontaneous combustion at illegal rubbish sites. In Cyprus, the recent conflagrations are believed to have ignited in a burning trash pile. But in that the island is quite literally littered with illegal dumping sites, it's almost impossible for authorities to clear this ubiquitous risk.
"I'm a keen hiker and climber," says Andrew, who moved to Cyprus 17 years ago for a slower pace of life. "But living in the foothills of the Troodos mountains, I've discovered that one challenging aspect of exploring the rural areas of the island is the plethora of impromptu rubbish tips. These," he adds, "occur throughout the developed world. But they seem to be a particular issue in rural Cyprus; possibly due to the lack of easily accessible Green Points. And yet, as well as being a dreadful eyesore, they're also immensely dangerous. Especially as temperatures climb…"
Alongside environmental concerns (waste often contaminates soil and water, affecting ecosystems, wildlife, and even the food we eat), air pollution (as waste decomposes, it releases noxious gases), and disease transmission (illegal rubbish sites are breeding grounds for rats, flies and mosquitoes), fly tips are often rife with flammable materials.
"Garbage dumps tend to include organic material that can heat up," says Andrew. "When combined with extreme climatic conditions – such as Cyprus' recent heatwaves – or the incorrect disposal of chemicals or batteries, this can lead to unintentional fire risk."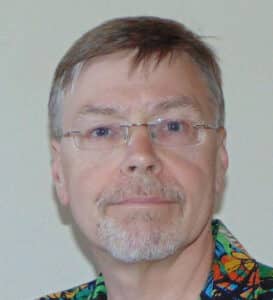 This spontaneous combustion has been postulated to be the cause of the island's recent blazes. "I was caught up in them myself," says Andrew. "When I went to collect my wife from the hospital in which she works, I had to drive through Apsiou and Mathikoloni – it was quite frightening to see entire ridges and fields ablaze in the dark just a few tens of metres away from the road."
In the US alone, each year over 8,000 landfill fires are caused by poor waste management, costing more than $8 million in property damage, environmental loss and health issues. In Cyprus, we had more than double the usual number of blazes in July alone – and poor waste management can very often be the cause of these fires. And this is where Andrew's first-of-its-kind technology might make a huge difference…
"Basically, what I've done is utilise AI to create a deep learning or neural network model that can recognise garbage dumps in satellite images," Andrew explains. "Taking input image patches collected from satellite imagery, this model can predict with an accuracy of more than 80 per cent whether the area contains a fly-tip – crucial in a country where thousands of illegal dumping sites exist unbeknownst to the authorities."
With such machine learning technology, Andrew suggests a system could be developed that would scan satellite images covering the entire rural regions of Cyprus automatically, and build a corresponding rubbish map.
But where it gets really interesting is in terms of the additional applications, especially concerning wildfires. Because most satellite image sources provide not just information on the visible spectrum, but also on the infrared…
"You can see where this is going," says Andrew. "If authorities had access to imagery that could automatically scan for the kind of heat build-up caused by spontaneous combustion, we might be able to address wildfires at their source – before the damage begins."
In 1985, Andrew was among the first people in the world to work in the field of AI and has, over the years, worked projects such as software for the Eurofighter, and the fly-by wire primary flight control system for Boeing 777 commercial aircraft.
"Since I retired, I've been working on my MSc in computer science with artificial intelligence" – which he has just completed with flying colours – "to develop the model that can identify illegal rubbish sites. I thought it would be nice to complete my working life where I started, in AI. And at the same time, do something that would could benefit people not just in Cyprus but potentially the world over."
While Andrew has made the datasets developed for the Cyprus garbage study freely available to the wider AI community, he's also using the software framework as the basis of an AI startup, deepTerra. Producing software prototypes built around the Python Keras framework, this company will simplify the while process so that non-technical individuals can generate and apply his models to other areas.
"These techniques are applicable anywhere," he explains. "New datasets would obviously need to be obtained and new models trained" – Andrews' model contains around 25 million trainable parameters! – "but the process would, essentially, remain the same.
"So, as well as detecting garbage, the same approach can be used to detect many types of object visible via satellite or other remote sensing data, such as drone footage. Buildings, types of vegetation, areas of deforestation, roads, historical imagery related to changing land use – these models have countless applications."
For the time being, however, it's Cyprus that will be first to reap the rewards. "There have been a few studies that have applied similar techniques to large areas in South America and Eastern Europe," Andrew concludes. "But this is the first time deep learning has been applied to small scale garbage dumps of the sort found on this island. In time, perhaps the technology can be applied to other countries, and to other factors. But for now, it's Cyprus that I hope can benefit."
For more information on Andrew's work, visit https://arxiv.org/abs/2308.02502