Transforming the work environment can help improve team productivity and further business success; these were our insights based on the real case study of law firm Enalian Consulting.
The discussion below features Enalian Consulting Legal Director Michaella Pillakouri, and ZIKZAK Architects CEO Alesia Karnaukhova, whose team was responsible for the office design.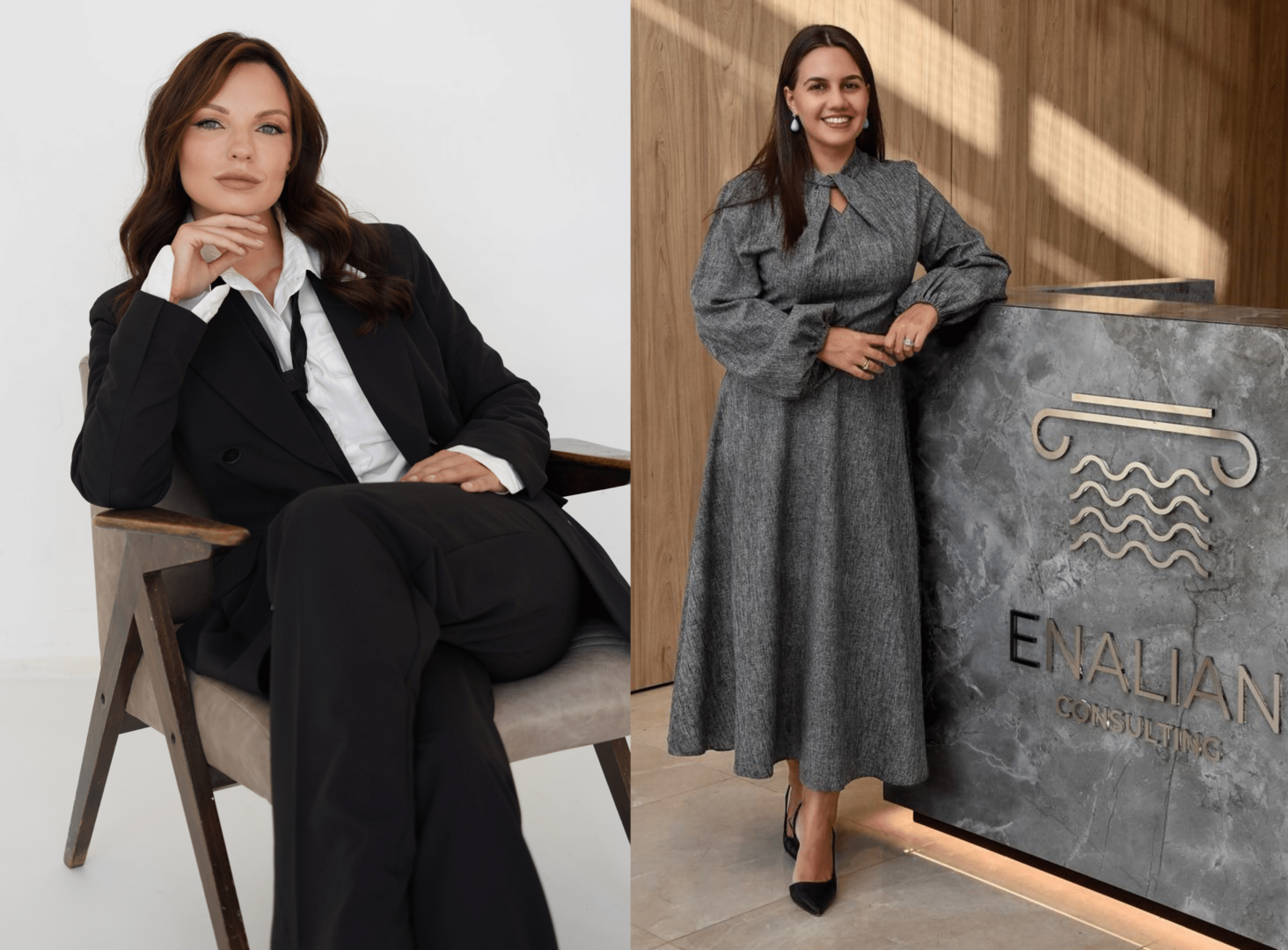 Question: It's been several months since you started working in the new office designed by ZIKZAK Architects. Going back to the beginning, what drove the need for a new workspace?
Michaella: The decision to move to a new office was driven by several key factors. First and foremost, the continuous growth of our team led to an increased need for space, especially for archive storage and conference rooms. Additionally, our desire for a modern atmosphere that would reflect the spirit of our team played a pivotal role in making this decision. Our team consists of dynamic and ambitious young professionals, and we wanted to capture that same energy in our new office.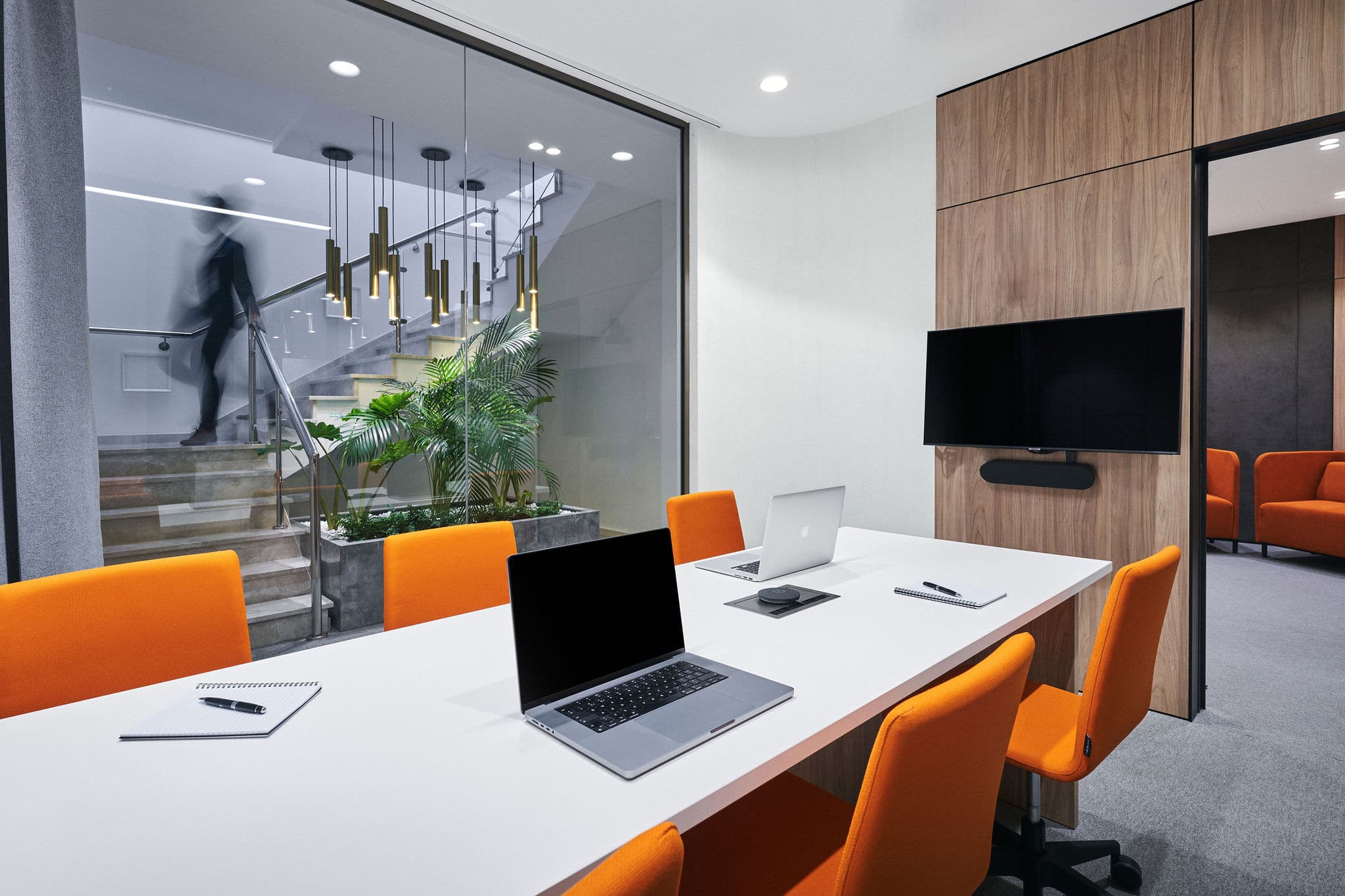 Question: Why did you choose ZIKZAK Architects to design the new workspace? How comfortable was the collaboration?
 Michaella: ZIKZAK Architects is becoming a well-known name in Cyprus, and I had received positive feedback about their projects from other business owners. We worked closely with the ZIKZAK Architects team to create a modern and tech-savvy space that reflects our team's spirit. Special attention was paid to safety, environmental priorities, technology integration, open-planning, and maximising access to natural light and greenery. Our goal was to design a space that authentically embodied our team's values and ethos. It all turned out wonderfully!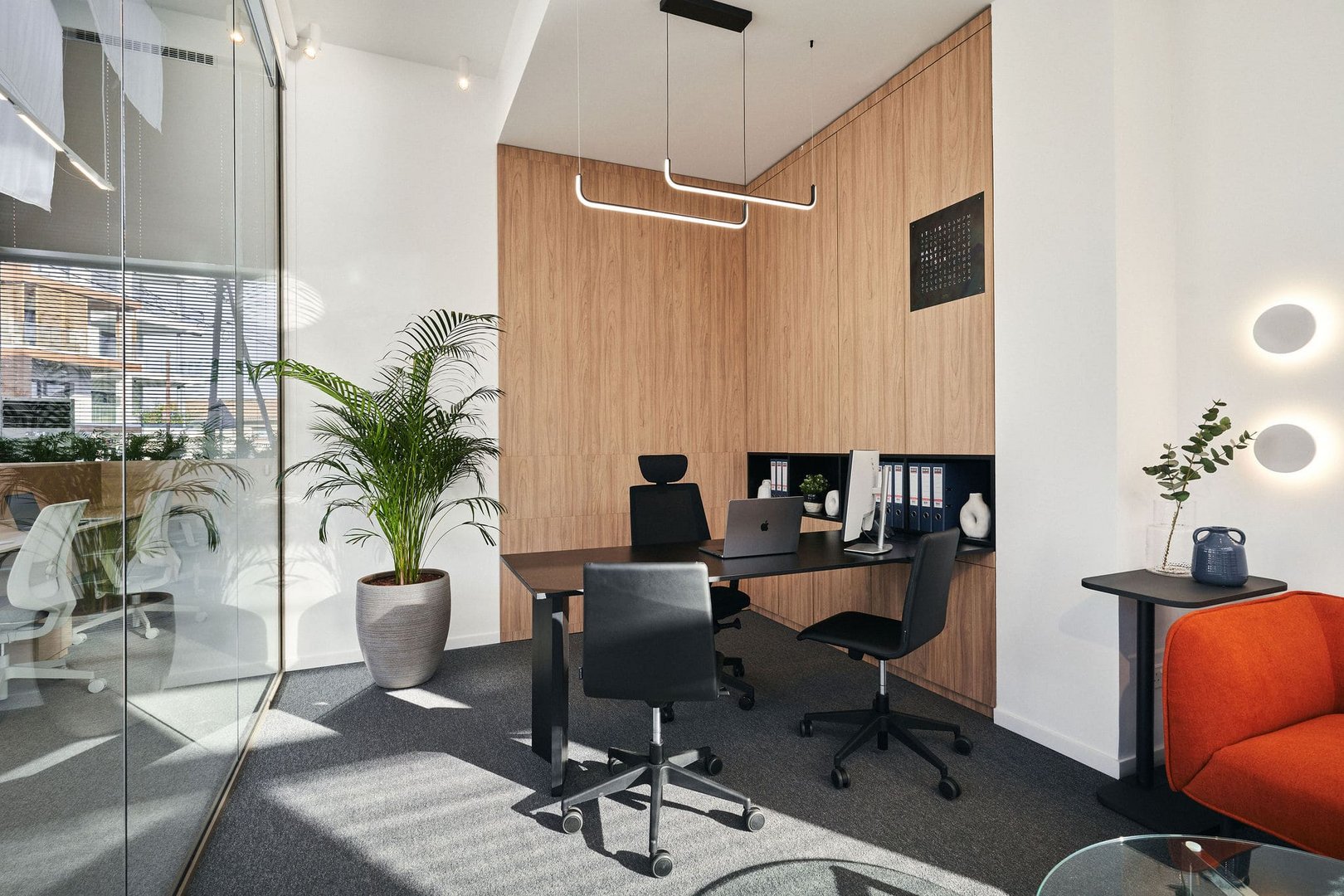 Question: What were your main requirements and preferences regarding the design of the workspace? 
Michaella: Our vision encompassed the integration of modern, innovative, and open concepts in our workspace. These concepts included quiet offices for focused work, spacious conference rooms, and meeting areas with an online booking system. We aimed to create an environment where not only our team, but also guests and partners would feel welcome and a sense of belonging – an extension of the comfort we ourselves experience in our office.
Question: What is the main idea behind Enalian's office design? 
Alesia: The nature of work in a law firm can be quite stressful and demanding. Our goal was to use interior design to reduce stress, making problem-solving even more effective within the office environment. We aimed to create an office where clients feel completely at ease, as if they were visiting a spa rather than a law firm. We drew inspiration from the calming coastal landscapes of the island.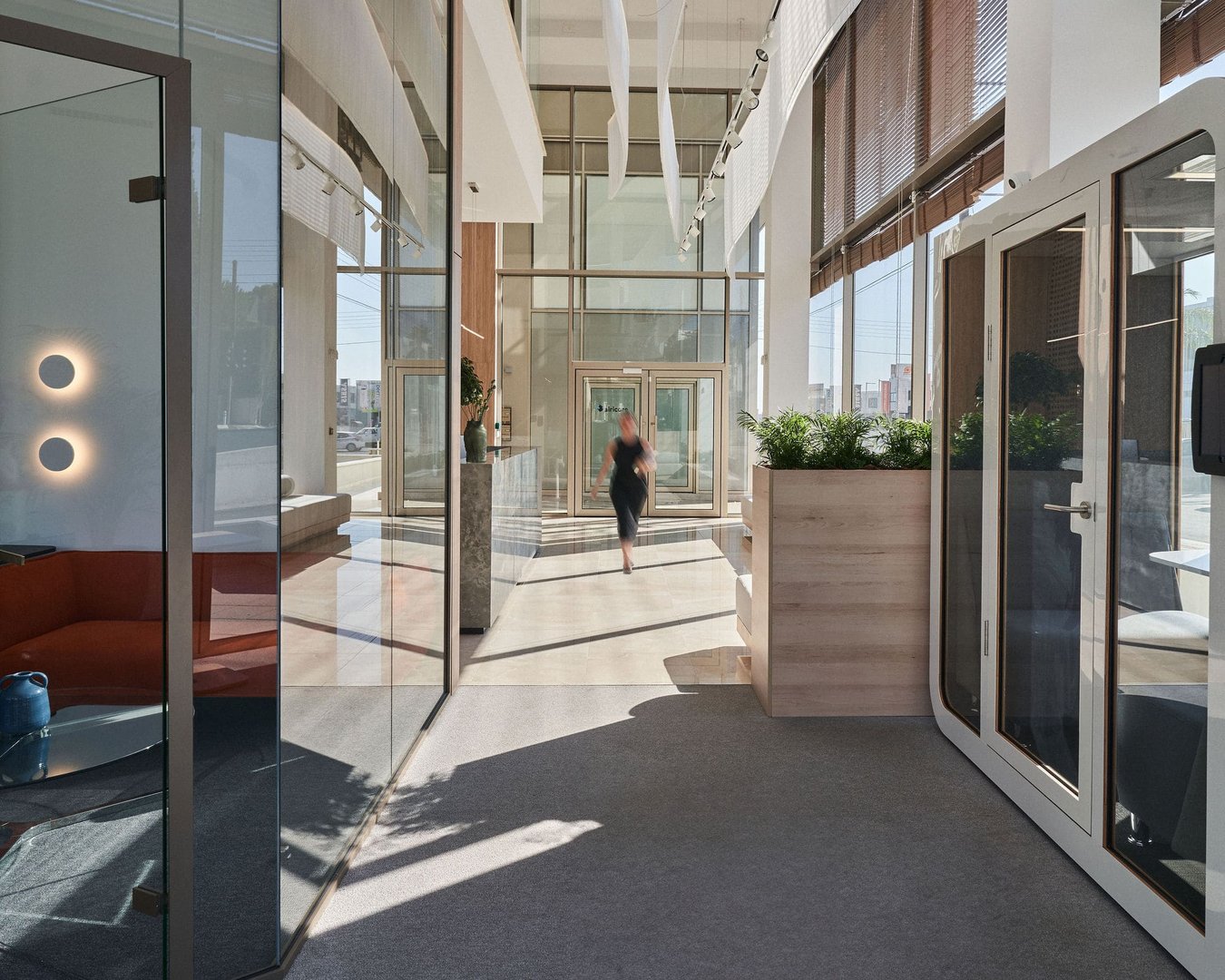 Question: Tell us more about the project's specifics: how long did the design and implementation take? 
Alesia: The design phase took about three months, and the implementation required four months. The space was located in a newly-constructed office centre, and, at the time of design, it already had completed finishes. Therefore, our challenge was to incorporate the existing elements into the new interior design. We retained the wall finishes, flooring, kitchen area and restrooms. This was a cost-effective decision that helped optimise the project budget.
Question: The office covers an area of 370 sq.m. Tell us about the zoning features and individual solutions. 
Alesia: The office space is divided into three levels. The first is the basement, where we placed a large meeting room and a cozy lounge area with a coffee point. Stairs lead upstairs to the executive floor, which is a double-height space along a glass façade. We highlighted this area with linear wave-like fixtures, subtly emphasising the layering of the floor structure. We created a comfortable waiting area, a spacious lounge and a phone booth for confidential conversations. On this floor, there is also a meeting room, an open workspace, a private office and a dining area. The mezzanine is separated from the main space by a solid glass partition. This area is exclusively for office employees.
Question: How has the new workspace impacted employees and their productivity? What about you? Are you satisfied with the outcome?
Michaella: Our new office exudes a sense of comfort. While most employees used to prefer remote work, now everyone has returned to the office. We've created an environment that is both practical and enjoyable.
Previously, lunch breaks were mundane due to the lack of a functional dining area, but our new office layout has solved this problem. Now we have a great dining area and relaxation spots where our employees can enjoy breaks together as a team. One of the most intriguing innovations is the lounge area and quiet zone. The quiet zone for focused work and creative thinking has significantly improved the mood and work style of our employees.
Our clients and visitors also love the new office, expressing their admiration for the attention to detail and warm atmosphere. In fact, many of them come for meetings in advance to chat and enjoy a cup of coffee in our office. This has not only improved our relationships with clients, but also added a pleasant social aspect to our business interactions. We are genuinely satisfied with the result.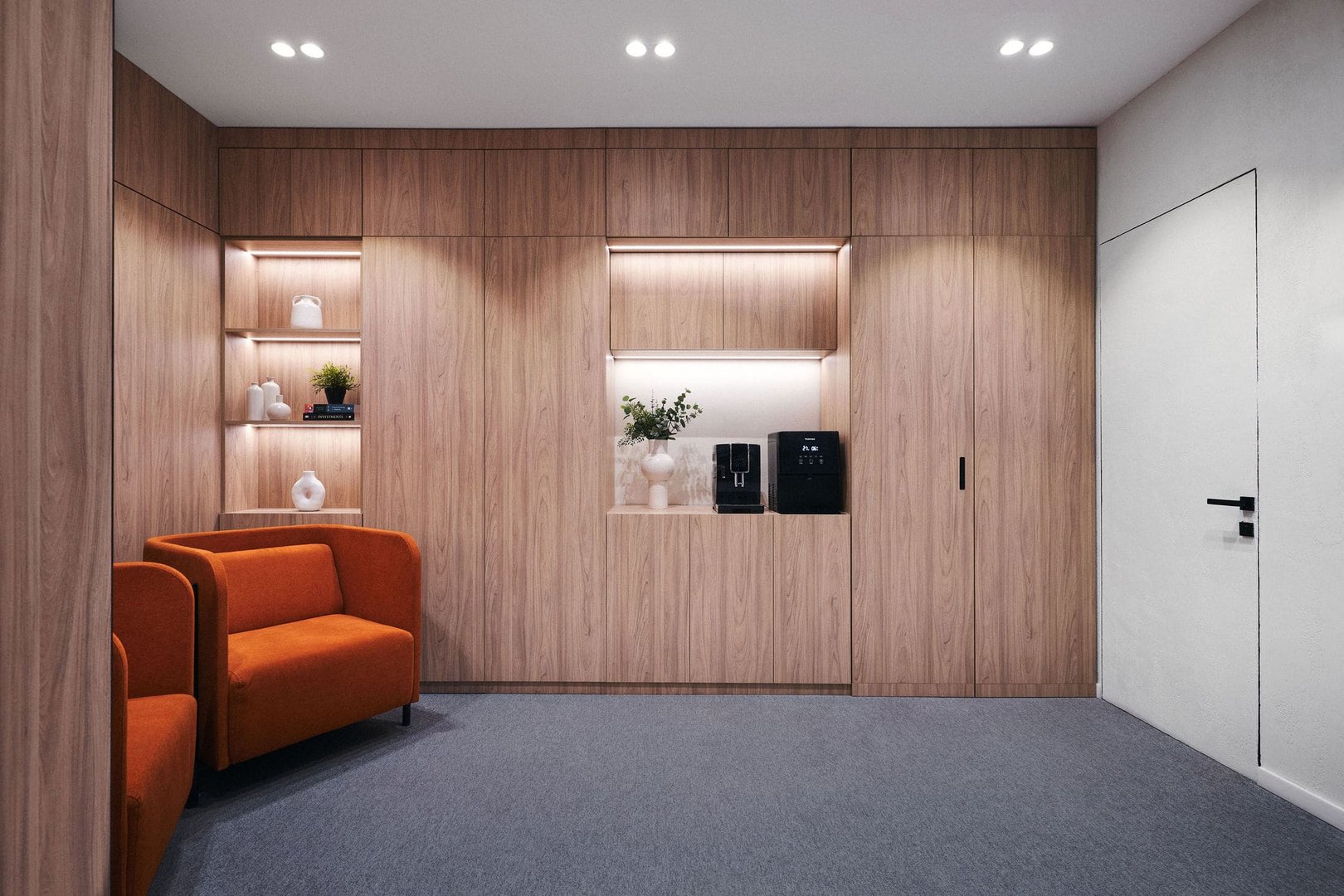 Question: They say there's a mass return to the office on the horizon. What are your thoughts on this? 
 Alesia: Yes, people crave in-person interactions, and to be part of a like-minded community. Additionally, modern offices are so well-designed and equipped that the pleasure of working in them often surpasses the solitude of working from home.