Some economic theories dictate that companies should set up close to their competitors. Why? If consumers want something specific, they will all head to a particular location knowing they will find what they are looking for.
This is exactly what sprang to my mind when spotting a restaurant along the Dhekelia road. My partner and I were all set to visit a particular restaurant when The Taj Mahal Indian caught our eye. It looked tempting but, do we stick with what we know and enjoy? Or, do we take a chance on somewhere new to us? We decided to give it a go. Taj Mahal is about a month away from its one year anniversary.
From the outside, it is very simple. A large banner displays their name, logo and social media accounts. Sadly, the same goes when you walk in. It is a little too clean. There is a lack of ambience. Other than some artwork on the wall there isn't a real feel of an Indian restaurant. Maybe it was the bright spotlights? The shiny, spotless tiled floor gave the feel of more like being at someone's house. There wasn't even any subtle music playing in the background. I wasn't really getting an authentic Indian experience.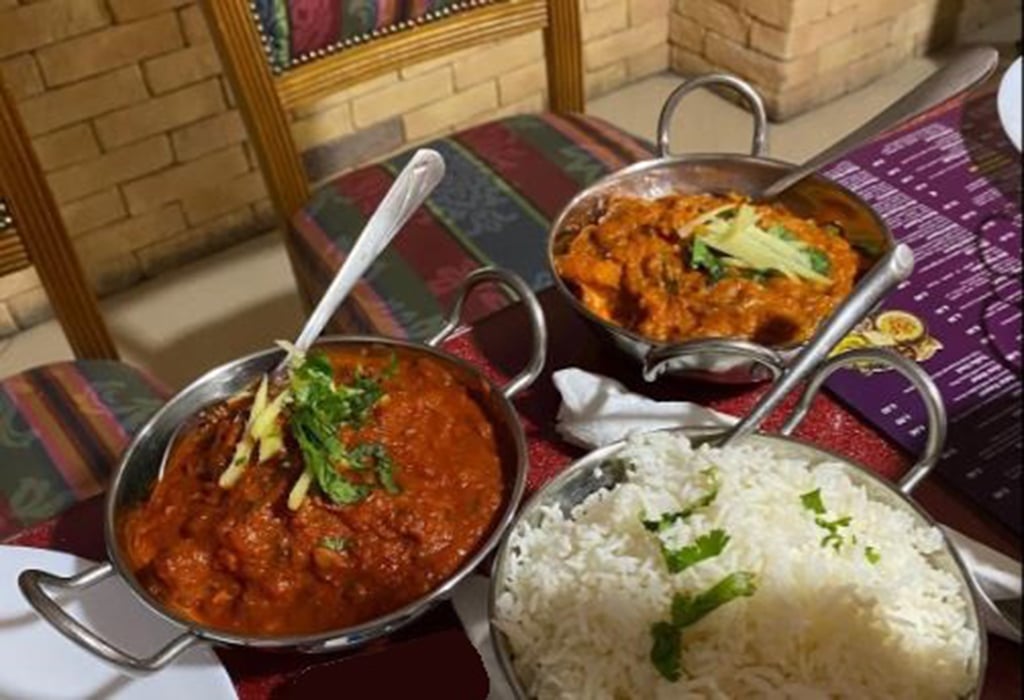 We were given a menu and there is a lot of choice! As dishes came out of the kitchen, the aromas gave an indication of India and we tried to guess at what choices were heading past us as they looked so good. The purple, paper, leaflet like menu did not give an indication of how hot a dish was, with only one described as spicy. This being said, when asking the waiter questions he did say that it wouldn't be a problem to adjust the heat to our preference for most dishes. 'Even a Korma?' I said in jest, to which the answer was 'of course sir, I can make a korma spicy for you if you like.' This was good news for my partner who does love a hot, hot dish.
The waiter said if I like creamy and sweet dishes, a korma, with just a little spice, not hot, is actually very nice. I took him up on his suggestion alongside pulau rice and a garlic naan. My partner simply asked for a chicken vindaloo, with extra spice!
The two of us do like an Indian Kingfisher or Cobra beer but are frequently left disappointed at other restaurants as, despite it being on the menu, they always seem to have 'run out'. We noticed both beers on the menu and, with not much hope in our voices, asked if they had them. Of course! Which one would you like? Kingfisher please! Whilst waiting for the food, we were brought popadums and our beer, which was lovely and cold.
The food arrived and from the strong scent, I could already taste it and loved it! The chicken was soft and succulent, the sauce creamy, nutty and that sweetness balanced out with the perfect (for me) amount of spice. Shiny tiled floors? Who cares! This food was so good all I wanted to do was savour each mouthful! I daren't try my partners dish but she also thoroughly enjoyed the flavours and was happy that finally we had found a restaurant that didn't hold back when she asked for that extra heat.
At the end we were both feeling rather smug that we had made the correct decision to give Taj Mahal a try. We will definitely be going back.
VITAL STATISTICS
SPECIALTY Indian, Asian, Middle Eastern, Pakistani, Bangladeshi
WHERE Taj Mahal, Okeanias 8, Dhekelia, Larnaca
WHEN Daily 11am-11pm
CONTACT 96 155125
HOW MUCH Chicken Korma €9.50, Vindaloo €8.50, Pulao rice €3.50, Garlic naan €2.50