Eleni Philippou looks at the events coming from Friday onwards
With the weekend just around the corner, there is no shortage of things to do as half a dozen festivals take place, new art exhibitions open and free live music takes to the streets. Here is your pick of weekend fun!
Festivals are thriving this month and October promises to bring even more. Sardam Interdisciplinary Literature Festival will take place in Limassol from Friday to Sunday with a series of performances, screenings and workshops. Invited artists, writers and creatives from Cyprus and abroad will join this 11th edition. Providing workshops for the art-hungry logophiles will be Amanda Michalopoulou from Greece and Safiya Kamaria Kinshasa from Barbados and the UK.
In Astromeritis, a three-day Street Food Festival is being organised and it will include plenty of food and music. From Friday to Sunday, locals will enjoy a variety of street food dishes, DJ sets and live performances by well-known names from the Greek music scene. Opening the festival will be a performance by Hovig on Friday while on Saturday night, a disco party with Greek songs will entertain visitors. On the final evening, Greek artist Andromachi will present a live show to wrap up the festivities with an uplifting performance.
Nicosia will welcome two more festivals on Saturday – the Up to You(th) Festival and Pame Kaimakli. At Acropolis Park, the 7th edition of the Up to You(th) Festival will be held from 5pm onwards with the participation of over 70 NGOs. Workshops, presentations, a Tech Fair, a Human Library, a dog adoption corner and live music make up the programme this year. Meanwhile, the old neighbourhood of Kaimakli will welcome local and international artists as they present their creative projects, interactive installations and street performances, part of the 10th Pame Kaimakli Festival.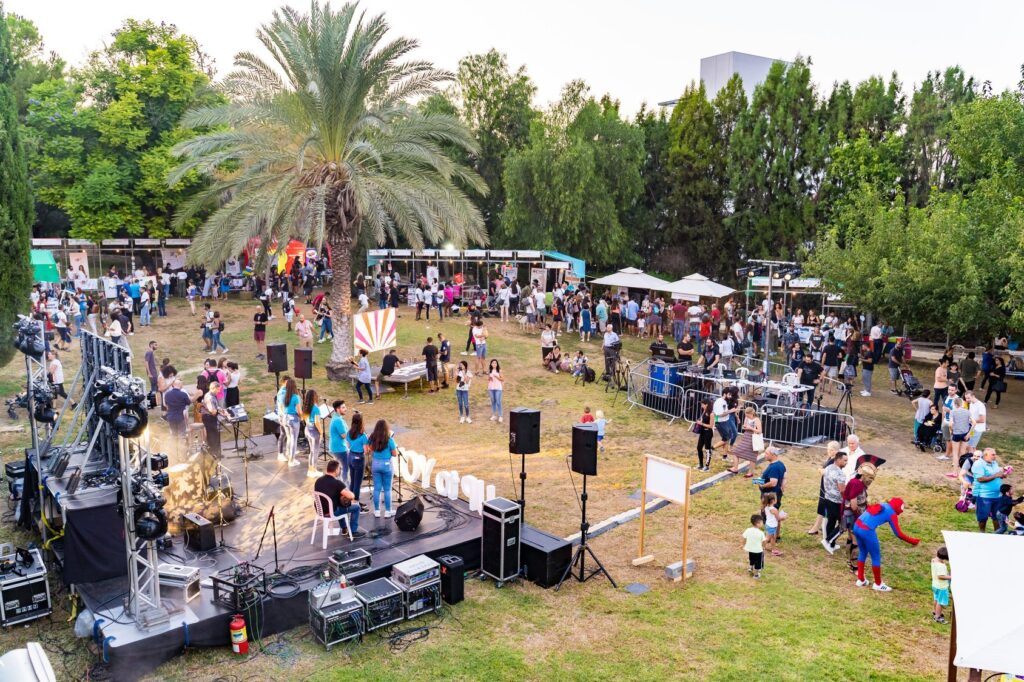 Bringing laughter and shining the spotlight on the local comedy scene is the 1st Stand-up Comedy Festival. Happening in Limassol in collaboration with the Rialto Theatre from Friday to Sunday, organisers Stantar Kkomety will present a series of stand-up shows, music comedies, and performances as well as an open mic night that will welcome emerging comedians.
The Kakopetria Spoon Sweets Festival will fill the Nicosia district village with stalls and food stands as the women and other makers of Kakopetria showcase their sweet creations. From 11am to 7pm on Sunday visitors will be able to taste all kinds of spoon sweets varieties and other traditional products as locals exhibit their items.
Also happening in Limassol this weekend is the Beonix Festival, a three-day event that will feature 30 hours of electronic music and nine different experiences. ETKO Winery will host international and local DJs and party-goers in what is expected to be one of the biggest parties of the year. Paphos will also be treated to music and for free. As the Music in Paphos Squares event takes place this Sunday, four bands will perform live at Kostis Palamas Square. The concerts will begin at 6pm by the bands Mr. Wilson, Macumba, Nabuma and the Aris Constantinou Trio.
Back in Nicosia, another version of the Fork Food Market will happen at the Nicosia Municipal Gardens on Friday from 7pm onwards. Finally, if it is art in the capital city you are after, a new group exhibition opens this Saturday at the Hambis Municipal Printmaking Museum and will run until March of next year!
Sardam Interdisciplinary Literature Festival
Three-day literature festival. September 22-24. Limassol. www.sardamcy.wordpress.com
Kakopetria Spoon Sweets Festival
5th edition of traditional festival. September 24. Kakopetria village centre. 10am-7pm. Tel: 22-922323
Αstromeritis Street Food Festival
3-day street food festival. By the Astromeritis Youth. September 22-24. Astromeritis, Nicosia district. €5-10
Let's Go Kaimakli
Arts festival with interactive workshops, walks, tours and urban installations. Organized by Urban Gorillas. September 23. Kaimakli neighbourhood, Nicosia. www.urbangorillas.org
Up to You(th) Festival
Youth festival by the Youth Board Cyprus. September 23. Acropolis Park, Nicosia. 5pm-10pm. Free
1st Stand-up Comedy Festival
3-day festival with open-mics, comedy, theatre and music performances. Organized by Standar Kkomedy, in collaboration with Rialto Theatre. September 22-24. Heroes' Square, Limassol. www.rialto.com.cy
BEONIX
3-day electronic music festival with 50 DJs. September 22-24. ETKO, Limassol. www.beonix.art