'In Cyprus, there always seems to be someone willing to tell you you're doing it all wrong!' Alix Norman meets a Larnaca mum who's sick of being judged
Apparently, 81 per cent of mums in the UK suspect they're being judged on their parenting abilities – or lack thereof. Of this 'judgment', 22 per cent is felt to come from other parents; 31 per cent from their own mothers; and a staggering 37 per cent from mothers-in-law. But this completely misses a category that's huge in Cyprus, says Penny Haralambous: strangers.
"I can't count the number of times I've had a complete stranger come up to me and tell me I'm doing everything wrong!" exclaims the 34-year-old mum of two. "I've been told I shouldn't be on the phone while holding my baby; that my kid should be sitting in the trolley rather than walking; that my child looked cold – despite the fact he was wearing a winter coat!
"I've had random people stop and stare at me in disgust when my two-year-old had a meltdown outside swim class, or tell me it's a shame I put our son in a nursery school rather than staying home with him 24/7.
"It's really odd," she adds, "how in this country, people you've never met and will never see again feel they can judge your mothering abilities. Perhaps they think they're being helpful," she adds. "But honestly, it just comes across as criticism! I don't know a single mum on this island who hasn't, at some point, born the brunt of this unsolicited advice. And, no matter how kindly it's meant, it leaves a lasting effect."
New mums are, says Penny, already second-guessing themselves over every decision, every action. "Mothers only want what's best for their family. But when you're handling a complete change in lifestyle on top of minimal maternity leave – Cyprus allows just 18 weeks, half of that offered in Sweden, and a third of the provision in Bulgaria – then the last thing you need is some total nobody judging your ability to mum!"
Penny admits she used to get quite angry about these uncalled-for comments. "If you've been up all night consoling an irascible baby or coping with a bumptious toddler, the slightest thing can upset you. But that doesn't make it right. That doesn't mean strangers are free to judge!"
This judgment, she adds, is not something you come across often elsewhere. "But in Cyprus, there always seems to be someone willing to tell you you're doing it all wrong!" she continues. "Honestly, that's just not helpful. What mums need instead is a bit of support and encouragement – someone to say 'well done you!' or 'keep going, you're great!'"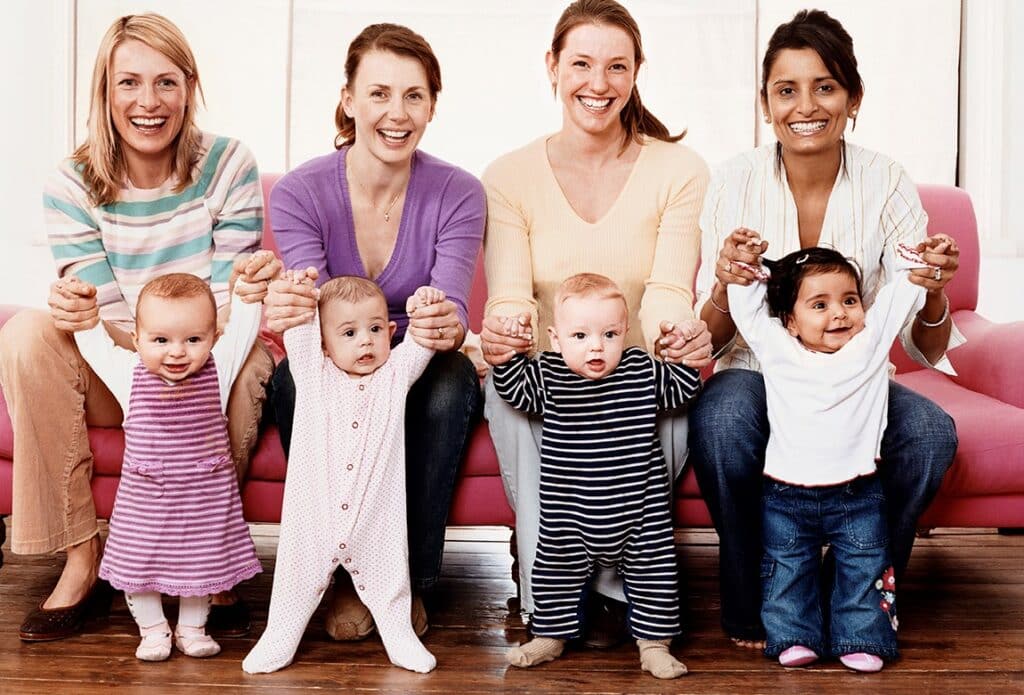 But, Penny proposes, while those who have lived on the island for years can rely on their solid friendship circles, and Cypriot mums can turn to the extended family for encouragement, there are any number of other mothers out there who are feeling lost, criticised, and alone.
"If you're a foreigner, or newly-arrived on the island, it's much harder to find the motivation, the support that you need," says Penny. "Especially given that we've just come out of a two-year pandemic when mingling was frowned upon. Even when you're dropping off or picking up the kids from school, you barely get a chance to chat."
Add to that the pressure to hold down a full-time job – "show me the family who can survive without two salaries in Cyprus!" she says, eyebrow raised – and the need to maintain a work-life balance, and building a supportive, encouraging network is even more of a challenge. "And that," says Penny, "is why I'm launching Mummy Meetings."
Taking place every two weeks from September 29 at various locations around Larnaca, these Mummy Meetings are more than your average mums' group. No matter your background, nationality, age or experience, they're designed to be a safe haven for parents; a welcoming space where mums can find the support they need.
"It's not just strangers who judge you in Cyprus," Penny suggests. "I've been to all sorts of mum-and-baby groups, and still experienced criticism. And other mums I've met have told me exactly the same thing: that there's always someone willing to have a go. That's the antithesis of what we need – we need a place where we can feel universally accepted; where nobody is going to offer their unsolicited opinions unless specifically asked; and where there's genuine support and camaraderie.
"So many of us local mums feel so isolated," she continues. "Often we're alone in a foreign country; a country in which mothers are expected to take on the majority of child care. A week ago, a friend of mine went to a wedding by herself. She said every person she spoke with was shocked she'd left her children with her husband. And yet, when he goes to an event alone, nobody ever mentions the kids – it's just expected that they're where they should be: at home with mum!"
While Mummy Meetings are designed to offer support, encouragement and motivation, Penny also hopes they'll remedy this issue of isolation.
"There's nothing like hearing from another mum who's going through exactly the same thing," says Penny. "Every time I hear a mother say 'Oh yes! A bloke on the street said I shouldn't have had a C-section' or 'A woman at a party told me I was evil incarnate for being a working mum', it eases the burden; it gives you a sense of relief. 'I'm not alone,' you think. 'It's not just me!' And you feel that bit lighter."
In these new, judgement-free meetings, Penny hopes the mums of Cyprus will find an inclusive space with the support they need. "Breast or bottle, C-section or not, working or stay-at-home – nobody is going to comment on your choices at Mummy Meetings," she asserts. "If you want to bring your kids along, you can. If you're a mum-to-be, you're welcome. If you ask for help, you'll get it. And you'll find that the network you needed, the support and encouragement that's been so lacking, does exist after all."
The first Mummy Meeting will take place on September 29 at Lush on MacKenzie. For more information, visit the Facebook page 'Mummy Meetings Cyprus'