ELENI PHILIPPOU looks forward to a full agenda as the weather (hopefully) turns cooler
New month, new fun. October's bursting events agenda is here to silence the idea that events end when summer does. There are dozens of festivals in October, offering cultural outings and entertainment for all tastes and ages.
Taking place first is the Ecstatic Dance Festival Cyprus which will fill Val's Place in Paphos from October 1 to 6. Across six days, lovers of dancing will come together to enjoy the beats of international DJs and musicians while joining workshops, music and movement from a variety of creatives.
Facebook event: Ecstatic Dance Festival Cyprus
In Nicosia, the 14th International Pharos Contemporary Music Festival begins in just a few days. A series of concerts, five to be exact, will be held at The Shoe Factory from October 4 to 13 alongside an array of ground-breaking interdisciplinary events, such as lectures, workshops, and educational activities for youth.
Facebook event: 14th International Pharos Contemporary Music Festival
Also starting next week is the first edition of the Poetry Moves International Festival which will provide artistic evenings of poetry mixed with other art forms. Jazz and poetry, dance and poetry, photography and poetry are among the festival's events that will unfold from October 3 to 25 in Nicosia.
Website: Poetry Moves International Festival
The 10th Buffer Fringe Performing Arts Festival will take place across three locations in central Nicosia on October 5, 6 and 7. Under the theme Turning Point, new and experimental work by local and international artists will be presented via performances, workshops and installations.
Website: Buffer Fringe Performing Arts Festival
As the first full weekend of October arrives, so does the Nicosia Book Festival, which will once again transform Acropolis Park into a book lovers paradise. With dozens of participating bookshops, authors, and book-related presentations, there will be plenty to do. The programme includes a series of workshops, lectures and child-related activities.
Website: Nicosia Book Fest
Another annual event will be on simultaneously – the Cyprus ComicCon. Celebrating all things pop culture, the festival will take over the Cyprus State Fair on October 7 and 8, filling it with cosplayers, special guests and artists. As shops and experiences are set up, visitors will also enjoy the Cosplay Village, a film stage, a bazaar, a Medieval Zone and pop culture exhibitions.
Website: Cyprus ComicCon
By the sea, the 18th Ayia Napa Medieval Festival will present a week-long colourful agenda of performances and experiences from past decades. With participating groups from Europe and the rest of the world, almost daily evening parades will take place from October 7 to 14, with stilt-walkers, flagmen, fire blowers, percussion bands and other artists, before a live music programme unfolds on stage.
Facebook page: Ayia Napa Medieval Festival
In Limassol, the International Short Film Festival of Cyprus will bring film screenings to Rialto Theatre between October 7 and 13. Eleven short films by Cypriot film directors will participate in its National Competition Programme while seven parallel events complete the agenda of the 13th edition.
Website: International Short Film Festival of Cyprus
Lasting over one month is the 3rd Larnaca Biennale which will welcome international and local, established and emerging artists to the coastal town. From October 11 to November 24, three exhibitions will take place in Larnaca and Athienou as well as almost 20 parallel events, following this year's theme of Home Away from Home.
Website: Larnaca Biennale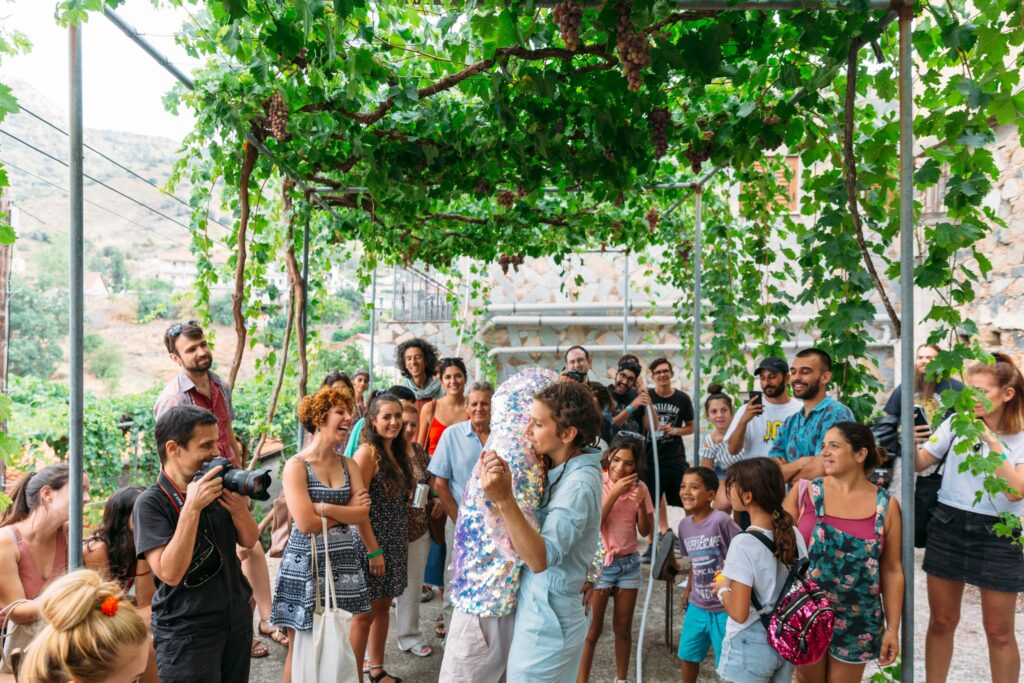 Xarkis Festival also makes its comeback this season at a new location. The three-day festival will take place in Kornos village in Nicosia District (October 13 to 15) featuring a variety of interdisciplinary art projects, workshops and community-orientated events.
Facebook page: Xarkis Festival
Lastly, towards the end of the month, The Animattikon Project, the international animation festival, will return for its sixth edition from October 26 to 28 at the Rialto Theatre. It will present a diverse selection of 52 animated short films from 18 countries covering the entire spectrum of the international independent scene, as well as lectures, workshops and exhibitions centred around the art of animation.
Website: Animattikon Project