MSJ Group and the well-known British company Vitabiotics recently held a high-profile event to celebrate the success of their collaboration, which has positioned the Vitabiotics brand top of sales in the Cypriot food supplements market.
The event was held at the residence of the British High Commissioner Irfan Siddiq, with esteemed guests including pharmacists and honorary invitees such as Health Minister Popi Kanari, Pharmaceutical Services  Director Elena Panayiotopoulou, and Cyprus Pharmaceutical Association President Ploutarchos Georgiadis.
The event commenced with an address by the British High Commissioner, who congratulated the success of the two companies, stressing that professional collaboration is the cornerstone of any business aspiring to lead the market.
Representing Vitabiotics was the Vice President and Technical Director of the British Food supplements company, Rohit Shelatkar, who travelled to Cyprus especially for the event. Vice President Shelatkar highlighted that professionalism, dedication to excellence, and effective cooperation are the key drivers behind the success of the Vitabiotics brand, in both the global and Cypriot markets.
Vitabiotics, with over 50 years of experience in the food supplements industry, is renowned for its comprehensive and rapidly-expanding range of products, all backed up by scientific research.
Based in London and present in over 100 countries, Vitabiotics has gained the trust of millions of consumers worldwide. It is the only food supplement company to have received four Queen's Awards in the UK and has been the No. 1 choice of consumers in the country for years. The brand is also known for its close collaboration with healthcare experts, leading to innovative and effective food supplements.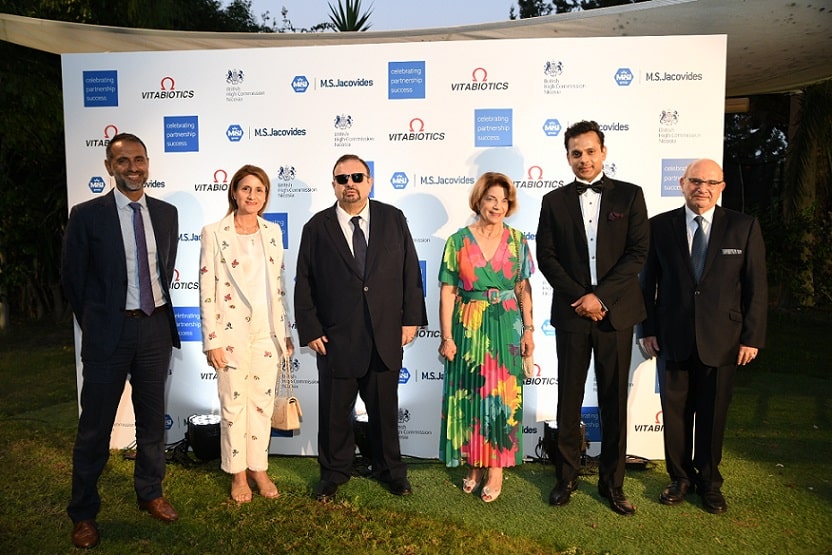 Speaking on behalf of the MSJ Group, Chairman of the Board of Directors Sotos Jacovides said the joint success resulted from the two companies' shared vision to embrace life and to provide consumers with products that enhanced quality of life.
The MSJ Group has a long history of excellence, holding a leading position in the healthcare sectors of Cyprus and Greece. The collaboration with Vitabiotics in Cyprus began in 2017, founded on professionalism and a mutual commitment to health and quality of life. Its success can be attributed to a multitude of factors, including active communication, support and mutual trust.
Today, Vitabiotics holds a leading position in the Cypriot market, offering high quality and effective food supplements such as Osteocare for strong and healthy bones, Jointace for joints and cartilage support, Pregnacare for support throughout pregnancy, Neurozan supporting normal cognitive function, Feroglobin – a source of iron and folate to reduce tiredness and fatigue, the Wellman, Wellwoman & Wellkid daily multivitamins range, and the Perfectil range for healthy hair, skin and nails.
Ultimately, continuous progress and a dedication to innovation drive this successful partnership forward. Based on these values and their commitment to health, MSJ Group and Vitabiotics will continue their successful journey, providing high-quality products that meet consumers' needs.