Energy Minister makes case for Cyprus as a centre for international technology companies
Minister of Energy, Commerce, and Industry George Papanastasiou presented Cyprus as an attractive destination for technology and other innovative companies in London on Tuesday morning, emphasising the strategic advantages the country offers.
Papanastasiou highlighted a 10 per cent increase in trade volume between Cyprus and the United Kingdom in 2022 compared to the previous year.
He further noted a fourth consecutive year of increased Cypriot exports to the UK, with dairy products, particularly halloumi, potatoes, pharmaceuticals, and gold being the primary exported goods.
Exploring Cyprus as an emerging hub for technology and innovation, Papanastasiou pointed out various reasons why foreign companies might find Cyprus an attractive base for operations.
These reasons included a skilled workforce, high quality of life, reliable service infrastructure for businesses, modern legal and regulatory frameworks, low operating costs, an attractive and transparent tax regime, strategic geographic positioning, and its membership in the EU and the Eurozone.
Moreover, the Cypriot minister unveiled a new strategy aimed at attracting companies, incorporating new tax incentives and a law facilitating strategic investments.
Additionally, he highlighted Cyprus's credentials in innovation, citing its ninth-place ranking among EU countries in performance indicators for 2022, sitting between France and Ireland.
The Global Innovation Index also positioned Cyprus 28th among 132 countries. Specifically, Cyprus excelled in application development for smart communication devices and exports in information and communication technology.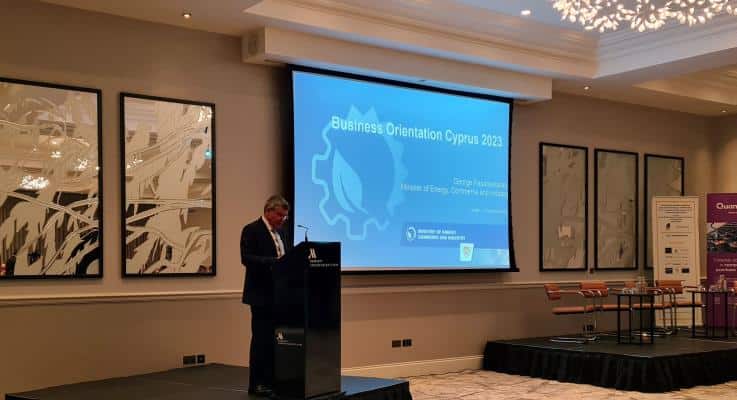 Highlighting the country's technological ecosystem, Papanastasiou mentioned nine research institutes, seven centres of excellence, 12 universities, over 400 start-ups, more than 4,000 entrepreneurs, 2,500 researchers, and numerous investment schemes currently operating in Cyprus.
Papanastasiou concluded by presenting additional incentives in the technology and innovation sector, including visas for "digital nomads" choosing Cyprus as their base, legislation to ease business investments, tax incentives, and the successful operation of the Business Facilitation Unit.
The event, organised by the Commercial Department of the High Commission of Cyprus in London, witnessed the presence of numerous professionals representing various companies, showcasing their interest in Cyprus as a potential business destination.
Meanwhile, a day earlier, Papanastasiou promoted Cyprus as a business and technology centre at an event also held in London.
The event, titled 'Cyprus Business Orientation 2023', was organised by the UK-Cyprus Business Association in London, gathering representatives from businesses spanning energy, technology, finance, real estate, and other sectors.
Cyprus is considered one of the most attractive destinations for businesses," stated the Energy Minister at the event, highlighting the vote of confidence established companies have given the island in recent years.
Papanastasiou referred to Cyprus' long-term strategy, 'Vision 2035', which aims for the country to become one of the best places to live, work, and conduct business.
In a statement to the Cyprus News Agency (CNA), Papanastasiou mentioned the challenges in making the advantages offered by Cyprus perceptible to foreign business people.
"It is essential to focus on the unique selling points that set Cyprus apart from the competition," he said.
"This makes presentations at such business meetings crucial, attended not only by Cypriots from the diaspora but also by foreign investors considering Cyprus," he added.
"I believe we managed to convey a strong message emphasising our advantages," Panastasiou concluded.