In a good networker and meticulous woman THEO PANAYIDES meets someone equally at home with rich donors and struggling patients, trying to encourage the rest of the world to do good
Marie Nicholsby (née Parisinou) waves goodbye to her friends – she's been sitting at Paul's in Nicosia for a few hours already, having coffee with two other ladies – and comes over to join me. Friends are important, she has friends from all over. Old classmates from the English School, both in Cyprus and the ones who moved to the UK (they were the class of '75, she tells me proudly, going abroad to study right after the invasion). People she's helped through their illness, people she's met along the way. The "wonderful volunteer angels" who surround her at work. Her "soulmate" Georgia Polyviou, to whose memory Marie's new memoir – Alkionides: Making a Difference – is dedicated.
Her most revealing story – the one that best typifies her sunny disposition, though also her core priorities – is perhaps of when she moved back to England in 2005, at the age of 49 (she's now 66), and embarked on a post-graduate diploma in History of Art and Architecture at the University of Reading. "It was fantastic. I was very lucky that they were doing continuing education for older people," she recalls brightly. "All my homework was in the museums and galleries – Oxford, London – and I learned so much! And I made wonderful retired friends, who are all wonderful people. And I've brought them to Cyprus now, on heritage trips." Working with other friends, like tourist guide Titina Loizidou, she showed these British friends the island, "took them down to old Nicosia, told them about the war". Marie gives it a beat. "And they donated to the charity," she adds, smiling.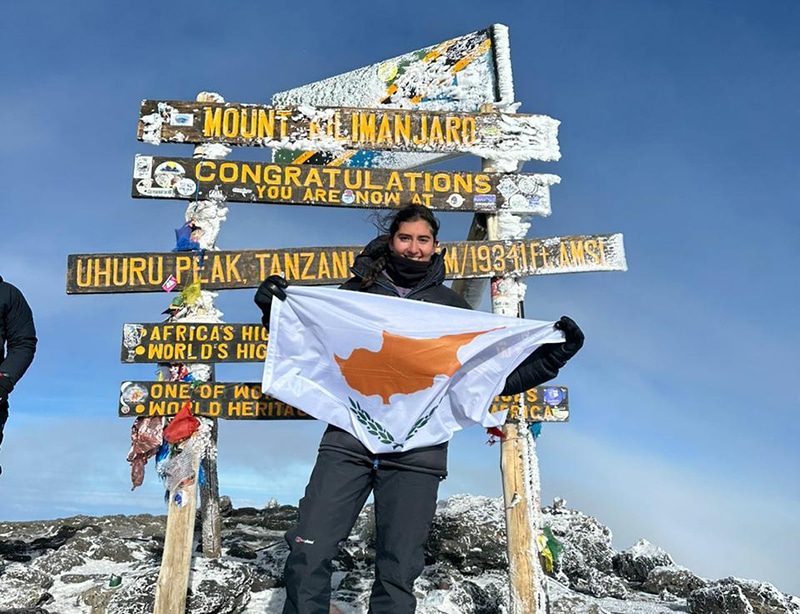 'The charity' is Alkionides, named for the so-called 'halcyon days' – the few days of sunshine in the midst of winter which the Greek gods supposedly granted to the kingfisher so it could lay its eggs – and it too began among friends, in the late 90s (it was registered in 1998), a group of well-to-do ladies who heard about a little girl with a congenital heart defect. The girl was going to Great Ormond Street hospital in London for an operation – and the Cyprus government was paying the medical bills, but the girl's low-income family had to find another £2,000 for transport and accommodation. "So we decided to do a tea party," recalls Marie. "We sold cakes, we donated, and we raised quite a bit of money… So we realised there was a need to create a charity." She wasn't the mastermind behind the initiative, by any means (though she did come up with the name); they were just a group of friends. "When we got the constitution back from the lawyer," however, "I saw my name as president of Alkionides… I think because my English was good. And I was surprised, I thought 'Oh my god, I don't know how to be a president of a charity!'."
It sounds like false modesty – but probably isn't. Even now, after two decades of experience in Cyprus and England (Alkionides UK, which Marie heads, was registered in 2008), her personal energy isn't that of the natural alpha and pushy activist; her aim is to charm rather than steamroller. She's elegant, her silver hair tastefully coiffed, sporting a blue scarf and light-blue bead necklace. Almost everything she says is delivered with a smile, making for an odd contrast when a question catches her off-guard and the smile collapses into momentary confusion. She talks of the charity's "nest" at one point – they've just bought a six-bedroom house near Brent Cross for £1 million, after having rented for many years – and we get a bit lost in the numbers, but then she also emails me later to make sure I have the right info. She's meticulous, behind the occasionally dreamy air.
Marie is essentially a connector, the link between two otherwise disparate groups. On one side we have "my patients", the low-income Cypriots who come to England for medical reasons and require the charity's help. (Alkionides UK's mission is very specific, unlike the original Cyprus branch which helps the poor and needy in general and, for instance, just bought four cars to transport autistic children.) On the other we have the donors, the often – though not necessarily – wealthy types whom she inspires to help financially. Both groups are a major part of her life, and frequently appear in our conversation. Both, you might say, are her friends – and indeed it should be mentioned that she earns no money from connecting them, Alkionides being entirely volunteer-run.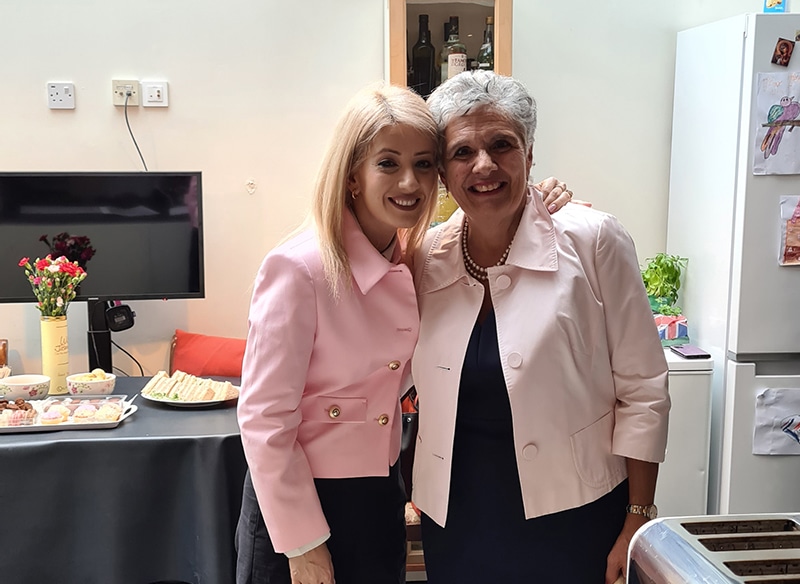 Thus, on one side, we have the unfortunate family from a tiny village near Limassol who suffer from amyloidosis, known as 'the Crusader illness' (apparently bequeathed to Cyprus centuries ago by soldiers from Portugal, who came with Richard the Lionheart). It's hereditary, with a 50 per cent chance of being transmitted from parent to child; the mother of this particular family died at 42 and had four kids, three of whom have the illness and require a liver transplant – though in fact one son has been waiting in the UK for six years (he's "a forgotten young man," says Marie sadly). Then there's also, for instance, the 11-year-old from Paphos who lost a leg due to osteosarcoma – Marie recalls in her book, among other things, how she managed to talk down the price of a chemotherapy session at a Harley Street hospital from an eye-watering £70,000 to £12,000 – or the "young man with Crohn's [who] couldn't absorb any food whatsoever".
That patient came to London with his wife last January; he spent months in intensive care, and has just been allowed back home. "I admire this couple," says Marie; she got to know them quite well – especially the wife, who used to bake cakes for the other patients and tirelessly made the daily trek to St Mark's in Middlesex. They wrote a heartfelt thank-you letter, which she shares with me – then, after coming back to Cyprus, happened to win €1,000 on a 'ksysto' lottery ticket, and gave it to Alkionides! "He's not great," she reports glumly, as if talking about a mutual acquaintance. "Now his kidneys are affected – so they've sent him back, but every other day he has to do dialysis… It's a tough life for some people."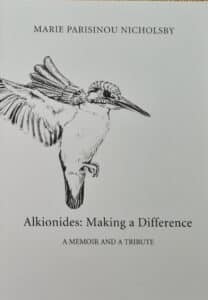 It is indeed – but then we also have the other side, her other good friends. Katerina Mina, the well-known soprano, has "a heart of gold; she became our ambassador". Mrs Leventis of the AG Leventis Foundation (one of their biggest boosters) is a "lovely lady, very down-to-earth". Our conversation is peppered with stray recollections like "At that point, the Paraskevaides family had given me a shop for free" (this was in Cyprus, before her move back to Britain), or "I asked Mrs Lemou, who was a great philanthropist", or "PriceWaterhouseCoopers was a big sponsor of our charity, and they gave us their parking area". That was some years ago, when PwC allowed Alkionides to run their private car park in central Nicosia after office hours – a gesture that raised thousands of pounds, and later prompted the Electricity Authority to do the same with their own parking area. How did she get them to agree to it? It was all down to one of "my ladies," she replies – Marie often gives the impression of being a general at the head of an army of ladies – a resourceful woman called Maria Santis whose husband was a partner at the accounting firm. So it's all down to networking, really? "Yes," she agrees. "I think I'm good at networking. And I'm lucky. God helps me."
God gets a mention in her book too, given thanks for "showing me this path to follow" – yet in fact she's not especially devout: "I wasn't brought up religious". The family are quite science-minded, if anything: Marie's daughter Anna is a maths teacher, her son David a banker. She herself is perhaps the most artistic (she paints, though only as a hobby), then again she met her husband Alan at Leeds University where she was studying Chemistry and he Biochemistry. Marie's late mother sounds especially dynamic, having worked at Nicosia hospital – at a time when few women worked – as a pharmacist and radiologist. "She didn't want children. But she got married to my father at 40, and had four!"
Marie may actually be more like her mum than first appears; she's not pushy, as already mentioned – yet in fact she is rather pushy, in the sense of seeking to change people's minds and wake them up to the suffering around them. She recalls being in Leeds in 1975, still traumatised by the invasion (her dad had driven the family up to the mountains, with planes dropping bombs all around; at one point they stopped the car and cowered in a ditch, convinced they were about to die). "I was trying to tell everybody what happened in Cyprus," she recalls of those first days at uni, "but nobody cared". Charity work, with its promise of changing the world, held a natural appeal – and in fact it was also at Leeds that she saw "people begging in the snow" for the first time, and a church providing soup to the homeless. She did get involved a few years later, still very young, "but I had some nasty experiences," she says – and that story, too, is quite revealing.
"I was a student," she recalls, "and I volunteered. I was with Oxfam, on the committee, but I wanted to help in the community – so I joined Help the Aged." She got a call to go and visit an old man who could use some company. "I was naïve really, I shouldn't have gone. But I had no idea. It was the fault of the Help the Aged charity at the time." These days there'd be much more vetting – and she certainly wouldn't have been sent there alone, an inexperienced young girl to a dingy flat on a council estate. Nothing truly terrible happened, she didn't get abused or anything – but the old man was a nightmare, angry and bitter and lonely: "He didn't have any legs, he was in a wheelchair, and he was yelling at me for an hour… I thought he was going to kill me, I honestly did!".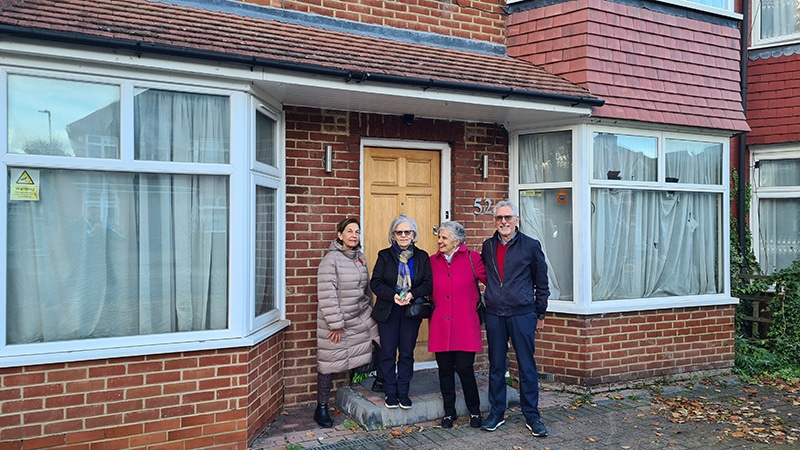 "You're not coming back, are you?" snarled the man as she finally beat a retreat. "How could I go back? I was so terrified," says Marie now – though of course many charity workers might've gone back, taking the unpleasantness in their stride. Marie doesn't have that masochistic taste for the dark underbelly of life; she's squeamish about danger, and squeamish in general (even accompanying 'her' patients to hospital isn't her favourite part of the job: "It's full of germs. I worry!"). Her disposition is a bit too sunny; she likes happy things, the gratitude of people being helped and the warm fuzzy feeling that comes with helping them. "The people that come to us are so loved," she explains. "They're so loved by us, and by the people in the nest." Simply put, she likes everyone to be friends – and has the will and persistence to (mostly) make it happen. "Like Paolo Coelho," she writes in her book, "I believe that if you try to do good, the whole universe around you works with you to achieve it."
Her own little universe certainly seems to be in sync with her beliefs. "I'm surrounded by good people," she says happily. There's a co-president now (she's starting to think about succession), Tatiana der Avedissian, who "works for The Economist [and] she's saving the planet from plastics"; Marie's son David isn't just a banker but an ethical banker, a director of Rathbone Greenbank specialising in 'sustainable investment' (he's also on the committee of Alkionides). Marie unsurprisingly shares the values of the bien-pensant British middle class (her Facebook page comes with a 'Fully Vaccinated' logo) – but there's also something else when it comes to Alkionides, a touching faith in people being nice, not for money or reward but just moral satisfaction. Maybe all those rich donors end up helping just because it's so charmingly simple, a group of elegant ladies running on good vibes and altruism.
Does she never feel awkward or intimidated, going to potential donors cap in hand? "No," replies Marie simply. "I believe passionately in my cause, so I'm not embarrassed to ask. And, mostly, people give." She leafs through a kind of newsletter, pointing out recent photos. Anita Demetriou visited the nest in July, and made a donation. (That said, it might be nice if the government also helped in a more official capacity.) Oh, and "this is Aggelina Lakkotrypi, she just climbed Kilimanjaro this week… She gave us £5,000". The 11-year-old with osteosarcoma is older now, he's got a place studying IT in London; the charity are helping him out, but Marie thought they'd have trouble this year, due to the new house – but then "I suddenly got £40,000 from Leventis today!". God, or the universe, doing their bit, obviously.
Alkionides: Making a Difference is available from Moufflon bookshop in Nicosia for €15