Cypriot startup accelerator ARIS, short for A Really Inspiring Space, and Frederick University this week announced that they have signed a memorandum of understanding to facilitate the growth of youth entrepreneurship and encourage knowledge exchange.
According to an announcement, the collaboration between ARIS and Frederick aims to facilitate and promote the transfer of know-how and to identify common ground in implementing innovation and entrepreneurship activities.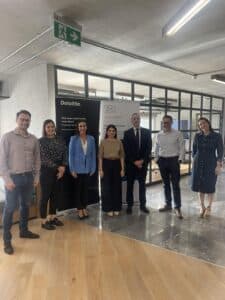 Moreover, the collaboration aims to reinforce efforts to bridge the gap between industry and academia, and to strengthen the ties between the university community and businesses.
More specifically, the two organisations will team up to develop the entrepreneurial skills of Frederick University students and enhance youth innovation and entrepreneurship through joint workshops, EU-funded projects, and other relevant activities.
"This MoU signifies the shared commitment by ARIS and Frederick University to strengthen the entrepreneurial, innovative ecosystem in Cyprus, through knowledge transfer, exchanges, project execution, organisation of joint events and visits, as well as networking opportunities between the ARIS team, start-ups, alumni on one side and faculty staff, researchers and students at Frederick University on the other side", said George Martides, Member of the Board of Directors of ARIS.
Meanwhile, Natassa Frederickou, president of the University Council, said that "Frederick University is delighted to have the opportunity to collaborate closely with an accelerator programme that actively provides support and dedication to start-ups and scale-ups to grow their business and broadens the horizons of students to experience entrepreneurship regardless of the area or field of their studies".
'Equipping our students with valuable skills, fostering an entrepreneurial mindset, enhancing innovation, and providing personalised real-world experiences are in harmony with our renowned student-centric approach, which empowers them to take ownership of their learning and future career paths," she concluded.