It is all about how thoroughly lab tests screen for traces of genetic material
By Elias Hazou
This week authorities announced that antigen rapid tests showing positive for Sars-Cov-2 – the virus which causes Covid-19 – would no longer need to be verified by PCR. The shift in policy comes at a time of amped-up testing, but also after the World Health Organisation issued new guidance over PCR reagents potentially finding false positives.
PCR works by taking tiny fragments of DNA or RNA (nucleotides) and replicating or amplifying them until they become something large enough to identify. The replication is done in cycles, each cycle doubling the amount of genetic material. The number of cycles it takes to produce something identifiable is known as the 'cycle threshold' or 'CT value'. The higher the CT value, the less likelihood of detecting something significant. Also, at very high CT values the probability increases of generating false positives.
Rapid tests work by mixing the sample with a solution that unleashes specific viral proteins. As it says on the tin, they're faster too – it takes about 20 minutes to generate a result, compared to approximately seven hours by PCR.
In announcing that rapid tests showing positive will be automatically assumed as such the ministry said it was due to their high confirmation rate.
A ministry spokesperson told the Sunday Mail a 97 to 98 per cent confirmation rate via PCR had been seen thus far – a high enough percentage to negate the need for further verification.
Asked whether the rapid test might gradually become the norm for testing, or perhaps replace the PCR test altogether, the spokesperson said no.
"Both methods will be used. It is not Cyprus on its own that determines which testing method is used, but it follows the guidelines of WHO and ECDC."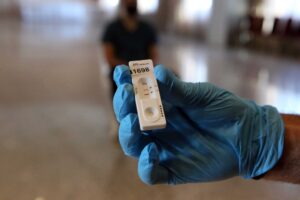 The ministry's initial press release about the change in rapid test policy alluded to "the present epidemiological situation" – so it may be inferred that with mass testing ongoing and positives hitting the high triple digits, epidemiologists want a faster picture of the prevalence of the virus in the community.
But why did rapid tests need to be verified in the first place? The answer may come as a surprise.
"Because they don't test for genetic material like DNA, antigen tests have a higher percentage of false positives," a person working in a private laboratory tells the Sunday Mail.
"And even 1 to 2 extra percentage points in false positives makes a big difference, particularly when you test widely."
The source, who did not wish to be identified, was asked why the government could be shifting away from the PCR – the so-called 'gold standard'.
"I can only guess, but maybe it's because rapid tests are far cheaper."
The source acknowledged that high CT values with PCR can 'dilute' the result: "The CT number is an indirect indicator of the viral load in a person, and the relationship is inversely proportional."
In other words, the more cycles it takes to detect something, the less the presence of a virus.
"It's also possible that PCR detects dead remnants of coronavirus RNA – someone who had the virus weeks ago but is no longer ill."
While very aware of the international debate over the PCR test, the lab manager insists it remains the best tool at the moment.
"These sort of discussions on what one detects in a lab, what methodology one uses and so forth, and what it all means, have gone on forever in the scientific community. Important questions, sure, but nothing new, it's not just with Covid.
"It depends what you want to do. With Covid, the entire objective of the exercise is to cast as wide a net as possible. You want to detect people who are positive, so they can then isolate and not spread the virus further."
The source added: "Now, do you get some positives among those who are not infectious? Yes. But since nothing is perfect, and given the aforementioned purpose of testing, that's the price you pay."
The lab in question uses a 40 CT value as their cutoff – the maximum number of cycles they run before stopping having found no trace of Sars-Cov-2.
"I understand some might argue it's a high CT value for the cutoff. These are the instructions on the manufacturer's manual, and we stick to it. We use a kit from a single manufacturer, other labs may have different suppliers."
Christos Diogenous, director of the Nicosia-based Diogenous Biomedical Laboratory, said they buy PCR kits from multiple suppliers.
Depending on the kit and the instructions coming with it, the CT cycle cutoff ranges from 35 to 40.
Likewise cognizant of the debate over the cycles and the accuracy of the PCR, Diogenous nonetheless points out that the PCR is not meant to detect viral load.
"It's a screening test. So either positive or negative."
Another manager at a lab, who preferred to remain anonymous, also said their outfit use different gear.
Their cutoff – again depending on the kit – ranges from 35 cycles to 40. On occasion they've gone as high as 45 cycles.
From experience, the manager says, anything detected over 35 cycles is usually a post-infection case.
All the industry sources said the same – as far as the cutoff goes, there exist no standardised guidelines.
It turns out the absence of standardisation is a theme.
The Sunday Mail queried Christopher Charalambous, of the Unit for Surveillance and Control of Communicable Diseases at the health ministry, on what are, if any, the recommended CT cycles being advised in Cyprus.
"Different clinical laboratories may use different kits and each kit usually detects more than one genetic target. Thus, recommendations are given by each kit manufacturer (Instructions For Use) on the CT value that can be interpreted as a positive result for each genetic target," he said.
"Due to the use of different kits and of different RT-PCR platforms this is not a procedure that can be standardised, making it difficult to compare results among different tests/labs."
On whether any oversight procedures are in place, Charalambous said that clinical laboratory inspectors perform regular checks. During these inspections evaluations are made whether IFU (Instructions for Use) instructions are followed as should.
Back to the WHO, which on December 14 released a guidance memo apparently cautioning against running PCR tests on high cycles lest they turn up false positives.
"Users of RT-PCR reagents should read the IFU carefully to determine if manual adjustment of the PCR positivity threshold is necessary to account for any background noise which may lead to a specimen with a high cycle threshold (Ct) value result being interpreted as a positive result," it read.
"The design principle of RT-PCR means that for patients with high levels of circulating virus (viral load), relatively few cycles will be needed to detect virus and so the Ct value will be low. Conversely, when specimens return a high Ct value, it means that many cycles were required to detect virus."
The memo went on: "In some circumstances, the distinction between background noise and actual presence of the target virus is difficult to ascertain. Thus, the IFU will state how to interpret specimens at or near the limit for PCR positivity. In some cases, the IFU will state that the cut-off should be manually adjusted to ensure that specimens with high Ct values are not incorrectly assigned SARS-CoV-2 detected due to background noise."
Some studies have cast doubt on what the PCR test picks up beyond a certain point.
One such study published in September 2020 stated the following: "It can be observed that at Ct =25, up to 70 per cent of patients remain positive in culture and that at Ct =30 this value drops to 20 per cent. At Ct = 35, the value we used to report a positive result for PCR, less than 3 per cent of cultures are positive."
These findings were cited by an appeals court in Portugal, which in November ruled that the PCR process is not a reliable test for Sars-Cov-2, and therefore any enforced quarantine based on those test results was unlawful.