By Ella Walker
Marmalade is admittedly not to everyone's taste. Too bitter, too lumpen, too chewy, too astringent. Paddington arguably has quite a bit to answer for.
He (and his creator Michael Bond) – like Winnie the Pooh, AA Milne and honey before him – made the stuff seem magical, essential, delicious. He pulled sandwich after sandwich out from beneath his red hat, making us hanker for a bite. But many a child has bitten into one such sandwich and felt betrayed by the bear from Peru.
It is often only later – as it was for me – that the bitter appeal begins to make sense.
And this January, smack bang in the middle of Seville orange season (December to February), I decided it was time to scrabble together a batch myself.
You'd think it would be relatively straightforward: pick a recipe, boil some oranges, whack it in jars. But once you start reading up on marmalade and comparing recipes, and then comparing those to your own (very specific) idea of what marmalade ought to be, the whole process becomes soupy with nostalgia, research and hope.
I begin by reading Lucy Deedes' beautifully illustrated new recipe collection, The Little Book Of Marmalade, which describes a whole year's worth of ways to use it. Then I got side-tracked by Claire Thomson's classic marmalade recipe (her jars seem to glow), and revisited the wise words of jamming queen, Pam Corbin.
The gist is always roughly the same though: 1.5kg of seville oranges, two lemons, 2kg granulated sugar, a huge slosh of water and much patience, should see you end up with six to eight jars of liquid gold.
Some people use the whole fruit method (the oranges are cooked whole before being chopped), while others shred peel and pith painstakingly by hand (this turns out to be very mindful). Some leave the oranges to sit overnight, others have no patience (among them, me) and so forge onwards in a single day.
Once you've wrangled with a massive pan of molten orange and decanted it into those jars though, the pride and sense of achievement is something else.
Eating marmalade is a small thing, having the time, energy and ingredients to make your own, a privilege, but if you can, do. Paddington had the right idea all along.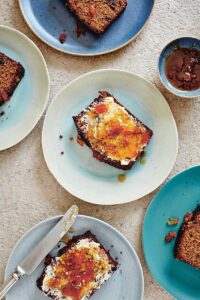 Rum and Marmalade Loaf Cake
Serves 10–12
175g plus 1tsp butter, softened, plus extra for greasing
100g raisins
100ml/7tbsp rum
175g wholemeal (wholewheat) spelt flour
2tsp baking powder
1tsp ground ginger
1tsp ground mixed spice
175g plus 2tbsp dark muscovado sugar
Finely grated zest of 1 lime
150g marmalade
50g finely chopped stem ginger
3 eggs
To glaze
2tbsp marmalade
1tbsp rum (optional)
Preheat oven to 180C. Butter and line a 1kg loaf tin.
Put the raisins in a small saucepan and add the rum. Bring to the boil, then immediately remove from the heat and leave to stand while you make the rest of the cake.
Put the flour in a bowl with the baking powder and spices. Whisk together to combine and remove any lumps. Beat the butter and sugar together in another bowl with the lime zest until very soft, and lightened to the colour of butterscotch. Beat in the marmalade and ginger, then add the eggs one at a time, adding a couple of tablespoons of the flour mixture with each addition. Stir through the rum-infused raisins along with any liquid that hasn't been absorbed. Scrape the mixture into the prepared loaf tin and bake in the oven for around one hour, until well risen and a rich brown.
For the glaze, melt the marmalade and rum, if using, together in a small saucepan and brush over the cake while it is still warm. Leave to cool in the tin. If you can bear to wrap this up and leave it for a couple of days, it will be all the better for it.
From: Citrus by Catherine Phipps
Bread and Butter Pudding with Marmalade
(Serves 4-6)
6 slices of white bread, cut from a large loaf
75g butter, soft enough to spread
3tbsp (heaped) orange marmalade
3 large eggs
500ml milk
50g caster sugar
1tsp vanilla extract
2tbsp demerara sugar
Preheat the oven to 180C
Spread three slices of the bread with butter, then marmalade, and top with the other three slices. Spread some butter on top of each sandwich and cut each one into four.
Lay the squares, buttered side up, slightly overlapping, in a buttered, ovenproof dish.
Whisk the eggs, milk, caster sugar and vanilla extract together and pour over the dish. Let it stand for about half an hour, to allow the mixture to soak in.
Sprinkle the demerara sugar over the surface.
Bake for about 45 minutes, until it is puffed up and the top is golden.
From: Paddington's Cookery Book by Michael Bond, recipes by Lesley Young