By Andrew Rosenbaum and Karim Arnous
As an architect Yiannis Armeftis has done much to beautify Limassol. Now, as a leader of the newly established initiative in Limassol, he has started a group called "For Limassol" (ΓΙΑ ΤΗ ΛΕΜΕΣΟ). with clear and comprehensive vision to develop the city into a hub for the East Mediterranean.
"We have the opportunity to transform this city into a regional centre that would attract large tech companies and bring together skilled workers of different nationalities and cultures," Armeftis told the Cyprus Mail in an interview ahead of a press conference at the Municipal Cultural Centre on Monday.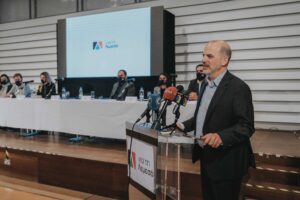 The objectives run from building a Tech City (in the area between the Marina and  the vertical port road to developing improved digital infrastructure for skilled worker communities.
But Armeftis's vision for Limassol goes well beyond business. "Limassol is characterised by its proximity to the water and its wonderful surrounding environment, but not enough is being done to preserve such spaces. The districts of Limassol should become a reference point for life in Cyprus. The characteristic courtyards, planted and lovingly cared for by the inhabitants, reveal the tendency of our fellow citizens to seek the beauty and greenery around them. This should be the goal of the Municipality both in the centre of Limassol and in the various surrounding neighbourhoods"
Moving forward, it is imperative that green policies become universal across party politics.'
"We will also reach out to cooperate with other municipalities in the region," he adds. "The cooperation of all municipalities in the metropolitan area of Limassol is necessary to achieve these initiatives. The issues of Limassol are the issues of each and every municipality. Only with full cooperation and action at every level of government can we make tangible improvements to the welfare of this city and its residents."
With its ambitious objectives, the group looks to expand. "We are actively seeking people with vision, those who can help make this city into the great environment that is its potential," commented Cyprus entrepreneur Stylianos Lambrou who is leading the initiatives on Innovation, Development and Tourism, and is an active member of the initiative.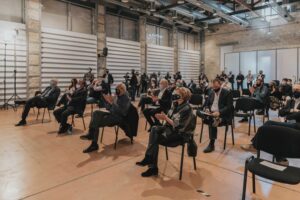 Press conference
There are 10 working groups set up for the further elaboration of proposals.
There is also a 10-year plan (to 2031) with more specific ambitious objectives. Creating a tramway, and the Construction of the northern bypass which will unite Polemidia with Saint Athanasios and the Coast of Olympia as part of the city ring. Building sports venues. A  new passenger station in the centre of the city.
These are just a few of the projects that comprise this comprehensive makeover. One of its major goals is the transition but the transition from domination of car traffic to sustainable modes of mobility. "This is a huge  financial challenge, but it can be undertaken systematically with careful planning," noted Vironas Ioannu, who is responsible for projects in Traffic, Mobility and Public Spaces.
"Our approach is based on balanced development for the environment and man, and at the same time, we are trying to create a local identity for the city. As we improve and grow, we will become a trading and cultural centre for the Levant," Armeftis proposed.
This philosophy underlies the group's approach to many different aspects of the city life. "Infrastructure projects like flood protection works, sidewalks, road network, lighting, garbage collection which should be interconnected with ecological awareness through recycling incentives, Armeftis said."
A simple thing like tall tree planting in the streets of the neighbourhoods, which will relieve residents from high temperatures shows how simple a better quality of life can be. This will substantially contribute to better air quality and exercise and that will help create cohesive links between neighbourhoods, according to the group.
Armeftis cites the current trend in European cities, known as "15-minute cities", in which everything that a city resident needs is available within 15 minutes from his/her home. "This has been shown to improve the quality of life of residents in all neighbourhoods," he adds.
"And e-government services should be made available in local government," comments Stylianos Lambrou. "They should be centred around customer service, around the needs of the citizen, not those of the bureaucracy."
Armeftis hopes that this group will take its place at the focal point of activity to improve Limassol and its region, and expects to attract many likeminded Limassolians.