Oklahoma: frontier land, where the wind, does indeed, come sweeping down the plain – and frequently turns into tornadoes (roughly 52 per year; the state is part of the infamous Tornado Alley). The 20th largest state in the US, Oklahoma is a is also the only one which boasts an entire meal, rather than a state dish.
It's a huntin', shootin', fishin' kind of place. There's a whopping 33.7 million acres of farmland, 11,611 miles of shoreline, and roughly a quarter of the state is covered by forest. Originally, this region was inhabited by no less than five Native American tribes, the Cherokee, Chickasaw, Choctaw, Creek, and Seminole. But while the traditional foods (beans, squash, wild greens, mushrooms, nuts, berries along with fish and rabbit) do still appear on the menu in places, in 1988 it was decided that the Oklahoma should have, not a state food, but an entire state meal. And it's a feast…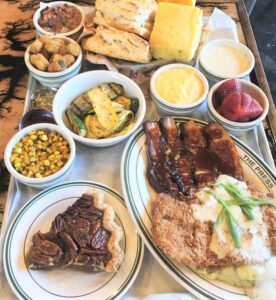 The official dishes included in the meal are fried okra, squash, cornbread, barbecue pork, biscuits, sausage and gravy, grits, corn, black-eyed peas, chicken-fried steak, strawberries and pecan pie. Which, if you're eating a normal portion, will provide you with 2,700 calories, 125g fat, and 5,250mg sodium! But, assuming you're a healthy outdoors kind of Oklahoman then this is a meal you can certainly enjoy once in a while.
Of course you're not limited to the state meal: fried onion burgers (complete with pickles and cheese) are a state favourite, as is fried catfish (Oklahoma is famous for 'Okie Noodling', or catfish caught with the hands), and fried peach, cherry, or apple pies – a dessert which originated in the Arbuckle mountains, and is exactly what you'd expect: a pie, that's fried!
Among the healthier local options are cowboy caviar (a bean salad made with black-eyed peas, jalapeño peppers, tomatoes, corn, onions, and spices), venison (in the form of steak, meatballs, or jerky), and strawberries.