It was that point of the week where we convince ourselves we deserve a night off so should order dinner instead of slaving away in the kitchen. Thanks to an app I now have on my phone, it is a lot easier to find something to try. However, I had to be sure to apply certain filters as the proliferation of restaurants and coffee shops added to the app over the last year or so can make it mind boggling!
Wanting to try something new, I chose somewhere that has a high rating on the app: Ella cuisine and bar. The minimum order of €15 for delivery didn't seem like it would be a problem for the two of us so we went ahead.
The menu is quite extensive. They have a large variety of coffees, teas, smoothies, juices, waffles and pastries. Being evening though, that wasn't what we were looking for. I scrolled straight to the main dishes section where I was immediately tempted by the 2 pork chops served with fries, pitta, tzatziki and salad. There were other healthier looking options such as salmon steak and chicken fillets but we weren't feeling in the mood for any of that!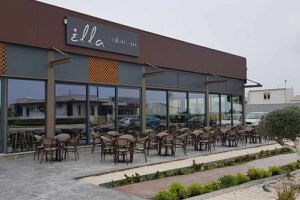 We decided to go for burgers. The duck burger sounded interesting; their own take on crispy duck served with hoisin mayo instead of the classic hoisin sauce. But my curiosity was not enough to tempt me away from the American burger: homemade, with melted cheese, gherkins, caramelised onions, lettuce, bacon and a BBQ sauce. My partner opted for the crispy chicken burger as she liked the sound of the sweet chilli mayonnaise, hoping that it would have a bit of a kick to it!
One of the reasons I like ordering via this particular app is because you are given not only a delivery time but also the option to pay by card and for the delivery to be left at your door so as to not have direct contact with the driver. I was very impressed that the delivery arrived bang on time! However, I was a little less impressed when the driver honked his horn outside and then called me on my phone to meet him outside!
The boxes that the food was brought in looked stylish, as opposed to being wrapped in paper or in a plain polystyrene box. The inside had a layer to keep the food warm. Unfortunately, there were no holes to allow steam to escape. This made the food sweat a little and so while the chips were still slightly warm, they had gone a little soggy. There was the odd crisp chip and so I could tell that if they had been hot and perhaps served up at the restaurant, they would have been great!
Just by looking at the burger I could see that there was a very generous slice of melted cheese and bacon. This is great because often, a measly slice of each hardly makes any difference to the flavour. However, this being said, the patty was rather thin and so the ratio seemed a little off. Additionally, there was a lot of the barbecue sauce spread on the bun and so not only did the sweetness of the sauce overpower everything else, being served in a highly absorbent brioche bun, half-way through, it began to disintegrate and become quite messy. I had to eat strategically so that the patty wouldn't slip out!
The crispy chicken burger was very soft indeed but the generous helping of sauce created the same problem and the sweet chilli sauce was more sweet than spicy so there wasn't that kick my partner was hoping for.
I really wanted to enjoy my delivery experience from Ella cuisine and bar but unfortunately, it didn't leave me wanting more. It led me to wonder if the other options on the menu would have had similar problems. If I was in the neighbourhood and sit-in diners were permitted, I would possibly try Ella cuisine and bar again but sadly, I won't be rushing to order delivery again.
SPECIALTY International
WHERE Ella cuisine and bar, Eleftherias, Dromolaxia, Larnaca
WHEN 7am-9.30pm
CONTACT 24 620060
HOW MUCH €7.95 for American and Chicken burger with chips