This is a city of excess: many people, many names, and oodles of happenings! The 21 million residents are packed roughly 120,000 to a square mile in Dhaka. Today, modern Dhaka is a thriving, colourful, congested metropolis: a chaotic, frenetic place that often overwhelms its visitors. Even a cup of cha won't calm the confusion: the city's favourite drink is enjoyed hot, sweet, milky, and on the go…
In a city that never stops, street food is the norm. But unlike most eastern cities, Dhaka has resisted foreign foods, and its cuisine remains staunchly local.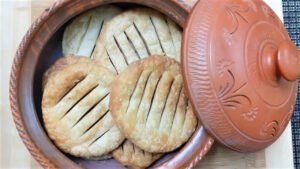 Perhaps the most famous food of the city is the Dhakai bakarkhani (also known as bakar khani roti or baqarkhani), sold everywhere and enjoyed at any time of the day. A thick, spiced flat-bread which originated in Mughlai cuisine, it's almost biscuit-like in texture and generally made from a dough of plain flour, salt, butter and cooking oil which is rolled out, covered with a wet cloth, coated with butter, and baked in a tandoor oven until brown. Variations of this staple abound, and you might find your Dhakai bakarkhani includes anything from sugar to saffron-soaked molasses, cardamom, poppy or nigella seeds. But every variety – no matter the ingredients – should always be enjoyed with tea.
Hajir biriyani is another popular favourite, a chevon biryani dish made with seasoned rice and goat meat. A flavoursome and filling food, the recipe usually includes rice, meat, mustard oil, garlic, onion, black pepper, saffron, clove, cardamom, cinnamon, salt, lemon, doi (yogurt), peanuts, and cream. But depending on the chef, you might also find nutmeg, chilli paste, rosewater, onions, prunes and a wealth of other ingredients in your meal!
For dessert, it's likely mishti doi – a traditional sweet yoghurt-based creation that's as thick, dense, and creamy as cheesecake. A favourite following lunch or dinner, the confection is made from milk and sugar boiled and left to ferment overnight before being served in an earthenware pot. Or you might prefer the ever-popular rasmalai – a flattened cheese ball soaked in cardamom-flavoured clotted cream.