Is this where the mobsters vacation? Alas, the name Mafia derives from the Arabic morfiyeh, meaning group or archipelago; the heaviest of heavies you'll find on Mafia Island is a whale shark or two!
Belonging to Tanzania, and part of the Zanzibar Archipelago, Mafia Island is a peaceful paradise whose economy is based on fishing, subsistence agriculture, and the local market in Kilindoni. It's a developing tourist spot (or it was, pre-pandemic), a haven for those in search of total relaxation, as well as game fishermen, scuba divers and snorkelers. And there's good reason for this: the waters of the island are a protected marine nature reserve.
The main town, Kilindoni, boasts a number of makeshift restaurants and road-side stalls serving local lunch and dinner. One dish per stand is the order of the day, with simple octopus soup (boiled octopus with a squirt of lemon and a dash of salt) a particular Mafia favourite.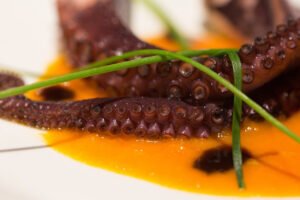 While there are a couple of resort restaurants serving more western-style food, the traditional diet relies on fish (often grilled or cooked in coal ovens) and rice, as well as the odd delicacy, such as savoury samosas and sweet pastries. Nuts and bread are a common snack, and mobile vendors wander the town selling roasted peanuts and small, sweet buns (known locally as vishete).
Fresh fruit is abundant with mangoes, pineapples and bananas always on sale along with the ubiquitous coconut, a local favourite. In fact, so popular are coconuts here on Mafia that a few enterprising residents have set up production of a coconut beer: rigging bottles at the top of the tree to collect a fermented sap that's turned into a refreshingly unusual beverage.
But mainly it's fish for dinner again. Or possibly ugali: a cheap and cheerful porridge made from maize flour cooked in boiling water or milk until it reaches a firm dough-like consistency. Rolled into a ball between the fingers, ugali is enjoyed all over the region, either hot with stewed meat or fish, or cold with veggies.