Ponies, crofters, fair isle. This is the Shetland Islands and, up here in the wilds of the north Atlantic, everything's shorter, hardier, and built to last! The 100-plus islands of this sub-Arctic archipelago are home to just 23,000 people, the majority of whom are based on the main island – called, confusingly, Mainland.
Tourism is pretty major (or was, pre-pandemic), with thousands of annual visitors flocking to enjoy the incredible wildlife: the isle of Yell is the UK's otter-watching capital; the waters teem with whales, dolphins and porpoises; and Fair Isle boasts a globally-renowned bird observatory. You also get incredible scenery.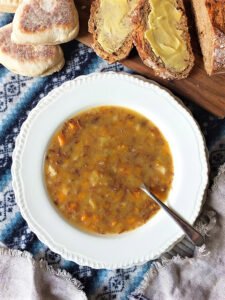 Given the islanders' ties to the sea (even today, most residents own a boat), it's no surprise that seafood looms large on the menu. Shetland salmon is almost as well-regarded as its Alaskan cousin, and appears in many a dish; herring and mackerel are enjoyed fresh from the sea or smoked over the fire; and the mussels are said to be among the best in the world, thanks to the clean, clear Shetland waters.
Mutton is also a big deal up here: the wind-swept heathery landscape makes for short and hardy sheep which not only lend their thick wool for Shetland's famous knitwear industry, but also provide the base for many a tasty dish, such as 'reestit mutton'.
Enjoyed for centuries, this local staple originated pre-fridge, when everything had to be preserved for the long, cold winters. Apparently the dish involves tossing a potato into a bucket of water, pouring in salt, and then removing said veggie and adding your mutton slices. These are then left to steep for three weeks, before being dried from the rafters above a peaty fire. Then, when the long winter nights kick in, the slices are either eaten as is, or tossed into your hearty reestit mutton soup – a warming broth of mutton, potatoes, onions, carrots, turnips and cabbage.
The whole is best served with delicious Shetland bannocks: a savoury scone made with yoghurt or buttermilk, and served warm with butter. Or you might find your meal comes with a side of boiled Shetland black potatoes – a floury spud with a blue skin and yellow flesh, that's as small, hardy, and unusual as pretty much everything from these distinctive isles!