"Building trust for a brand online is one of the biggest challenges for any product, but particularly for a  product in which smell or taste is a key quality," comments Philio Hermann, the founder of Hermann's Gourmet Cosmetics.
"There is no substitute for experience, so your product must be so good that those who try it must want to run and tell their friends about it right away. You can build from that."
Hermann Gourmet Cosmetics started online in 2014, and today sells all over the world – its flagship store opened in Nicosia in 2019 and the brand is present in the Malls across the island and in selected selling points in all cities.
"But starting out was challenging as potential customers needed to be convinced with content. Customers couldn't smell products online, and scent, as well as texture, is a key part of selling cosmetics.
"But we were determined to work online because it enabled us to reach an international market. We were certain that the exceptional quality of our products could be communicated with words and pictures," Hermann says.
Hermann, whose study fields combine a degree in Film Direction, Sociology and a Masters in mental health, goes at making a quality product in an original way. She combines the ancient handmade traditions of Cyprus with modern technology and all-natural ingredients.
"This original approach was intriguing. It gave us a very identifiable brand with a hint of mystery. Consumers who were attracted by our content soon made the jump to actually trying a product, and then they were hooked."
Hermann has a keen eye for branding, and as a result, has gathered great reviews from customers over the course of the years. As one online reviewer puts it: "Not only are these gourmet cosmetics by far the most effective in terms of skincare treatment, but are also exquisitely packaged and wrapped. Scents are beautiful and travel you back in time, whilst a dedicated line of scrubs aptly named "Eat Me!" are actually edible. I adore the whole range of these products and admire the creator for her creativity and love she has poured into their making!"
A branding statement like "the cosmetics of experience" also has that intriguing quality that Hermann has made her signature.
Convincing professional retailers to stock the products was perhaps less of a challenge because they could appreciate the originality and skill with which the products were made, Hermann noted.
"They were more receptive, and of course somewhat more willing to try new things."
Gradually, year by year, Hermann built up a budget for additional marketing, and for expansion to markets abroad.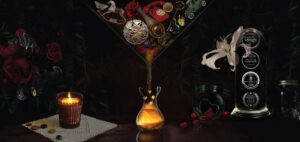 "The UK was our first big success outside Cyprus," she said. We won the prestigious Rolls-Royce award for exceptional luxury products. Only three brands are chosen every a few years, and then the company's luxurious collectable publication for its customers featured us."
This was a big boost, and it was a triumph for the approach that Hermann Gourmet Cosmetics championed. It was followed a few years later by an award at an important 'Salon International', Maison et Objet in Paris.
"The two awards brought us to the attention of retailers around the world. We began to find places on the shelves of many different countries, and the more our products were being sampled, the greater our target market grew," Hermann continued.
To continue to build a community around her product, Hermann has launched a plug-in game involving scent, that uses an algorithm to collect consumer data. This kind of gamification of the brand has been very successful with younger customers in particular.
An even more original idea is the "Memory Distillery:" Customers talk about a poignant memory that involves scent and feeling:
" I want to be a part of the Memory Distillery!
Get ready, gather your memories and start sending!  How can I  share my precious memory? Think of a scent that strongly awakens a beautiful memory of yours. Try to describe that scent and the memory as best as you can, with as much detail as possible and take as many words as you need. Then send us your memories, and we'll consider them for distillation."
So can others build businesses online based on Philio's example?
"It starts with the product itself. Then the branding helps determine exactly what makes the product special. Then the content convinces everyone to try it. You can't neglect any one of these stages, but if you do them all right, you might well build a successful online business," Philio concludes.