"They're both microbiological wonders," James Morton says of two of his great loves: sourdough and beer brewing. "They're both very scientific, very measured. And they're both ways of achieving taste nirvana."
And they're the subject of his two new cookery guides, From Scratch: Sourdough and From Scratch: Brew.
The former Great British Bake Off contestant, who lives in Glasgow, has been making sourdough since his late-teens, and has been pleased to see the lockdown-friendly bread in particular get "the recognition it deserves". His other bread books actually sold out as a result of the pandemic rush – but as a doctor, there have been lows during this past year, as well as the bread-based highs.
"We've all had a few crises, a few wobbles," says Morton, who also become a father during the pandemic, to daughter Lily. But, he adds, "I've got a feeling we're getting there. I'm feeling really, really positive."
So why does he think sourdough became so popular during lockdown?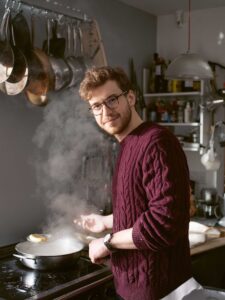 "It's a labour of love, there's this story of creating something from literally just flour and water, bringing it to life, sharing it with other people, sharing it online – which has become a really important part of it. And the fact it's just awesome. You can make bread as good as the best bread in the world, in the comfort of your own home.
"Sourdough is just a mixture of flour, water and salt, but there's all this biochemical madness going on in order for you to get this loaf of bread, and the most important part of that is the starter. It's just flour and water that you leave to go off, it starts to bubble, it's full of yeast and bacteria, and if you neglect it, let it just fizzle out and fade over time without feeding it, or taking proper care of it, it will just not produce good bread.
"I make bread two to three times a week, two to three loaves at a time. So we get through a lot of bread. I've been making the focaccia and my staple, the country loaf [in the book]. It's mostly white, with a bit of rye or oatmeal in there to give it some earthy crunch."
Neapolitan-style Pizza
Makes 4 pizzas
For the base
100g white sourdough starter
400g strong white flour (preferably Italian '00' pizza flour), plus extra for dusting
7g table salt
260g tepid water
Plenty of semolina, for dusting (flour will do, though)
For the topping
3 garlic cloves
1tbsp good olive oil
400g tomato passata (sauce)
Salt and freshly ground black pepper
2 x 125g balls of mozzarella
Cured meat or salami (optional)
A handful of fresh basil leaves (optional)
It's best to make your dough at least 24 hours before you plan to make pizza. The dough keeps for three to four days. Make sure your starter is nice and healthy, and that the majority of it consists of white flour.
Make the dough. In a large bowl, weigh out your flour and add the table salt. Mix these together to combine, then add the tepid water and starter. Use a wooden spoon to combine everything into a wet and sticky dough. Cover the bowl, then leave it for at least one hour at room temperature.
While you could mix this dough vigorously, we don't want to overdevelop the gluten. It should remain soft and sticky. I'd do a couple of stretches and folds, and watch it rise over about six to eight hours at room temperature. It should be very bubbly and sticky. At this point, cover with a plastic bag, put it in the fridge and leave it.
Before it's time to bake, get organised. Make your pizza sauce – peel and finely chop your garlic and place this in a pan with the oil. Gently infuse over the lowest heat for five minutes (don't burn it). Add your passata, stir and turn up the heat to simmer. Add salt and pepper to taste. Chop your mozzarella into slices and place this in some kitchen paper to dry.
Dust the work surface with plenty of semolina and a little flour, or just flour if you don't have any semolina. Turn your dough out on top, and then add more semolina and flour again. Divide your dough using a scraper into four equal lumps, and coat each of these with semolina, too. Preheat your grill (broiler) as hot as it goes with the door as close to closed as possible, and then get a cast-iron pan or surface onto your hob (stovetop) to heat as hot as you dare.
Work quickly. Dust some semolina on a tray or peel. Take a piece of dough and stretch it flat. Don't use a rolling pin. Throwing the dough in the air and spinning it really does help. You want the centre of the dough almost translucent, and you should leave a 1cm-thick rim around the edge to give a good puff and stop the sauce leaking. Place this on your peel. Give the peel a good shake to make sure the dough isn't sticking. Add more semolina if it does. Spread some sauce on top, no more than three to four tablespoons, and then a quarter of your mozzarella and some slices of cured meat or salami, if using. Add a few fresh basil leaves, if you like.
Give it another shake to make sure it isn't stuck. Gently slide this onto your smoking hot pan. Use thick, thick oven gloves to move this under your grill. Cook for two minutes, then check it. You want the edges of the crust to be just about blackening, and the cheese melted and bubbling but not browning. Lift up the edge to check underneath. If it's still soggy on the bottom but done on top, put it back on the hob for a minute or two.
From Scratch: Sourdough and From Scratch: Brew by James Morton are available now