Limassol Marina General Manager Nikiforos Pampakas talks about how the wharf is faring and evolving.
Q:How has the Limassol Marina been affected by the pandemic?
A:We are now well past 12 months since the effect of this pandemic has taken hold on us all and the Marina has inevitably been affected as a result. On the water, restrictions to international yacht traffic across the world, as well as in Cyprus, severely reduced visitor numbers throughout the year and periods of mandatory quarantine on arrival have inevitably put many off travelling to Cyprus, whether by air or sea. Likewise, nationally, the various lock-down periods that have been enforced, have prevented boat owners from using their boats at various stages and if so, under tight restrictions, which has generally reduced yachting activity across the whole Island.
Sadly, as has been the case for all leisure, hospitality and retail businesses, the restrictions that have been applied at various points have been severe. The marina's commercial promenades and footfall of local visitors has therefore been put on hold for much of the year and severely restricted when it has been allowed. We are pleased to see the local community returning to the Marina when such restrictions are eased, however with a 3rd lockdown now in place, our commercial tenants have been forced to cease trading once more.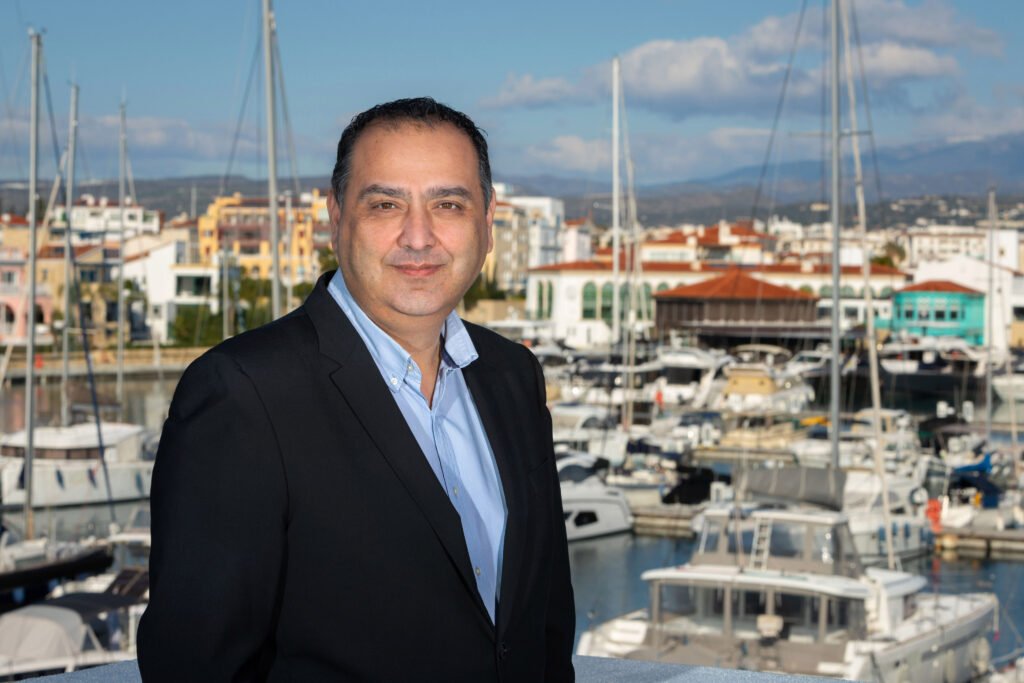 Marina staff and our mix of commercial tenants have undergone a tremendous effort to ensure that public safety is prioritised across all operations and venues, with the government's measures strictly enforced and our health & safety protocols implemented to maintain a safe environment for all visitors – when they are permitted to return.
Q:What has been the effect on property sales?
A:In relation to the residential part of the marina, although the pandemic has impacted various aspects of the Limassol Marina operations, sales of the project's property units continue unaffected. Undoubtedly, Limassol Marina is one of the largest projects that has been developed on the island and as a fully completed project, it is a reference point for various investments in Cyprus. Its distinctiveness, which combines elements of a residential and commercial development together with a yacht marina, heightens the interest of clients to acquire a home on the sea and experience an alternative lifestyle. In fact, as the last phase of the project, the Castle Residences apartments, comes to completion in April 2021, buyer demand remains at an all-time high. We anticipate that with the pandemic slowing down, and with the world being given the opportunity to travel again, the project will continue to attract a wide range of visitors and investors.
Q:Has the marina seen an uptick in visitors recently?
A:When restrictions are eased, the marina immediately attracts the local community to our commercial promenades – retailers, fitness centre and spa and our restaurants, bars and cafes. Recent months have seen these businesses operate under the capacity restrictions set by the government and therefore visitor numbers and business remains much lower than would normally be expected at this time of year.
The new strategies laid out by the government to promote a return of tourists this summer, has certainly had a positive affect in terms of yachting traffic. Since the 1st April, whereby vaccinated travellers from Israel have been able to enter Cyprus without restriction, we have immediately experienced in an increase in visitor traffic from the country. As further such arrangements come into effect and international travel becomes viable once more, we expect visitor numbers to slowly continue recovering.
How has the decrease in tourists affected the marina? Is this an aspect that is being closely monitored by the marina?
The consequential downturn in tourism in Cyprus as a whole has certainly negatively affected the marina, as a major leisure destination and social reference venue for the city of Limassol. Visitors by air and by sea are of vital importance to our business as well as our partner tenants on-site and is therefore subject to continuous analysis as the government's measures related to the pandemic evolve.
However, since the rules and regulations that are restricting international tourism are not bound by Cyprus' borders – the situation is largely out of our hands. We therefore focus on providing the safest and most attractive possible environment for tourists to visit when this is permitted, to minimise the impact of the restrictions as much as possible across all of our business streams.
Q: What has been the effect on berthing requests?
A:Berthing demand has been different across the full spectrum of market segments that we cater to. Demand for short-term berthing has been very volatile, directly affected by the evolving measures concerning travel restrictions and arrival protocols applied both here and abroad.
Demand for long-term berthing has remained stable and our community of berth holders at the Marina has continued to grow despite the affects of the pandemic. With international travel by air severely restricted, people have looked to make the most of what Cyprus has to offer for their leisure or holiday time. This has led many to enter the yachting industry and discover Cyprus' beautiful coastline by sea. Those coming to Cyprus for longer periods, are also less concerned with arrival protocols since the quarantine periods only account for a small percentage of their stay with us. We have therefore been continuing to welcome boats of all sizes from abroad that have chosen Limassol Marina as their seasonal or permanent new home for their yachts.
Internationally, yachting is seen as a comparatively safe option for boat owners of all sizes, since they are able to create a private 'bubble' onboard their yacht in which they can spend time and travel from country to country. Globally, yacht sales – in particular superyachts – have therefore seen record figures over the last 12 months and as entry begin easing, the industry is expected to bounce back relatively quickly.
Q:Finally, what about the city as a whole?
A:Limassol has been subject to the most severe restrictions throughout this pandemic and therefore its businesses have suffered proportionally with many livelihoods devastated by the forced closure of operations. Despite this, Limassol maintains a thriving and vibrant community of locals, expats and tourists all year round and therefore when businesses are allowed to open and operate – customers do immediately return. In this respect it is possible to look forward positively for Limassol's businesses as strategies for combatting this virus begin to take effect.
As we have learnt from our experience of enduring this pandemic thus far, predicting the future even in the relative short-term is very difficult. The epidemiological picture can change at such pace that predicting the economic outlook for this summer season is not possible. We remain hopeful that the accelerating rollout of the vaccination programme will begin taking effect and subsequently allow restrictions to begin easing permanently as we head towards the summer season. However, as an economy that is heavily reliant on tourism, it is inevitably the return of restriction-free travel by air and sea that will have the biggest impact in terms of economic recovery.