A new book of music and album aims to present popular Greek tunes in a new way – for the classical guitar. Alix Norman finds out more, plus how to win a copy of both
The last time I interviewed Mark Hussey, he was en route from Santiago to Miami in the company of 1,000 classical musical fans, having visited Sweden, Norway, Finland, France, Spain, Croatia, Egypt, Brazil, Madeira, Morocco, Barbados, St Lucia, Chile, Peru, Iceland and Denmark within the previous six months. "We're somewhere off the coast of Ecuador," I recall him saying at the time. "But it's the crack of dawn, so I can't be entirely sure!"
That was in 2018 and since then Mark's life as one of the world's top touring classical guitarists has ground to an abrupt halt. Thanks to the pandemic, his days headlining luxury music cruises are currently on hold and even his less nautical activities (playing for sold-out audiences in concert halls, churches and cathedrals worldwide) have been postponed.
But, as a guitarist who's spent his career "trying to make classical guitar more accessible to everyone" this Anglo Cypriot has seized the chance to turn his talents in a different direction. And, after a year on terra firma (mainly in Derbyshire), he's now releasing both a book of sheet music and an album that speak to his heritage: Spirit of the Greeks.
"I was born in the UK, but spent much of my childhood in Cyprus," reveals the 42-year-old. "It feels like yesterday that I was spending my weekends performing in restaurants round Limassol and Ayia Napa!" An apprenticeship in Greek music with his cousin, a well-known bouzouki player, eventually gave way to an alternative career path as Mark completed his doctoral studies in virology at Oxford University and became a genetic engineer. But, music being his first love, roughly a decade ago he decided to go back to his roots, becoming a classical guitarist…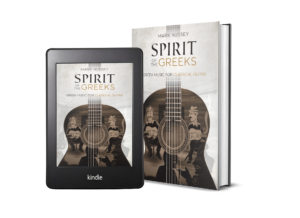 Today Mark is an internationally acclaimed solo guitarist, producer and songwriter, renowned for a style of play which pundits have dubbed 'fabulous, with a uniquely Mediterranean musical flair'. "Throughout my career as a guitarist, I've always been told you can hear the Greek influence in my playing," he acknowledges. "I've never been sure what the listener identifies as 'Greek'. But with the release of both album and music book, I know you can hear this influence brought to the forefront rather than hidden away in my classical renditions."
Released on May 1, both album and book are entitled Spirit of The Greeks, a title which means a lot to Mark. "Greek music has such an interesting modern history and a real soul; it's rich in both harmony and rhythm," he enthuses. "In recent decades, the genre has largely been overlooked internationally; not really given the credit its depth and character merit, perhaps due to the language barrier coupled with the westernisation of pop culture. But Greeks have an intense and deep relationship with their cultural music: no matter where they are in the world, they take their music with them. So with Spirit of the Greeks I feel I'm paying tribute to the relationship between Greeks and the distinctive character of the music."
Mark's passion for the tradition and evolution of Greek music is evident in his beautiful, virtuosic arrangements, each carefully crafted over the last year. "I worked around the clock for six months arranging the music and writing a brief historical account of the development of Greek music to be included in the book. It was something I felt was very pressing. Not because of the lockdown itself and the pandemic downtime, but because I wanted to pay tribute to 100 years of what I see as the birth of modern Greek music after the population exchange of 1923 – the event that led my ancestors to Cyprus.
"Writing and arranging was," he continues, "an intensely enjoyable experience. Though there was an equal measure of frustration due to the length of time it took to obtain the necessary permissions to be allowed to publish!"
The Cyprus Mail is giving away a FREE digital download of the album and a FREE paperback copy of the book. To enter the draw, simply submit your email address at http://www.spiritofthegreeks.com  The winners will be contacted directly by June 1
The very first example of Greek music arranged for classical guitar which has acquired the legal licences and necessary permissions, the book has been arranged for both solo performances and guitar duos, incorporating both classical and flamenco guitar techniques to mimic the sounds of native instruments such as the bouzouki. And, though the book was the initial project, intended to promote Greek music to the classical guitarist, Mark felt an album would help the wider community enjoy the beauty of such a special genre. "The album features exactly the same music as the book," he explains. "Ten tracks which comprise a good mix of familiar and less familiar pieces for the musician and listener, including compositions by Markos Vamvakaris, Mikis Theodorakis and Manos Loizos.
"I've always felt that most of the beauty in Greek music seems to reside in the older repertoire," he adds. "And the book is aimed at any guitarist looking for a new challenge; the classical musician is not particularly adventurous, and I hope this book offers a new horizon.
"I also hope," he concludes, "that both book and album expand the genre's reach. Here, we're sharing some of the most important Greek songs. Played – for the very first time – on classical guitar. And isn't that part of what the true Greek spirit is about? Sharing a love of our culture, heritage, stories, and the beauty of life through stories, theatre, art, or music… From wherever you are in the world!"
WHAT'S ON IT
The following pieces are included in both book and album, arranged for and played on classical guitar.
Xekina Mia Psaropoula
Pou Nai Tha Chronia
Frangosyriani
Misirlou
Bouzouki Mou Diplochordo
To Zeibekiko Tis Evdokias
Siko Horepse Sirtaki
Never on Sunday
Kaimos
Zorba Dance
Spirit of the Greeks (album) can be downloaded from Spotify, iTunes, and Amazon. Spirit of the Greeks (arrangement for classical guitar) is available from amazon.co.uk For more information, visit http://www.spiritofthegreeks.com or http://www.markhussey.com