Fascinated by the sky since he was a child one local storm chaser says the activity is more dangerous than you might think. ALIX NORMAN finds out what it takes to photograph the perfect storm
"The tornado was getting nearer. The wind was racing, hail pounding, thunder crashing overhead. Then, just a few metres away, lightning struck, and the air seemed to explode! When you're that close, the light and sound hit you at the very same instant…"
No, we're not in Kansas. This is just outside Nicosia, and it's not the first time storm chaser George Paraskevaides has been in such a situation. "Two years ago, I was driving before a storm, and again the lightning fell just a few feet from my tyres. Few people know," he reveals, "that lightning can travel through the ground as well as the air, so if you're in an open area, away from the lightning rods of the cities, it can be a very real danger. You can easily go blind or lose your hearing!"
Fortunately, George is an expert in the more extreme weather systems. He's had to be. For almost the entirety of his 30 years, storm photography has been his passion. Even as a boy, the tempests of the heavens held him entranced….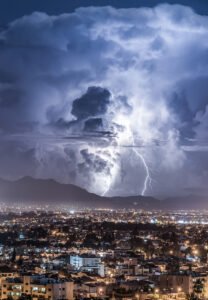 "When I was a kid, five years old, I would stare up at all this crazy weather, fascinated by the sky; I couldn't take my eyes off the clouds. Especially the lightning. I would look up and up, waiting for the next strike. It was pure magic. Like God was in the clouds, making all these things happen. It was stunning!
"Then, when I was in high school, I was in my neighbourhood park in Archangelos one evening, and saw a thunderstorm approaching. I videoed it on my phone and, when I got home, cut the video into frames. Some were amazing," he continues, "but the image resolution was low; I wasn't getting the picture quality I wanted…"
George saved up and, in his twenties, bought himself his very first camera. "It was a Nikon COOLPIX Optical Zoom Bridge camera," he recalls. "I used it to photograph everything: the clouds, the moon, birds and storms. But it still wasn't what I needed in terms of image quality." A Nikon D5300 with a kit lens soon followed, then a Nikon D7200 and extra lenses, and a Nikon D750 full frame camera which this avid photographer uses "for Milky Way shots, low light conditions, and night shots. It's perfect for a storm chaser."
Here, he pauses to note the difference between a storm photographer and a storm chaser. "A storm photographer takes pictures of the storm and goes home," he explains. "But a storm chaser actively hunts down storms and, at the same time, provides information to others about what is happening at that exact moment in time. That's what I do," he adds. "The only truly accurate, on-the-ground information about a storm comes from people in the vicinity who see it with their own eyes. So if I'm chasing a tornado, I will immediately inform the authorities what's happening and where."
George works closely with Kitas Weather and the 55,000-strong Facebook group 'Weather Enthusiasts Cyprus' to inform people about potential weather dangers. "So if I make a live video of a coming storm or tornado, something that might be life-threatening or cause damage, a lot of people see it immediately. It negates the need for phone calls: just a quick video from the field can help people protect themselves and their belongings – especially in the more rural areas. Maybe if there's a very strong wind or lightning or hail on the way, you know to bring your sheep in, or put your car in the garage. People tend to trust someone who is there on the scene, seeing with their own eyes what is happening."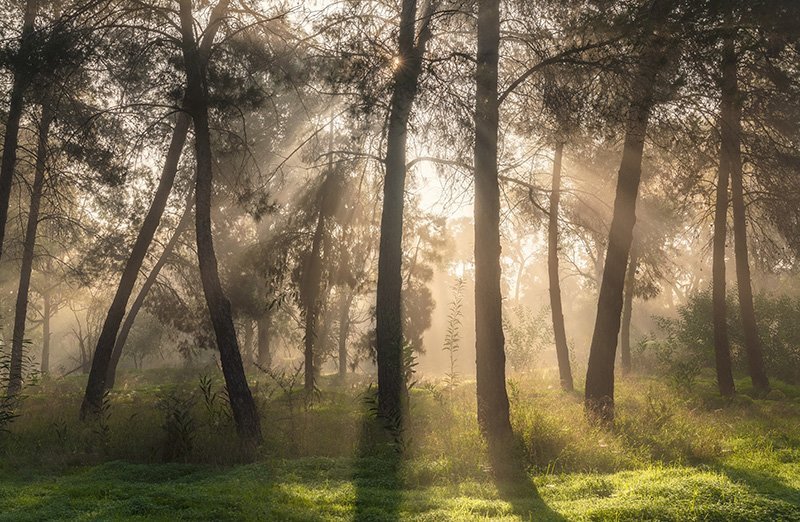 Of course all this requires great dedication, and being a storm chaser can take its toll. "I'm a freelance photographer, not a professional," says George, who works his passion around his day job as a hotel receptionist, and is endlessly grateful to his wife for her understanding. "I also do landscape and architectural photography, and I run Instagram workshops for people who are interested in storm photography – because being a storm chaser is a lot more dangerous than you might think," he explains, "and I'd never encourage anyone to go out and do this without fully understanding the weather, the dangers, and especially the hardships…
"As a storm chaser, you have to be constantly checking the radar feeds, the satellites, all the weather and wind apps to see what's on the way. You need to know how lightning works, the places that are safe, how close you can get to the storm front. You need to know when and where to take shelter, you must listen to your instincts. It's not a game," he adds. "Don't just think you can set off and chase a storm without building experience. Lightning can make you blind or deaf. Hail can kill you. The most important thing is to know when to leave; if you're not okay with the images, try again another day – don't put your life in danger."
Sometimes, George admits, he's out in the field for 48 hours, following or waiting for a storm. "And I'm not the only one doing this," he adds. "There are a few of us in Cyprus who are storm chasers, and we're all moved by the same passion for storms. The dream," he reveals, "is to get to Tornado Alley in the States, experience huge weather, and take some incredible photos…"
George is being humble. Already, he's won awards for his storm photography, and seen his pictures featured worldwide. Two of his local photos were rated in the top 30 out of over 1,600 entries in the global Storm Photography Contest, and others have appeared on the National Geographic website.
"I didn't think that could happen!" he exclaims. "Cyprus has little storms, and it's hard to get a good composition with a clean foreground. But the images seemed to work for the judges, and that's amazing. Though," he concludes, "even if they hadn't, it wouldn't stop me. Storms are in my blood!"
For more information, visit George Paras Photography, the Facebook page 'George Paras Photography', or the Instagram account @george_paras_photography