"Clam chowder," says our Bostonian source, "is the most iconic local dish. We pronounce it 'chowdah', and it's been around for centuries."
In that Boston itself is one of the oldest cities in the States, the chowder lineage comes as no surprise. Once the home to the Algonquian tribes (including the Massachusett, Pawtucket and Pokantoket), the region was originally known as the Shawmut Peninsula, believed to mean 'living waters'. Then the Puritans arrived in the 1600s, more settlers followed, and the budding city was named for the town of Boston in Lincolnshire.
Today Boston is known for its eclectic cuisine, influenced by centuries of settlers…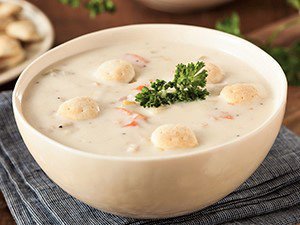 The clam chowder is, of course, the most famous dish. Made with clams, onions, milk or cream, potatoes and thickened with oyster crackers, it has a distinct white colour that sets it apart from similar dishes. Other seafood inspired fare (Boston is the only US state capital with a coastline) includes fresh oysters, lobster rolls (a griddled bun packed with pink lobster meat and layered with warm melted butter), and the humble fish and chips (usually cod, pollock or haddock paired with crispy fries).
But there's more than just marine cuisine to be found: baked beans are a favourite here (a dish, says our source, which has given its name to city's moniker 'Beantown'), stewed, sweetened and served with bacon or salt pork. Boston cream pie is a popular dessert: a staple since 1856 when it was first created at a local hotel from two rounds of sponge cake flooded with custard, brushed with rum syrup, and coated in chocolate fondant. And cannoli is another traditional delight – many a family-run Boston bakery has been making these pastry tubes filled with sweet ricotta cheese and peppered with chocolate, nuts, or fruit for generations. Even the humble hot dog enjoys a rich past: the Fenway frank ("Boiled or grilled, topped with a mountain of relish, and enjoyed while watching the Red Sox at Fenway Park!" says our Bostonian) has been a local favourite for more than a century!