Speech by China Ambassador Liu Yanta at the Online Forum "Governance Experience Sharing for A Common Future: Commemorating the 50th Anniversary of China-Cyprus Diplomatic Relations"
I am very pleased the Chinese Embassy and European University Cyprus co-host this Online Forum. We will also hold a book donation ceremony for the English edition of XI JINPING: THE GOVERNANCE OF CHINA Volume 3 to the European University Cyprus.
On behalf of the Chinese Embassy in Cyprus, I would like to express sincere gratitude to those who have been promoting China-Cyprus friendship, and extend a warm welcome to all friends present today from Cyprus, Greece, United Kingdom and China!
Currently, our internal and external environments are undergoing unprecedented and profound changes. We are seeing deficit in governance, trust, peace, development, and health. Countries are facing new problems and challenges in state administration and global governance, while building up good practices and experiences.
This year marks the 100th anniversary of the founding of the Communist Party of China and the 50th anniversary of China-Cyprus diplomatic ties. It is very important for us to discuss governance at this moment.
It is always a quest for political parties, governments, and people all over the world to ensure the governance concepts, models and practices are scientific and effective. China has always believed there is no 'one-size-fits-all' governance model.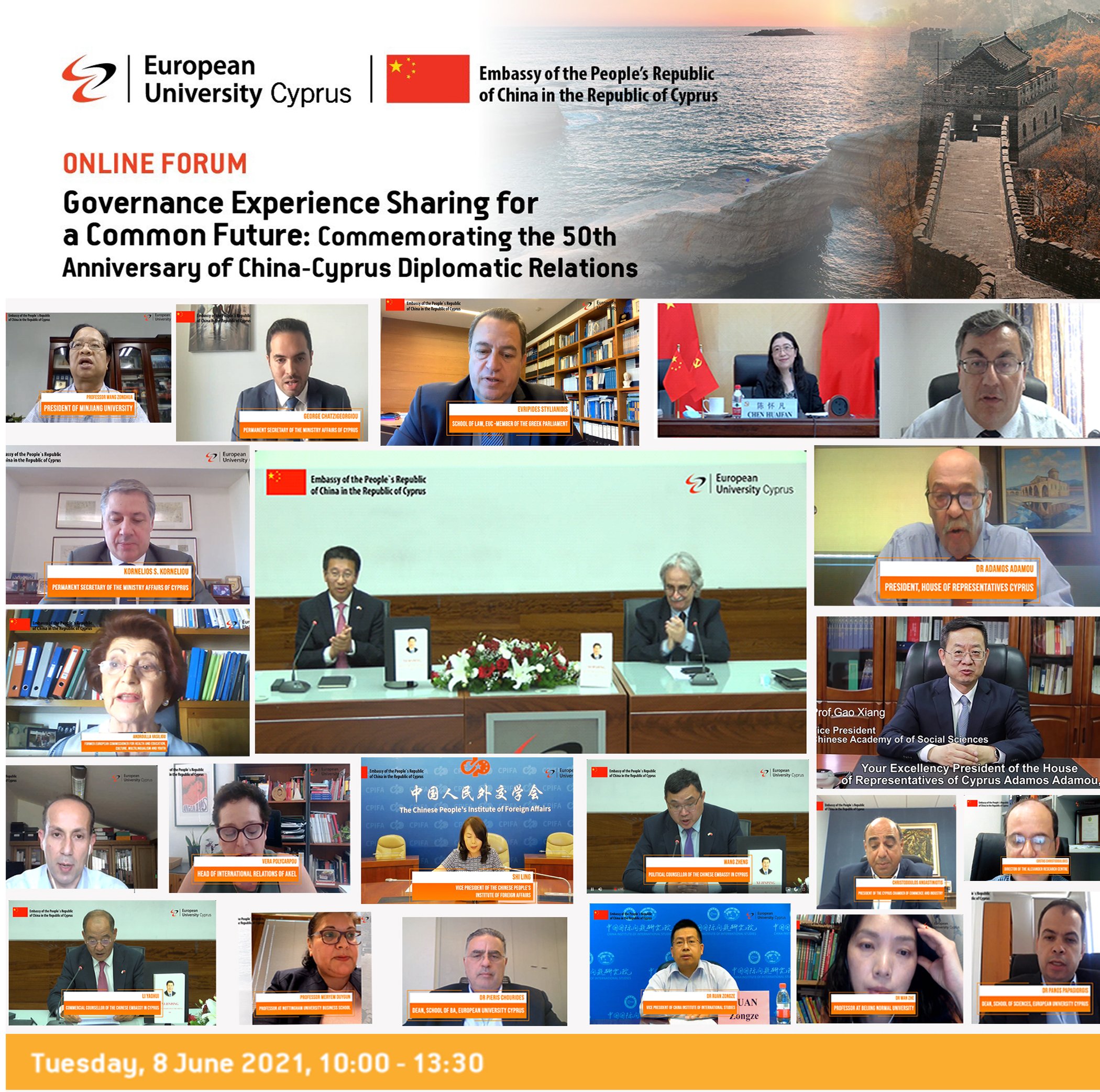 Whether a model is good or not should be first and foremost based on specific national conditions, whether the fundamental interests of most people in the country are effectively protected, whether the common wishes are met to the greatest extent, and whether the country contributes to or undermines world peace, development, cooperation, win-win results, harmony, and progress.
There is no end in exploring governance models. There is no best, but there is better.
Experiences tell us that development is the master key to solving all problems. Good governance can only be achieved by putting people at the centrer, focusing on development, and improving governance capabilities in line with the trend of times.
The CPC is the leadership core of the socialism with Chinese characteristics. The Party has stayed true to its original aspiration of seeking benefits for the Chinese people, realizing the rejuvenation of the Chinese nation and pursuing the common good of the world.
In particular, since the CPC's 18th National Congress, the CPC Central Committee with General Secretary Xi Jinping at the core has led the Chinese people in entering a new phase of governance. In this new phase, we pursue the path of socialism with Chinese characteristics, uphold the people-centered philosophy, and adhere to the Five-sphere Integrated Plan.
In terms of economy, we resolve to address the problems of unbalanced and insufficient development.
Our solution is to implement the new development concept of innovation, coordination, greenness, openness, and sharing, to build a dual-cycle growth pattern relying on both domestic and international economic cycles and with the domestic cycle being the mainstay, to promote high quality development, reduce regional differences and income inequality.
At present, China's per capita GDP has reached US$11,000. Our middle-income population exceeds 400 million and continues to expand. China will not follow the path of self-protection and isolation, neither will we develop ourselves at the expense of other countries' interests.
China has hosted the China International Import Expo for three years. China's contribution to the world economic growth has surpassed 30% for over a decade.
In terms of politics, we resolve to promote socialist democracy and advance law-based governance. Through intra-party democracy, representative democracy, multi-party political consultation, and regional ethnic autonomy, we ensure a democracy with Chinese characteristics featuring broad representation, open consultation, transparent in whole process, and rule of law.
In this way, we reflect the opinion and pool wisdom and strength of the people, reach consensus, and ensure the people's real participation in governance, and solve problems like political polarization, social division and street violence.
For example, in order to formulate the "14th Five-Year Plan", General Secretary Xi Jinping convened six meetings to solicit opinions and suggestions. The public left more than one million messages. Opinions were widely collected from within the CPC, all democratic parties, as well as people without party affiliation. The final draft of the proposal had a total of 366 revisions.
China is not a so-called "authoritarian" country. According to polls conducted by international polling agencies, the Chinese people's satisfaction with their government has remained over 90% for years. Does low level of trust in government mean better democracy? Chinese people don't think so!
In terms of culture, we resolve to promote cultural prosperity and the Chinese spirit. We advocate both preservation and innovation of Chinese traditional culture. We develop a national, scientific and popular socialist culture that embraces modernization, the world and the future.
We adopt the policy of freedom of religious belief, respect the differences of individual lifestyles, and foster the core values of Chinese socialism. The values include that China should be a country with prosperity, democracy, civility, and harmony, the society should be free, equal, just and ruled by law, and individuals should pursue patriotism, professionalism, integrity and good will.
We try to create a healthy, progressive, and scientific atmosphere, and oppose all kinds of anti-intellectualism and extremism. Faced with COVID-19, the Chinese people unite as one in fighting the pandemic, and sacrifice their personal interests for the public good.

In terms of society, we resolve to safeguard justice and promote harmony. The Chinese government cares for disadvantaged groups. Our basic healthcare insurance covers over 1.3 billion people, and the basic pension plan covers nearly 1 billion people.
China implements the ethnic policy of equality, unity, and common development. All citizens enjoy equal freedom of movement and rights to work, physical and mental health, and employment. The whole society is stable and harmonious. Chinese people's sense of gain and happiness is growing. The recent allegations of so-called "genocide" and "forced labour" in Xinjiang totally disregard the facts and common sense.
In terms of ecological environment, we resolve to realize harmonious coexistence between man and nature. The Chinese government believes that "lucid waters and lush mountains are invaluable assets", implements a sustainable development strategy, and promotes green transformation of economic and social development.
Now, China has become the country that uses the most new and renewable energy sources in the world. Industries such as solar power, lithium batteries, and new energy vehicles are booming, and the development and utilization of nuclear energy is safe and efficient.
China shoulders its responsibility of reducing emissions, upholds the Paris Agreement, proposes the goal of achieving carbon neutrality by 2060.
Given the reality that all countries are closely interconnected and mankind shares a common future, President Xi Jinping put forward the concept of "community with a shared future for mankind".
To this end, we must pursue the principle of extensive consultation, joint contribution and shared benefits. We must promote mankind's common values which are peace, development, equity, justice, democracy and freedom. We must promote an open, inclusive, clean and beautiful world that enjoys lasting peace, universal security and common prosperity.
Based on the history and reality of the 50 years of diplomatic ties between China and Cyprus, we realize that against increasing global risks and challenges, our two countries among all countries around the world are a community of shared future, going through thick and thin, weal and woe.
Over the past 50 years, China and Cyprus have always upheld the spirit of the Communiqué on the Establishment of Diplomatic Relations, fully respected and accommodated each other's core interests and major concerns and worked closely in international and regional affairs.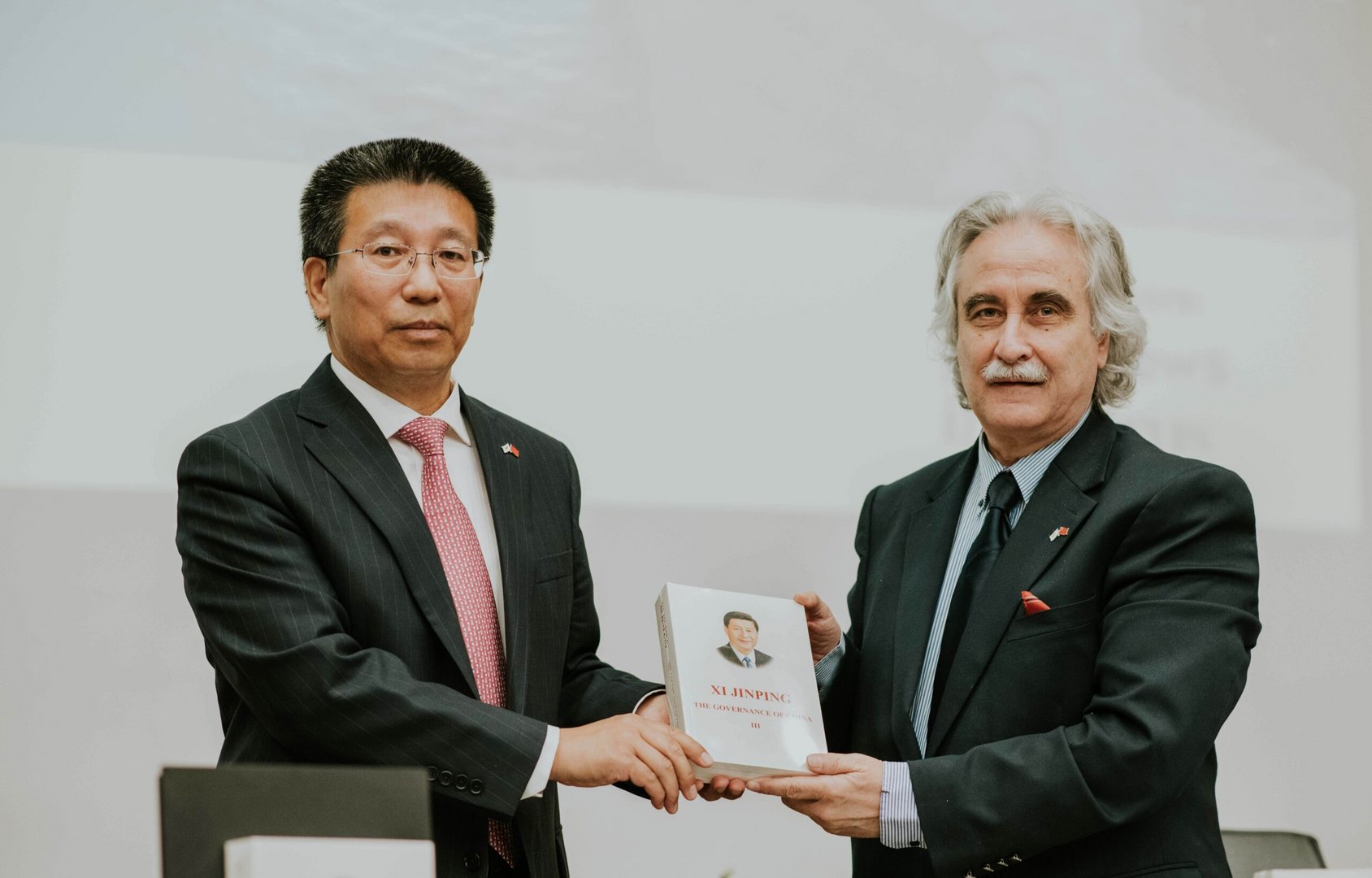 Our relationship has withstood the test of the changing international situations, and has set a good example of equal treatment, mutual respect, peaceful coexistence, and win-win cooperation despite the different sizes. Our two countries helped each other in fighting the pandemic, setting an example of solidarity for the international community.
Back on the theme of today's forum – governance experience sharing, we believe that Cyprus has made remarkable achievements in coordinating pandemic control and economic and social development. Cyprus has reduced the mortality rate of COVID-19 patients, increased the vaccination rate, expedited the green digital transformation, and promoted social security, stability and harmony.
We highly commend Cyprus' achievements. We are very proud of having such a good friend, partner, and brother like Cyprus. And we are ready to share governance experiences between our parliaments, governments and political parties.
As we look to the past, present and future, we call on Cyprus and other countries in the world to continue their joint efforts with China in building a community with a shared future for mankind and an even better future.
First, we shall jointly advocate to build a community of common security. It concerns the core interests of all countries.
We shall follow a common, comprehensive, cooperative, and sustainable new security concept. We shall oppose hegemonism and "zero-sum" games that pursue absolute security for oneself and its allies. We shall oppose confrontation and the Cold War mentality that creates an ideological clique. All countries are equal members of the international community. All countries have both the rights to defend their own security and the obligation to promote common security.
We shall stand firm in upholding the international system underpinned by the UN, and the international order anchored on international law. We shall pursue a comprehensive, fair and lasting resolution of international and regional issues including the Cyprus Problem, on the basis of relevant UN resolutions. We shall always be advocates, actors and defenders of multilateralism.
Second, we shall jointly advocate to build a community of common development. True development should benefit all. Development is good only when it is sustainable.
We shall uphold the new development concept of fairness, openness, comprehensiveness and innovation. We shall make the "cake of common interests" even bigger, instead of tying cooperation to ideology, decoupling, delinking, digging traps and building walls.
China is ready to align its Long-Range Objectives Through the Year 2035 with the Cyprus Vision 2035, and jointly build a green and digital "Silk Road". We also welcome early participation of Cyprus as an observer in the Cooperation between China and Central and Eastern European countries, in order to jointly promote the healthy and stable development of China-Cyprus cross-regional cooperation and China-EU cooperation.
Third, we shall jointly advocate to build a community of civilizations. No civilization is superior to the other. Civilizations thrive on diversity, and through exchanges and mutual learning.
We shall firmly reject extremist remarks like "clash of civilizations", "racial superiority". We shall advocate equality, mutual learning, dialogue and tolerance toward civilizations. We shall enhance mutual understanding, goodwill and appreciation between Chinese and European peoples as well as among all peoples.
Last, we shall jointly advocate to the building of a health community. The virus respects no borders and races. Solidarity and cooperation are the most powerful weapon against global public health problems.
We shall put life and people first and insist on scientific policies. We shall work together and resolutely abandon "vaccine nationalism". We shall contribute to the global economic and social recovery by removing obstacles to the normal flow of people, and fulfil our shared responsibility in maintaining global public health security.
To conclude my speech, I wish this forum a complete success. Thank you all!