By Ella Walker
The trains that rattle directly above chef Elizabeth Haigh's Singapore coffee shop clack-clack-clack down the phone line, while her neighbours appear to be drilling with total abandon. She shouts over the clamour nonplussed – all that noise means action, life returning, businesses reopening.
Not that her Borough Market restaurant, Mei Mei, has been dormant through the last year. Opening just a few months before the pandemic completely shuttered bars and restaurants, Haigh quickly pivoted to takeout, meal kits, and feeding the vulnerable and local key workers.
Singapore-born Haigh, 33, trained as an architect before turning to food via a stint on MasterChef in 2011. She went on to win a Michelin star while at Pidgin in Hackney. Now she's written her first cookbook, Makan, whose title means 'dinnertime', or 'let's eat'. Haigh calls the book "a love letter to my family" and "our Singaporean heritage". It's packed with the Singaporean dishes she grew up eating ("I would be baffled at beans on toast"), using seasonal ingredients found in Britain (her dad's British; Sunday roasts were a weekly staple).
In the book, she writes: 'When people move and mix together, food just gets better' – and is adamant that's true, "because food represents community. And without community, there's no food, there's no recipes, there's no knowledge of culture and dishes."
"Makan represents the culture of my mum," explains Haigh. "She cooks a lot, like a lot of her generation, but they don't really pass on that knowledge because it's just their way of showing love, that they do all the cooking."
Haigh had to doggedly prise the knowledge out of her mum, but you'll be glad she did. The recipes in the 'Nonya Secrets' chapter, featuring her spiced chicken noodle soup, Gado Gado peanut salad, Malay hot and sour noodles, in particular are ones "she would go probably to her grave with if she could; I had to beg her to share them with me".
The homesickness involved in not being able to travel or access that delicious, clamorous street food world, was another motivation for Makan, "to recreate those dishes and recreate those memories".
Stir-Fried Beef
Serves 4
250g boneless beef rump, sliced into bite-sized pieces
4tbsp cooking oil
1½tsp finely chopped root ginger
2tsp finely chopped garlic
1 red pepper, cut into bite-sized pieces similar to the beef
1 fresh, medium-hot, red Dutch chilli, deseeded and finely chopped (optional)
2–4tsp dried chilli flakes, or to taste
2 spring onions (green part), finely sliced
1tsp toasted sesame oil
For the marinade:
1tsp rice wine
¼tsp salt
½tsp light soy sauce
¾tsp dark soy sauce
1½tsp potato flour
1½tsp water
Stir the marinade ingredients together in a bowl. Add the beef and mix in well with the marinade.
Add three tablespoons of the oil to a wok set over a high heat and swirl the oil around to coat the wok. When it is starting to smoke, add the beef and stir-fry briskly, separating the pieces. When the pieces are separated and still a little pink, remove them from the wok and set aside.
Add the remaining oil to the wok, then add the ginger and garlic. Allow them to sizzle for a few seconds to release their fragrance. Tip in the red pepper and fresh chilli, if using, and stir-fry until hot.
Return the beef to the wok and give everything a good stir, then add the chilli flakes. When all is hot and fragrant, add the spring onions and remove from the heat. Stir in the sesame oil, check the seasoning and serve.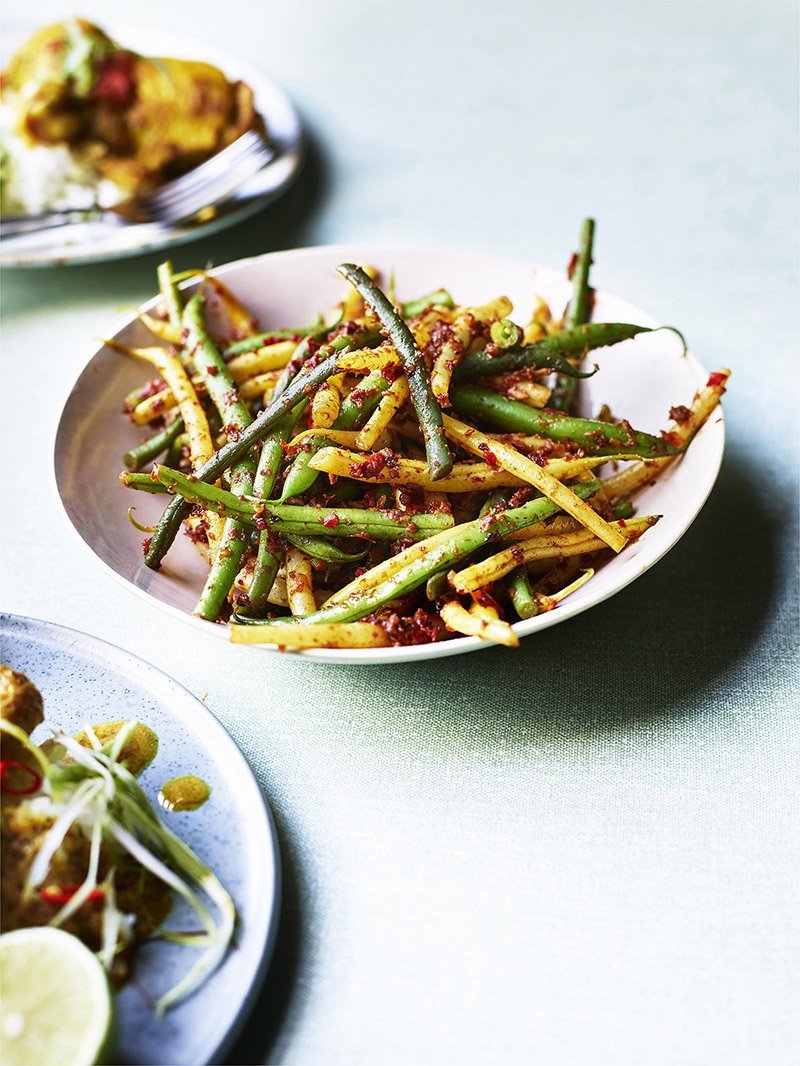 Spicy Green Beans with Chilli and Garlic
Serves 2 as a side dish
1tbsp dried shrimps
6 dried red chillies
3 garlic cloves, peeled
2 banana shallots, peeled
2tbsp cooking oil
2tsp belachan (fermented shrimp paste)
250g green beans, trimmed and cut into 1.5cm pieces
2tbsp water
Salt
Soak the dried shrimps and chillies in warm water for at least 10 minutes or up to one hour, then drain. If you don't want the dish to be too spicy, remove the seeds from the chillies, then place them in a blender with the soaked shrimps, garlic and shallots. Blend together to make a rough paste.
Heat the oil in a wok over a medium heat. Add the chilli-shrimp paste and stir-fry until aromatic, then add the belachan and stir for a couple more minutes to cook the paste out.
Turn up the heat slightly, add the green beans and give it all a good stir. Stir-fry for a couple of minutes. Add the water to help 'steam-cook' the beans and season with salt, then turn the heat down and continue cooking for four to five minutes or until the beans are tender.
Serve immediately.
Makan: Recipes From The Heart Of Singapore by Elizabeth Haigh is available now