This year's annual Shakespeare at Curium has beaten the corona odds, and will be staged on June 24, 25, and 26. Alix Norman reports that The Merchant of Venice will be a topical, thought-provoking performance
Racism. Gender bias. Religious intolerance. The Merchant of Venice is a challenging play for modern audiences, yet still, to this day, highly topical.
"Many of the issues brought up in the play," says producer Jenny Price, "are still things we're tackling 400-odd years on. And its message, of justice, mercy and – ultimately – friendship and love, all continue to resonate today."
A good choice, then, for the annual Shakespeare at Curium, organised by the Performing Arts for Cyprus Charities (PACC) – almost without fail – for the last 59 years. Even the pandemic hasn't been able to put a stop to the performances: last year, the date was pushed back from June to July in order to accommodate the first lockdown; this year, corona measures have meant that much of the rehearsals have had to take place in the digital form!
"From the very start of the process," says Jenny, "our director, Penny Cook, planned for every corona contingency! All the scripts, props, programmes, costumes were begun during lockdown, so that when we got the all clear from the authorities, we could jump straight into action."
Auditions took place in February – a little later than usual as the PACC committee had been hoping for an easing of measures which didn't come – and were held over Zoom. "Scripts went out, rehearsals began – again on Zoom," smiles Jenny. "It's not as challenging as you might think," she adds. "Although our rehearsals have been very different from those of previous years, it gave the cast a good chance to work together in smaller groups, learn their lines, and develop their characterisation."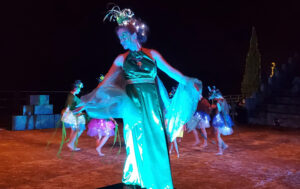 When, in May, measures allowed the cast to meet in person – in groups of no more than 10, and socially distanced at that – it was, says Jenny, "wonderful to actually meet our fellow actors: for the past few months, the cast had only seen each other from the waist up!"
Currently in the final stage of rehearsals, the cast are now meeting at Foley's School thrice weekly ahead of the performances. "We're at the stage of half run-throughs," Jenny explains, "before we move to full run-throughs at Curium itself from June 21."
This year's performances will take place on June 24, 25, and 26, starting at 8pm and running for approximately two hours. All safety measures will be adhered to, Jenny adds; while family groups will be allowed to sit together, spacing between strangers will be the official two metres, every other row will be left vacant, and Curium will be at half its normal capacity as per government guidelines.
"The amphitheatre holds roughly 1,200 people," she reveals, "so tickets are limited, and we're looking at a maximum number of about 600 per night. But, after such an extended period of lockdowns, we're sure audiences will thrill to a stunning, open-air setting of one of Shakespeare's most iconic romantic comedies…"
Loosely based on the 14th-century tale Il Pecorone by Giovanni Fiorentino, with elements of Sylvane's The Orator and the Gesta Romanorum folktales, The Merchant of Venice is loosely classified as a comedy, despite its darker elements. The plot revolves around a young noble's efforts to win the hand of his beloved. But, this being Shakespeare, there's a great deal more to the story than first meets the eye…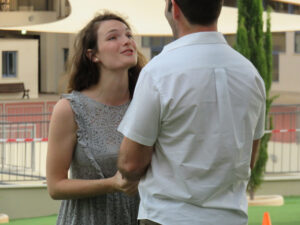 We open with our protagonist, Bassiano, who has squandered his fortune and lacks the wherewithal to woo the fair Portia. Enter Antonio, a wealthy merchant who – though a little cash-poor while his trading ships are at sea – agrees to stand guarantor to Bassiano's loan from Jewish moneylender Shylock. There is, however, a condition. Should the loan remain unpaid by the specified date, Shylock may take a pound of Antonio's flesh…
Of course nothing runs as smoothly as one would hope, and our cast end up in court; Shylock poised, knife in hand, to extract his reward!
"Even today, The Merchant of Venice is a truly absorbing play," says Jenny. "It's challenging, relevant, and beautifully written – the power of Shakespeare's language is incredible; just a word or phrase conjures up an image that makes so much sense to us, even in the modern-day world."
As always, the production supports a local charity – this year, the Autism Society of Cyprus has been chosen for their amazing work with youngsters. So your ticket purchase not only ensures a great night out, but also good works.
"Audiences," Jenny concludes, "will love The Merchant of Venice. It's been ten years since it was last staged at Curium, and now is the perfect time for this thought-provoking, unusual play. It's sure to get you thinking, laughing, and sympathising with the characters and their predicaments – nothing in The Merchant is ever quite black and white," she adds, "and there's certainly a lot here upon which to reflect. In fact, it's the perfect post-lockdown escape!"
For more information, visit https://shakespeareatcurium.com/current-production
Tickets are available from Sold out Tickets at a cost of €20 (€10 for under 13s) and must be booked online, at least 24 hours in advance of the performance