Students' happiness is a top priority at the new Larnaca-based American University, its president says
A new private university in Larnaca is challenging traditional teaching methods, saying it wants to focus on keeping students happy while ensuring them a career.
It also hopes to take advantage of Brexit, which has meant a huge spike in fees for Cypriot students studying in the UK, and offer them good reasons to stay in Cyprus for their higher education.
"We need our students to wake up in the morning and be happy to go to university and learn," the president and founder of the American University of Cyprus (AUCY) Dr Marc-Antoine Zabbal told the Sunday Mail.
Starting this September, AUCY will offer a variety of courses from three faculties: business administration and economics, sciences and technology and of course arts and humanities because as Zabbal stated "there is no way education can work without arts.". All the university's programmes are fully accredited by the Cyprus Agency of Quality Assurance and Accreditation in Higher Education (CYQAA).
Despite expectations that the university would attract more international students, the majority of the 200 pre-applicants so far concern locals, attributed to the Brexit fee hike.
"People are seeking more moderate tuition fees with higher academic standards, and we have them all here at AUCY," the president said.
Brexit will have a positive impact on the operation of all universities here in Cyprus, but AUCY offers students "the same international academic impact and exposure", Zabbal said.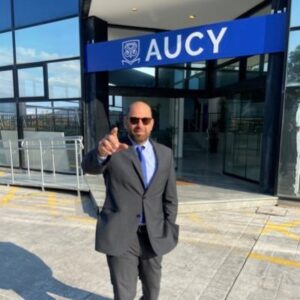 Zabbal is a 42-year-old Lebanese investor who moved to Cyprus seven years ago with his partner and two sons. He has a bachelor of business administration with a major in international relations and affairs, a master's degree in public administration and in 2015 he completed his PhD in philosophy.
Zabbal was also a managing partner at the Arts, Sciences and Technology (AUL) University in Kaslik, Lebanon.
AUCY has signed a full MOU with the University of Massachusetts (UMASS) in the United States and has an agreement with the CASS European Institute of Management Studies in France.
A number of exchange professors from UMASS will also be teaching at the Cyprus-based university according to its founder.
The university's affiliations will also allow Cypriots to participate in the exchange students programme for up to two semesters with the same fees. Those students might apply to complete their studies at the international university of their choice. "Bachelor graduates who wish to apply for Masters [in the US] will have priority and it is very easy to apply."
An academic committee will be formed to monitor that AUCY maintains the high standards of the US-based university, while a CASS Europe study centre will be created at AUCY campus in Larnaca to deliver DBA & PhD programmes.
Despite following international standards, AUCY has similar tuition fees as other Cyprus-based universities.
"We want all the people to be able to join AUCY from all social and financial backgrounds. I don't want to have a university for the rich," Zabbal said.
Additional discounts on the tuition will be offered to those who use a bicycle or other eco-friendly means of transport to come to the university, its founder said. "We will try and tell our students that if you help the environment, we will try to help you too by giving them incentives."
The university also aspires to ran on 100 per cent sustainable energy sources using solar panels, within the next three years.
In his speech at the inauguration ceremony of the university last month Education Minister Prodromos Prodromou said he is looking forward to the new university's "contribution in terms of knowledge, academic excellence and the well-being of our youth and society in general".
"The establishment of new universities with high expectations in the provision of quality higher education and commitment to excellence is another important step towards the fulfilment of the government's strategic goal to make our country a regional and international higher education and research centre," Prodromou said last month.
And there's yet another attraction. AUCY might be the island's tenth university, but it is the first one built on the seafront.
Its cafeteria, located in the back of the campus in Kalo Chorio is only a few steps away from the beach. Once completed, it will be open to the public and will be provided for free to charities and non-governmental organisations for future events, Zabbal explained.
Apart from the 17 classrooms and various common areas where students will be able to gather together to conduct research, the university is also expected to have a library with more than 7,500 print books in addition to the e-library, a basketball court and a gym.
"This should be an environment where students can enjoy their student life," he added.
Professors at the AUCY will be expected to be "friendly and professional" in class, while also being innovative in their teaching methods as to not leave any student feeling neglected.
Anyone choosing to study at the new university must shake up the idea that learning is simply listening. Students will be expected to team up and have a discussion. The students' responsibilities are actually written down at the university's bylaws as all of its courses are based on class participation.
"This is the American approach," Zabbal said.
Which is why choosing the right professors is crucial. AUCY is looking for people who "actually love their job and have a lot of patience for all their students to make it in the end of the semester."
Professors will also have the opportunity to be evaluated by their students in order to gain insight in their approach and be able to provide better educational experiences.
Zabbal aspires to create an academic community with a strong "sense of belonging for the students and staff of the university". To achieve this, the president adopted what is known as the flat management system with few or no levels of management between management and staff level employees.
"This means that any student, any staff member can just knock on the door and walk in without an appointment."
The flat organisational structure is "very efficient" and makes workers "feel at ease" according to Zabbal, as it involves the staff in high-level decision making such as the creation of a new faculty or budget cuts.
"If students or staff hate the university, they will destroy you from inside. This is why the notion of happiness is very important," Zabbal said.
The same incentives will also be followed at the upcoming Ayia Napa campus which is expected to be completed by 2023 to 2024.
"I think in the end the AUCY will win many hearts and minds," Zabbal said.