More than 115 Members attended the 6th AGM of Cyprus Marine Club which was held in a fully renovated Marina Beach Bar (now called Gazebo which opened just a couple of days prior to the event).
Capt. Koch, Cyprus Marine Club President's opened the meeting with an annual report updating Members on recent developments, membership statistics, a summary of past events, and future outlooks.
Regretfully, the past twelve months, with some ups and downs, were still under command of Covid 19 which seems to have settled down in consciousness and dominated our lives in one or another way. Fortunately, though we are in a much better position than last year as most of the Cyprus population has already been vaccinated or became immune after passing the disease.
Despite the ongoing difficulties, I think we were one of the two or very few organizations which did not give up on holding face-to-face events – of course in compliance with all Covid protocols. To be honest, I am very happy to have decided not to freeze the CMC networking opportunities entirely.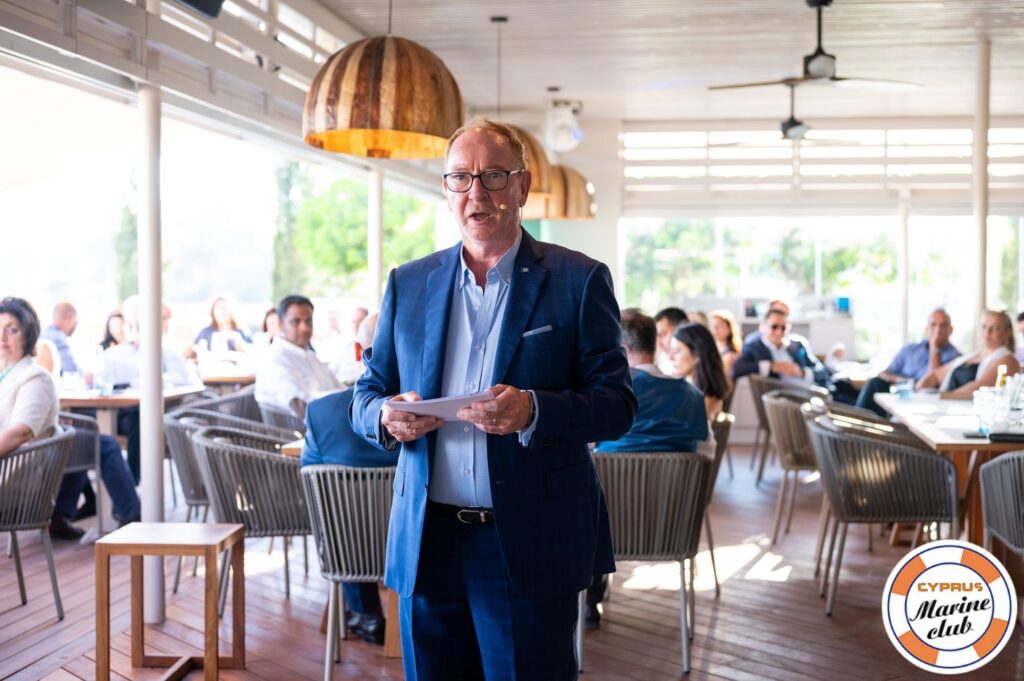 Capt. Koch thanked Members and Board Members for their support in the past twelve months years which contributed to the even greater success of the Club despite the difficulties that came along with Covid 19.
The President announced that the  CMC App, is now almost ready, approved by all relevant system parties, and very soon all Members will be able to download it and enjoy its benefits.
Special words of appreciation and recognition were given to new Iridium and Silver sponsors of the Club (DP World Limassol, KVH Industries, and  Deloitte respectively) as well as the long:- Platinum Sponsors: Bureau Veritas; UMAR/ WSR; Tototheo Maritime, OL Shipping Group. Gold Sponsor:  Prestige Group and Silver Sponsors: HEMPEL, EPSCO, and FML Ship management.
Special words of recognition went also to the entire Board of Directors for their yearly support.
Capt. Koch reported that the Club counts now 130 Members and the number has more than tripled since he took over the presidency of CMC.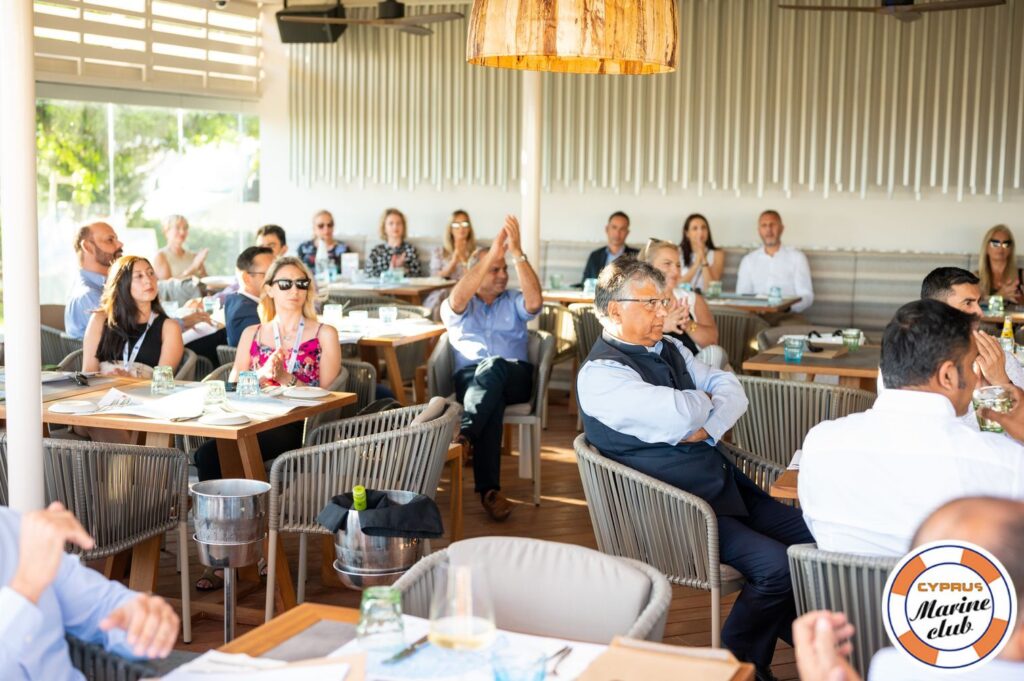 Following President's short addresses were delivered by the Club's new Iridium Sponsors: DP World Limassol, represented by Doros Aresti/ KVH Industries represented by Zoe Morphitou, by Mr. Sunil Kapoor, representing our Silver Sponsor FML Shipmanagement, and last but not least by Andreas Chrysostomou on behalf of Tototheo Maritime.
A beautiful cocktail reception with a rich buffet in a splendid environment near the sea opened to members of the Club, and ended late in the evening… Compliments to Marios Nicolaou/ PNS  and the entire team at Marina Beach Bar (Gazebo) for helping to create so cozy and unforgettable atmosphere for our members.
If you are interested in becoming a member of the Cyprus Marine Club, please contact Ms. Julia Paczkowska: [email protected]