The Paphos community is rallying around those families that were affected by the fire that raged in Tala on Saturday that saw them lose all of their belongings.
Three houses were destroyed and four others damaged, along with a number of vehicles, in the fire that quickly caught in the dry, hot weather.
Furniture, appliances, soft furnishings, fixtures and fittings, clothes, toys, jewellery, mementos, paintings and photographs were all destroyed and reduced to ash. Luckily, there was no loss of life.
A Just giving Page has been set up by Paphos businesswomen Andrea Thorne, of RSS Logistics in Peyia, with the aim of raising €10,000 to help all of the people affected by the fire. They have already reached almost €5,000.
"I just wanted to do something to help and another lady, Nicky, is collecting clothes. We (RSS) are also a drop off point for items and a local fruit market in Coral Bay has dropped off a fruit selection today. Any money raised will be used for whatever people need," she said.
Thorne noted that one of the families affected had only recently moved to Cyprus and have two young girls aged two and five years old. They are currently staying in a hotel.
"Hopefully we can show this family that are new here and others that Cyprus is a good place."
The mum of two posted about their plight on Facebook, describing the day as: "The day we lost every earthly possession we had."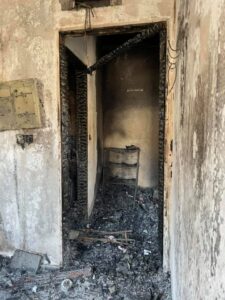 The family came to Cyprus to start a new home in a safer place for the couple's two daughters.
"Today, on the eve of my daughter's 5th birthday, we had to flee our home in a matter of seconds. We watched helplessly as our home, and newfound sanctuary, burnt down. We lost all of our clothes and shoes. We lost our photographs, and sentimental mementos from home. I lost all of my jewellery, some of it passed down generations. My girls lost all of their toys. We lost our sense of comfort. We don't have beds, furniture or even underwear. The life we once had, and all material ties to it, are no more," she wrote
"We have the kindest, most generous friends and neighbours, and are humbled by the community coming together to help us."
Donations of toys, clothes or necessities may be made at Kamares club or Tala council office, Tala councillor Cathi Delaney told the Cyprus Mail on Monday.
"I think everyone is so thankful that there were no fatalities in this terrible fire."
It started between Kamares and Zelemenos and spread up the ravine in Karmi and to the outskirts of Kili
Delaney said the emergency services had been highly praised for their quick response and professional conduct.
A Facebook page 'Help Group for Kamares Fire" has also been set up to help the affected residents and a number of individuals as well as local businesses have also pledged their support including Chlorakas hairdressers and beauty salon, 'Etho,"
"I don't know these people, but I wanted to help. It could have happened to anyone of us. People can call in to my shop and drop of any little thing they can," owner Mandy Maskell said.
Initial examinations found that the fire was started by sparks from electricity cables that fell to the ground. High winds caused the cables to touch each other.
"The insurance companies will have to negotiate with the government as it is now in their hands and that of the district office," said Delaney
To make a donation : https://www.justgiving.com/crowdfunding/andrea-etherington?utm_term=Jd7qjw7K6&fbclid=IwAR1jzqB_7y0zodrRL3X9Yf9zuQsj8HOtRmT6ZAntmtWsZLOO7zRUStZ6sI8