It is almost time for 2021's International Festival of Ancient Greek Drama. ELENI PHILIPPOU looks forward to a rich selection of performances
 Five productions will be staged as part of this year's International Festival of Ancient Greek Drama as the curtain is raised on the 2021 edition after last year's cancellation. A July full of unique theatrical moments awaits as the festival offers an exciting line-up of performances.
With an emphasis on the quality and cooperation with distinguished theatrical organisations, a diverse programme is offered, with performances of a modern aesthetic and artistic approach to ancient drama, highlighting the scope and prestige of the festival locally and abroad.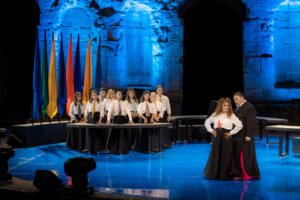 In the 2021 edition, five esteemed theatre companies from Greece, Israel, Italy and Cyprus present performances at Curium Ancient Theatre in Limassol and at Skali Amphitheatre in Aglantzia, from July 2 to July 30.
The opening of this year's festival will take place at Curium with the extremely edgy and highly topical comedy of Aristophanes, Ecclesiazusae, in an original version of a contemporary, folk operetta in translation, libretto and music by Stamatis Kraounakis, directed by Marianna Calbari. After winning over critics and spectators in their first presentation at the crowded Herodion in 2019 and in performances that followed in Thessaloniki and Athens, Ecclesiazusae comes to Curium for two performances on July 2 and 3.
Following comes a unique performance on July 5 at Skali Amphitheatre of Sophocles' Antigone presented by the Jerusalem Khan Theatre under the direction of Udi Ben Moshe, one of the most significant directors of Israel. Timeless criticism on the arrogance of power and autocracy and the conflict between unwritten moral laws and institutional state laws, emerge through a contemporary stage "reading" emphasising resistance against the modern political context as well as the current conflicts between religion and state.
The National Theatre of Greece returns to the festival after 11 years with Aristophanes' comedy The Knights, directed by the distinguished choreographer and director Konstantinos Rigos, and featuring an outstanding cast. Equestrian, combative, hilarious, in an "ancient – modern" mix, through the innovative perspective of the director, the Knights get ready to "rap" at Curium Ancient Theatre on July 16 and 17.
Euripides' masterpiece Medea, which deals with the last act of the passionate relationship between Jason and Medea, is this year's Cypriot production in the festival, directed by Aliki Danezi Knutsen. Seven actresses in a unique stage setting guided by speech and sound, retrieve and reconstruct the dark and fierce forms of Euripides' tragedy. The creation of Roads and Oranges Film Productions will be presented at Skali Amphitheatre on July 21 and 22 and at Curium Ancient Theatre on July 24.
Prometheus Bound, Aeschylus' shocking tragedy, staged by the Associazione Culturale Dide Di Michele Dio and the Fahrenheit 451 Teatro of Italy, under the direction of the award-winning director Daniele Salvo concludes this year's festival with two performances at Skali Amphitheatre on July 28 and at Curium Ancient Theatre on July 30. A deeply archetypal text, Prometheus Bound is a structured poetic-philosophical treatise on human conscience, a source of concepts and meanings that transcend the boundaries of ancient Greek mythology, permeating Western thought and culture. The fire that Prometheus stole is a light that continues to burn.
All performances start at 9pm and to facilitate the public in Nicosia, shuttle transport from Nicosia to Curium Ancient Theatre will be provided, for the Ecclesiazusae performance on July 2 and 3 and The Knights by Aristophanes on July 16 and 17. Full details about the festival can be found at www.greekdramafest.com
International Festival of Ancient Greek Drama
Theatrical productions from Greece, Israel, Italy and Cyprus. July 2-30. Skali Aglantzias, Nicosia and Curium Ancient Theatre, Limassol. 9pm. Regular ticket €12.Tel: 7000-2414, www.greekdramafest.com. Ticket sales: www.soldoutticketbox.com