Just a few kilometres off the Hampshire coast lies the sunniest place in Britain! The Isle of Wight receives about 2,000 hours of sun each year!
An island of contradictions – even the name means, in Celtic, 'place of division' thanks to its location between the two arms of the Solent – this is, at high tide, England's smallest county (when the tide is low, Rutland reclaims the title)!
Today, the county relies mainly on tourism for income, and visitors can enjoy a host of happenings which include the Isle of Wight Festival, Cowes Week, and the Ryde Carnival – the UK's oldest carnival, dating from Victorian times.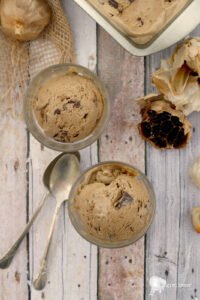 But away from the main population centres, this island is a quieter place with a more traditional way of life. Fishing, boat-building, sail-making, and farming have long been popular occupations, with workers fuelled by a surfeit of fine local produce. Here, you'll find excellent asparagus, superb wild honey, and the sweetest strawberries in Britain. But the island is also known for its superb tomatoes and, more recently, it's incredible black garlic ice-cream…
The Isle of Wight is renowned for its garlic, and black garlic (whole bulbs cooked for hours at a low temperature) is a bit of a favourite. Sweet and syrupy, a sort of cross between balsamic vinegar and tamarind, it's served both as a savoury accompaniment and as a singular sundae: black garlic ice cream, layered with brownies and chocolate sauce!
On the more traditional side, we get beef and ale pie and the crab pasty. The island is known for its fine crabmeat, and this shortcrust pasty packed with fresh-caught crab is a handy way to enjoy your marine cuisine. And to wash it all down, a local beer is a must; craft beers abound (the cannily named 'Ale of Wight' is a must-try), and as of 2015, there's even a Wight whisky, a single-malt concoction produced from local barley.