By Katie Wright
Few industries have suffered more during the pandemic than hospitality. While none of Tom Kerridge's eateries have been forced to close, it's clear the chef has a huge amount of sympathy for his fellow restauranteurs.
For Kerridge – who owns a handful of restaurants and pubs, including The Hand and Flowers in Marlow, the first ever pub to receive two Michelin stars – and his staff, working from home just wasn't an option.
"There's so many other industries where people can have conversations online and that's fine and their business has been able to work. You get into hospitality and it's a vocational job, it's something that's a way of life, it's not something you can do on a Zoom call."
Not that the chef, who grew up in Gloucestershire, has been sitting around twiddling his thumbs up.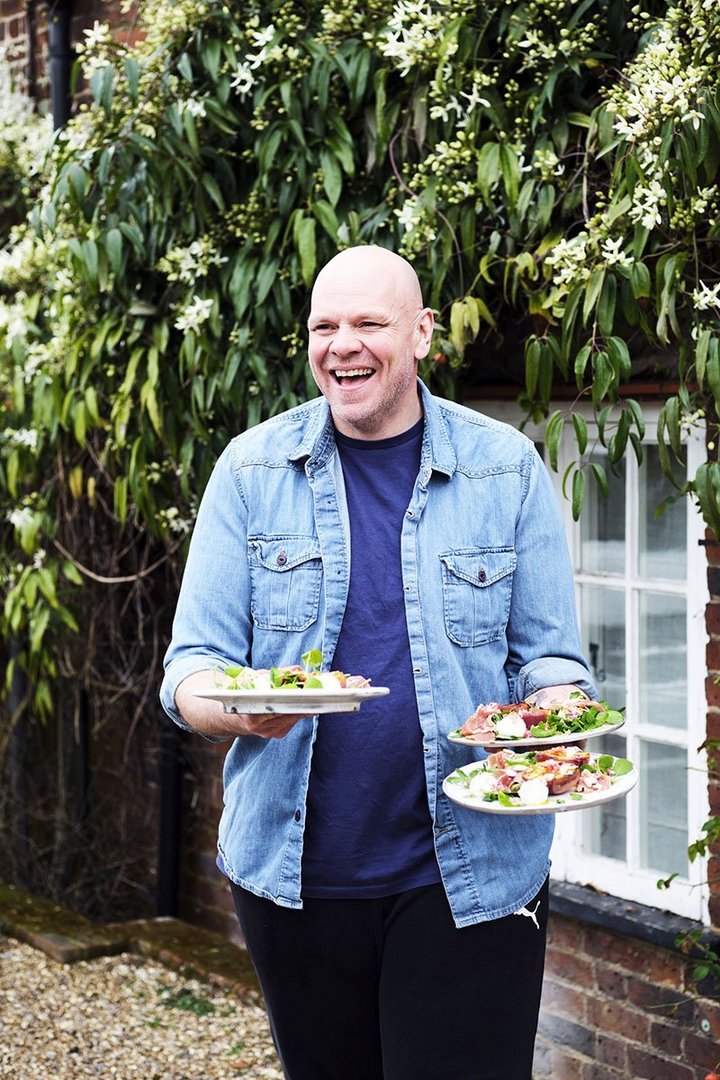 "To be honest, I've been as busy during the whole of lockdown as I am when the restaurants are open," he says. "When you own businesses, you're never 'off'. We've constantly been driving as many things forward as possible, trying to work out what we're doing, how can we get to reopening, being proactive about everything."
Beyond the challenges, Kerridge, who lives in Marlow with his wife Beth and five-year-old son Acey, has been able to appreciate some aspects of lockdown life.
"The chief bonus is that I managed to spend a lot more time with my little man, hanging out a bit more, learning to ride a bike and all these sort of things that I may well have missed if I was fully immersed into restaurants."
And now he's launching his next book, perfectly timed for the arrival of summer. Outdoor Cooking: The Ultimate Modern Barbecue Bible is Kerridge's ode to al-fresco cooking, which he particularly loves because it allows him to socialise at the same time as serving up delicious food.
"You've got your friends and family around, there's people hanging out… for me it's a great space to be. You're immersed in it, you're not just stuck in the back."
Not that he's one to hog the barbecue tongs, however: "No, I'm quite happy to let other people have a go! Although I do thoroughly enjoy when you're outdoors, that social bit of cooking."
Plus, he loves the variety of an international melting-pot menu. "You can travel the world with a barbecue. You can have Korean-style kimchi as a side garnish, and then you can have American-style barbecue stuff, you can have fantastic Indian cookery… The beautiful thing about it is there's no real rules."
Umami Mushroom and Halloumi Burgers
Makes 4
2 x 225g packs halloumi
8 portobello mushrooms, stems removed
For the umami butter:
160g butter, softened
2tbsp white miso
1tbsp light soy sauce
5g dried porcini mushrooms, ground to a powder
½tsp dried chilli flakes
2 large garlic cloves, finely grated
Finely grated zest of ½ lemon
Salt and freshly ground black pepper
To assemble:
4 brioche burger buns, split
4tbsp sweet chilli or hot chilli sauce
4tbsp mayonnaise
About 60g rocket leaves
Cut each block of halloumi in half horizontally through the middle to create four flat halloumi steaks in total.
For the umami butter, put all the ingredients into a bowl and mix until evenly combined, seasoning with a good pinch each of salt and pepper.
Brush the portobello mushrooms on one side with the umami butter and place them buttered side down on a medium-hot barbecue. Brush the other side thickly with butter while they are cooking. Turn the mushrooms over after two to three minutes and add the halloumi to the barbecue. Brush the surface of the halloumi with umami butter too. Keep brushing the mushrooms with the butter as they cook; do the same with the halloumi.
Towards the end of the cooking, toast the burger buns on the barbecue. Brush any remaining umami butter onto the toasted buns.
To assemble the burgers, place a mushroom, flat side up, on the base of each burger bun. Top with a halloumi steak and add a spoonful of sweet chilli or hot chilli sauce. Pile a big handful of rocket leaves on top. Spread some mayo on the bun lids and sandwich the burgers together.
Outdoor Cooking: The Ultimate Modern Barbecue Bible by Tom Kerridge is available now