There are 10 states in the US in which the average family takes home more than $75,000, and it's Maryland that, in 2021, topped the rich list. It's largely thanks to the state's proximity to Washington DC: nearly half a million of the state's six million residents work in government. Plus there's a nice concentration of headquartered multinationals.
Given its wealth, it's a surprise to discover that Maryland is known as America in Miniature. But the moniker refers to the geography, rather than the economy: sandy dunes, marshlands, hills, forests and shoreline make this state a topographical mishmash. Which also gives you a bit of everything, gastronomically speaking: pit beef (so-named because it was originally cooked by poorer locals over a hole in the ground), a salty roast grilled to a crisp on the outside but still rare on the inside; Smith Island Cake (the official state dessert), which consists of eight to ten layers of creamy yellow cake and rich chocolate frosting; and the award-winning Berger cookie, a shortbread biscuit coated in thick chocolate icing that originated in Germany.
But, with 4,431 miles of coastline, it's seafood that's the most iconic fare in Maryland. Crab is huge here, especially when it's steamed and blue! The state crustacean, the Chesapeake blue crab is a local favourite: salted, seasoned and steamed, the meat is said to be incredibly delicate and delightfully buttery!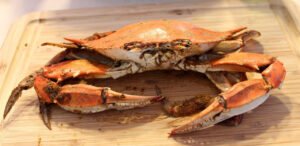 Generally seasoned with Old Bay (a blend of herbs and spices, including celery salt, black pepper, crushed red pepper flakes, and paprika), crab is so ubiquitous in Maryland that it also appears in crab cakes, crab chips, and crab crisps. You'll also find crab dip, crab salad and crab soup on most menus, along with fried, stuffed, or baked crab.
Oysters are also pretty big: frittered (dipped in thick batter and fried), stewed (in a creamy base), and baked into the iconic Oyster Pot Pie. And fish are a favourite, especially rockfish, black drum, white perch, croaker and flounder. However, despite the surfeit, this marine cuisine doesn't come cheap – Maryland is notorious for its high cost of living. No surprise, given the average earnings!