By Gina Agapiou and Evie Andreou
The first day of walk-in Covid vaccinations for non-Gesy users met with enthusiastic take-up on Friday as hundreds, mostly third country nationals, braved the sweltering heat to line up for the jab.
There were long lines at Engomi at the walk-in at the state fair, some arriving more than an hour before the 8.00 am opening to grab a place in the queue. A CyBC correspondent said most were third country nationals who work in Cyprus, many from Asian counties accompanied by their employers.  The Cyprus News Agency also reported long lines at the Spyros Kyprianou centre in Limassol, consisting again mostly of third country nationals.
The health ministry said that in less than three hours, a total of 1,385 Covid vaccinations were administered in the walk-in centres nationwide.
Between 8am and 10.30am at the walk-in centres, 427 vaccinations were completed in Nicosia, 435 in Limassol, 329 in Larnaca, 110 in Paphos and 84 in Famagusta.
Today was the first Friday that people not registered in the national health scheme Gesy, including asylum seekers, were able to receive a free anti-coronavirus vaccine.
Hundreds of people formed long lines in the morning at the walk-in at the state fair in Engomi.
In fact, so many people gathered that authorities asked some of them leave as it would not be possible to serve everyone.
Deputy head of the state nursing services Evagoras Tampouris said numbers were handed out to people waiting, and the rest were asked to leave.
The situation in Limassol was similar, with a source telling the Cyprus News Agency that priority numbers for the 1000 available shots were quickly snapped up.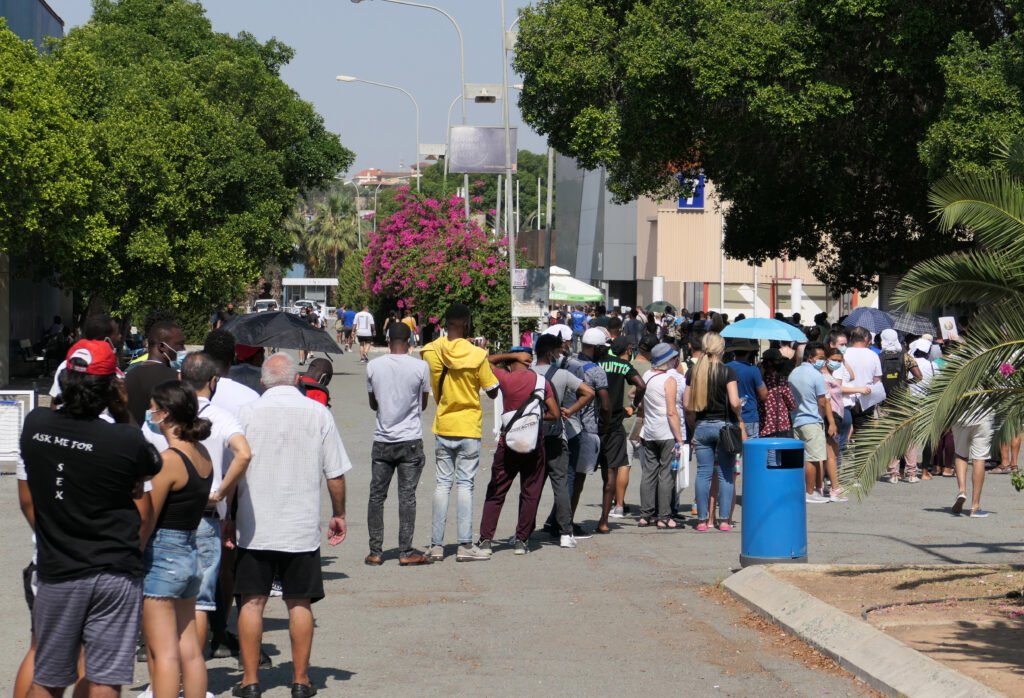 The walk-in centres will serve people who are not Gesy beneficiaries every Friday between 8am and 2pm.
In Nicosia inoculations will take place at the State Fair (in three centres), in Limassol at Spyros Kyprianou Stadium (three centres) and in Larnaca at the Port (one centre).
For the Paphos and Famagusta districts people can go to the walk-in centres that are already in operation for Gesy beneficiaries at the general hospitals.
According to new figures released on Friday, as of July, 988,032 people received at least one dose of either AstraZeneca, Moderna, Pfizer or the single-dose Jansen vaccine.
Of those, 472.665 are fully vaccinated and 515.367 received the first dose, the ministry's data showed.
The majority of vaccinations, which started in January, were carried out in May and June.
This brings the percentage of the total adult vaccinated population to 67.4 per cent, while 75.2 per cent are vaccinated with at least one dose according to the health ministry.
Following the inclusion of minors to the national vaccination programme, some 3.4 per cent of children aged 12 to 15 and 30 per cent of teenagers aged 16 to 17 have received the jab in July.
A total of 17.3 per cent of 16 to 17-year-olds have completed their vaccination.