By Nick Theodoulou
Jason deCaires Taylor's underwater sculptures have enthralled and captured the imagination of Cyprus and its visitors, further marking Ayia Napa on the map and setting out a powerful message – but many are wondering how exactly to access the museum.
His 93 sculptures, which range from figurative statues to trees (some in the style of large oaks) and hybrid works, were inaugurated on July 31 with  the official opening of the Museum of Underwater Sculptures Ayia Napa (Musan) taking place on August 1.
The Sunday Mail attended the opening event which took place at Pernera beach in Ayia Napa (not to be confused with the town of Pernera, which is about a fifteen-minute drive away).
Ministers, mayors and Taylor himself were in attendance, highlighting the importance of the 250 tonne project.
Since then, many have sought out the underwater museum but are wondering: "How do I get to Musan?"
The site is accessible to both snorkelers and scuba divers, as the sculptures are submerged at a depth of 8-10m, and must be booked with diving schools who have partnered with Musan.
We spoke to Dena Asimenou of Sunfish Divers, one of the 30 approved diving schools which must go through a rigorous process of checks to obtain the rights to do so.
"The site makes a real impression on you, even for snorkelers, because it's a sandy bottom and there's a lot of light – which depending on the time of day in which you go it really impacts the sculptures," Asimenou told the Sunday Mail.
She explained that 22 people at a time are granted entry to the museum in one hour time slots, with Musan granting free entry to the site until about the end of 2021.
But fees must still be paid to the diving instructor, who books the date and time with Musan, and for the boat service which will escort customers to the museum – which is located about 200 metres from shore.
Despite the area being located within swimming distance from the shore, we were told that the area is monitored to prevent access in such a way.
According to Musan's Facebook page the site is open from 9am to 6pm, while prices range from around 60 euros for diving and 20 euros for snorkelling.
"There's an entry and exit point, so you start from the beginning and make your way through exploring the various sculptures as you progress… today we took four divers and three snorkelers," Asimenou told us on Friday.
The project was first envisioned back in 2014, and an idea had initially been floated to submerge some military vehicles but this was quickly shelved.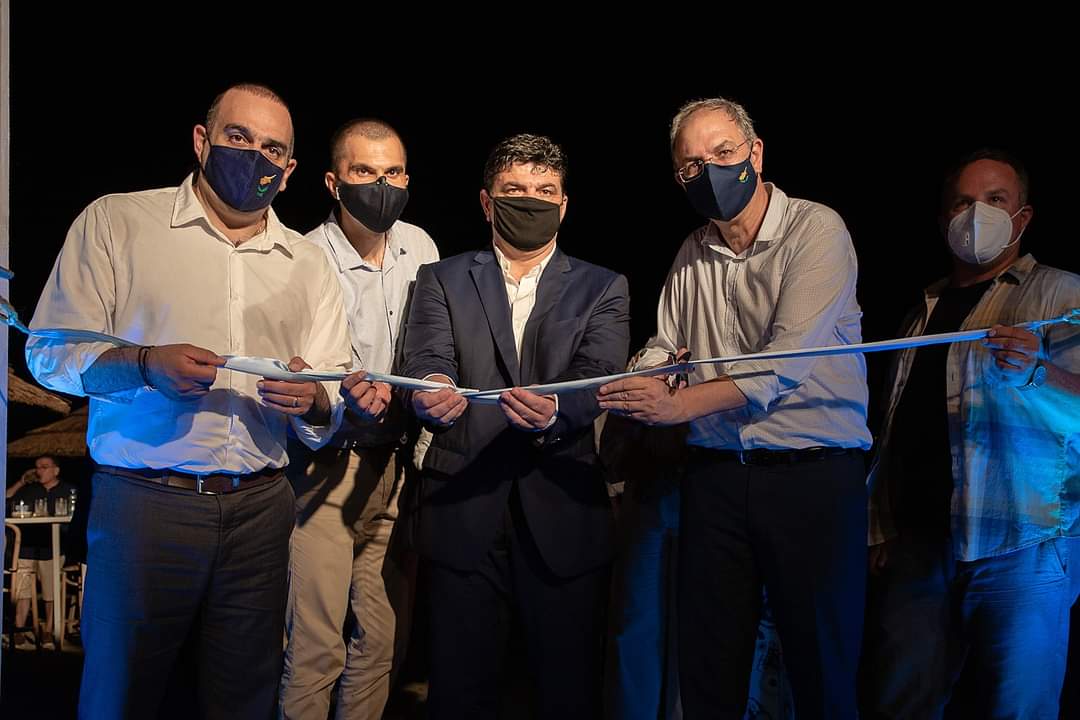 It wasn't until August of 2017 that it really got going – arguably arriving just at the right time as issues surrounding environmental challenges are gaining increasing awareness.
The theme of how best can humans interact with their natural surroundings is prominent amongst Taylor's works.
"The idea is to create an underwater forest, an incredible rewilding of the underwater world and to create sculptures that not only exist on the sea floor but actually traverse the water column and reach up to the surface – the idea being that it creates this mythical experience but also this complex web for marine life to inhabit," Taylor explained.
At the event, deputy tourism minister Savvas Perdios said that the museum proves that culturally enriching Cyprus and the tourism products it has to offer can be done without incurring environmental costs.
Cyprus' environment commissioner Klelia Vasiliou wrote in the Cyprus Mail this week that: "It's a truly great milestone for the cultural, tourist and environmental plans of our country, giving me many reasons to feel proud both as environment commissioner and as a Cypriot."
Taylor himself says that simply by calling it a museum it changes the way we interact with our underwater spaces.
"We're changing our value system and we're creating a space where we need to conserve things, we need to use objects within to educate people and these are very important values that are very different from other tourist attractions," he said.
Current transport minister and former Ayia Napa mayor Yiannis Karousos highlighted the difficulties and challenges of such a unique project, but emphasised that through coordination and hard work "dreams can come true".