Food writer of cookbook looking at 50 shapes to have in your pasta repertoire talks to ELLA WALKER
Rachel Roddy is very aware that pasta is a deliciously sprawling, emotionally rich, historical labyrinth of a topic. Trying to distil that down into words on a page is not to be considered lightly.
"I never dreamed I'd write a book about pasta, because, I mean, that would be crazy," says food writer Roddy. And yet, she has. Her new yolk-yellow cookbook, An A-Z Of Pasta, comprises 50 stories about 50 pasta shapes – a mere fraction of the 1,300 shapes identified by one of Roddy's inspirations, Oretta Zanini De Vita, author of the Encyclopedia Of Pasta.
Fifty shapes is still a gargantuan project when you consider that chronicling pasta is, in a sense, a chronicling of Italy. "Every day, I would panic at the immensity of this task," recalls Roddy. "And then every day, I would remember that I was only doing a little jigsaw of the shapes, and that it was alright."
She traces the ancient importance of macaroni and vermicelli, and of course includes the "greatest hits", the corners of her jigsaw: penne, spaghetti, tagliatelle, fusilli. Fortunately, Roddy already eats pasta pretty much every day – "I would happily not," she muses, but, "Vincenzo [her partner] would like it every day, without making him into a comedy Italian!" – so lunch happily doubled as research.
When it comes to her favourite pasta shapes, understandably, she has a lot with rigatoni – the tubes – sidling slightly ahead of the pack.
While there are many beautiful photos and pasta shape doodles in An A-Z Of Pasta, there are also recipes that don't feature an accompanying image at all. "I think some books have so many images, we stop reading. That's why I like cookery books without pictures," says Roddy, "because actually, you have to be transported by the words and you do paint your own picture, and then you enter a different realm, don't you?"
Roddy's aim, also, is to give us meaningful, truly helpful advice, not just step-by-step instructions. "You want someone to say to you, 'Look, really dice the tomato small, be really generous with the oil, plenty of salt and then really toss it, you just add a tiny bit of pasta cooking water so it's a bit swishy' – those bits of advice where you think, 'Ahh, ok'," she explains.
Cavatelli with Sausage, Mint and Tomato
Serves 4
2 cloves of garlic, peeled and crushed
4tbsp olive oil
400g sausage meat, crumbled
150ml white wine
400g ripe tomatoes, peeled and roughly chopped
A sprig of fresh mint
Salt
450g fresh, 400g dried cavatelli, orecchiette, fusilli, casarecce
Grated pecorino and red chilli flakes, to serve
In a capacious pot over a medium-low heat, fry the crushed garlic in the olive oil. Add the crumbled sausage and stir until all pinkness has gone.
Pour in the wine and raise the heat. When the wine has evaporated, add the diced tomatoes and cook for another five to 10 minutes, or until the sauce has thickened. Finally, add the mint leaves and salt to taste.
Cook and drain the cavatelli, put them into the pot with the sauce and let them simmer for a few minutes, stirring and adding some of the cooking water if needed. Serve, passing round grated pecorino and red chilli flakes for those who want them.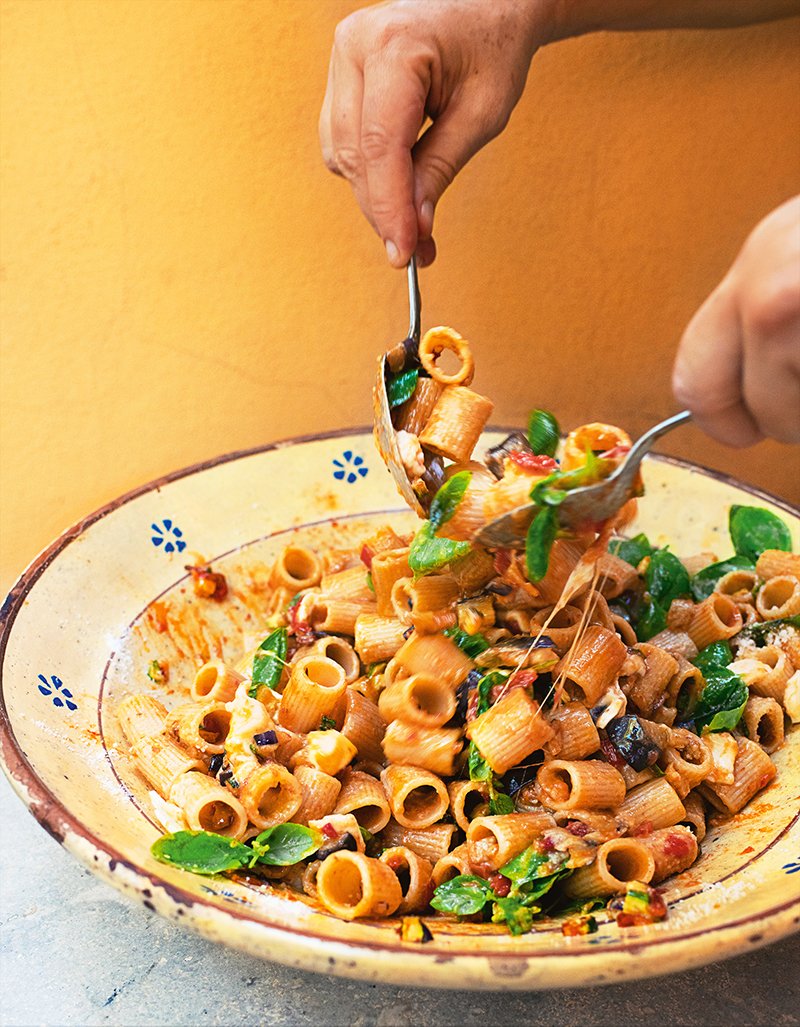 Midsummer Pasta
Serves 6
Olive or vegetable oil, for frying
1 large aubergine, diced into 1cm cubes
1 red pepper, diced into 1cm cubes
2 courgettes, diced into 1cm cubes
Salt
2 large ripe tomatoes
1 clove of garlic, peeled and crushed
600g mezze maniche, penne, fusilli, rigatoni
100g Parmesan, grated
200g mozzarella, diced
A big sprig of fresh basil leaves, ripped
Bring a large pan of water to the boil for the pasta.
Pour enough oil into a deep, medium-sized frying pan for it to come 2.5cm up the sides and heat until hot. Working in batches, fry the diced vegetables in the oil until soft and golden, then blot on a kitchen towel, season with salt and keep warm. Tip the oil from the pan.
Plunge the tomatoes into the almost boiling water for a minute, then lift them out with a slotted spoon and refresh under cold water, at which point the skins should slip off. Roughly chop the tomatoes.
Put the frying pan back on the heat with four tablespoons of new oil and the garlic. Once the garlic is fragrant, add the chopped tomatoes and a pinch of salt and cook until soft and saucey – about 10 minutes.
Once the water is boiling, add salt, stir, then add the pasta and cook until al dente. Once the pasta is ready, drain, tip into the tomato pan and toss.
Tip the pasta and sauce into a large bowl, add the fried vegetables, Parmesan, mozzarella and ripped basil, toss thoroughly and serve.
An A-Z Of Pasta: Stories, Shapes, Sauces, Recipes by Rachel Roddy is Available now