Each neighbourhood has its characters that make up the life and the tales of the area. There might be a man who feeds the stray cats, the coffee shop owner, the foreigner who's practically a local, the teenager dancing to TikTok videos, the early morning jogger, the list goes on. The old town of Nicosia certainly has its own set of individuals, each with their own story to tell. An upcoming performance on September 2 at the amphitheatre of the Bank of Cyprus Cultural Foundation invites us to embark on a journey into the lives of the residents of Phaneromeni.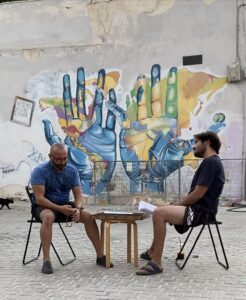 Titled People of Phaneromeni, the performance takes audiences on an imaginary voyage to this popular neighbourhood of the old town, brimming with dreams, disappointment, yearnings, tales and people. Performers Andreas Koutsoumbas, Despina Chrysanthou, Rafaella Kavazi and Mohammed Awwad, accompanied by Vassilis Philippou's music with art and stage direction by Natalia Panagiotou, engage in dialogues, monologues and pauses to bring to the stage true stories from the neighbourhood, aimed at striking a chord, entertaining and raising awareness.
The People of Cyprus team, a well-known Instagram account collecting people's stories led by Iliana Koulafeti and Christos Michalaros, mapped out the research project through interviews with residents of the area. Transforming it into a performance, it will be presented in a way to make the audience feel like they are walking the city streets to become acquainted with people that had gone unremarked on for years.
Part of the Phaneromeni21 art festival that has been going on all summer, the performance is free to attend and begins at 9pm. As a collaborative project between People of Cyprus and Yasemin Collective, the performance combines theatre, live music and videos to give voice to the 'ecosystem' of Nicosia within the walls and to people contained in the city's life, livelihood and community.
People of Phaneromeni
Performance combining theatre, music and video. A collaboration between between People of Cyprus and Yasemin Collective. September 2. Bank of Cyprus Cultural Foundation, Nicosia. 9pm. Free. Tel: 22-128157